CALIFORNIA INDIAN OBITUARIES
The California Indian community remembers our friends, families, and community leaders... (to post your remembrances, please contact the editor).
NELLA SALGADO HEREDIA
1927-2020
Soboba Indian Reservation
DENNIS J. BANKS
1938-2017
Leech Lake Indian Reservation
Benjamin "The Legend" Magante Sr.
1935-2016
Pauma Indian Reservation
ROBERT "BOBBY" SALGADO SR.
1942-2016
Soboba (download flyer).
SHIRLEY "FITE" SILVAS
1948-2016
Shirley Louise Slivas was married to Leandro "Tato" Silvas and lived on the Soboba Reservation for more than 50 years. Shirley served on the Ahmium Board of Directors for over 20 years and was its Executive Assistant for some 15 years. For 10 years prior to her passing, she worked with the Southern California American Indian Resource Center, Inc. (SCAIR) in El Cajon California. (download PDF).
TRAVIS CHRIS WEBER
1964-2014
Seneca
APRIL PICO TAYLOR
Santa Ysabel (download flyer).
ROBERT AUGUSTINE OROSCO
1982-2014
Soboba (download flyer).
MERRIE MAXCY QUIS QUIS
1918-2014
Santa Ysabel (download flyer).
EUNICE A. GUACHENA
1937-2014
Santa Ysabel (download flyer).
THEODORE "TED" GUACHENA
1938-2014
Santa Ysabel (download flyer).
Patsy "Pat" Salgado
1946-2014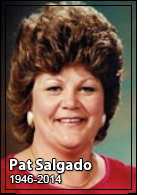 Patsy "Pat" Ann Salgado went to heaven on June 22, 2014. She was born March 30, 1946 in Kingsport, Tennessee where she lived until the age of nine. She and her family moved to Chicago, Illinois and later to Gary, Indiana. In 1962, again with her family, she move to Long Beach, California were she attended Poly High School. She was a beloved homemaker, wife, mother, grandmother and great-grandmother... Mrs. Salgado is survived by her husband of fifty one years, Ernie C. Salgado Jr., of the Soboba Band of Luiseno Indians...
READ OBITUARY.
TEDDY LOU QWE PABLO
1992-2014
Campo (download flyer).
ALBERT BENJAMIN LINTON
1948-2014
Santa Ysabel (download flyer).
VINCENT LOUIS BURCH
Campo (download PDF).
JANE DUMAS
1924-2014
Jamul (download PDF).
ABE PENA
Santa Ysabel (download PDF).
ALICE PONCHETTI
Santa Ysabel (download PDF).
EDWARD THOMAS ARVISO
Rincon (download PDF).
JANICE CUERO PRIETO
1950-2014
Campo (download PDF).
TINA LOUISE LINTON HOLMES
Santa Ysabel (download PDF).
DESTINY ROSE MUSE
1992-2014
Sycuan (download flyer).
JULIA NEJO
1924-2014
Mesa Grande (download PDF).
ALFRED LEE SANCHEZ
Santa Ysabel (download PDF).
Leroy "Lucas" Miranda
1939-2013
Pechanga Band of Luiseño Indians
On Friday, August 9, 2013 I attended the funeral of a lifelong friend, Leroy "Lucas" Miranda. "Lucas", we seem to have always called him "Lucas" since he was tagged with the nickname. How he came about the nick name and who he was as a friend is what I want to share with you.
"Leroy 'Lucas' Miranda was my friend; he was proud of his heritage, he was an honest man and a man of integrity. Those that knew him respected him as a man and as an elder,"
- Ernie Salgado Jr.... Obit & Feature Article
Marvin V. Paipa
1957-2013
Viewing May 31, 2013
Burial June 1, 2013
Flyer
Lorena L. Majel-Dixon
1922-2012
Pauma Band of Luiseño Indians
Marvin Joseph "Joe" Romero
1955-2012
Mesa Grande
Ernest Salgado Sr.
1920-2012
Luiseño, Soboba Indian Reservation
Richard M. Milanovich
1942-2012
Cahuilla, Agua Caliente Band of Cahuilla Indians
Luwana Fay Quitiquit
1942-2011
Eastern Pomo
PDF
Katherine Siva Saubel
1920-2011
Cahuilla, Morongo Indian Reservation
Paulette A. Lewis
1956-2011
Rosary: August 12, 7pm, El Cajon Mortuary
Mass: August 13, 10am, Viejas Indian Reservation
Interment: Viejas Cemetary
The San Diego Union-Tribune Obituary
Gerald James Reed
1939-2011
Mass & Burial at Santa Ysabel Mission
Saturday, April 9th at 10 a.m.
Lunch to follow at Santa Ysabel Headstart
Pauline "Dimples" Murillo
1934-2011
San Manuel Reservation
Viewing:
Mt. View Mortuary Chapel, January 27th, 12-3 pm
Rosary & All Night Wake:
Chacon Residence, January 27th, 7 pm
Burial:
San Manuel Indian Reservation Cemetery
January 28th, 10 am
OBIT | OBIT |
Frances M. Romig
1921-2011
Santa Ysabel
Bonham Brothers & Stewert Mortuary (Guest Book)
Friday, January 28th, 2011
Viewing @ 5:00 PM
Rosary @ 7:00 PM
E. Marilyn Lubo-Majel
1949-2011
Rosary: Pauma Tribal Hall, January 21, 7 pm
Funeral: Pauma Tribal hall, January 22, 10 am
Burial: Pauma Resrvation Cemetery
Anna Sandoval
1934-2010
Sycuan Band of Kumeyaay Indians
Everett Freeman
1931-2010
Paskenta Band of Nomlaki Indians
Norman James Pico Sr.
1940-2010
Pechanga Band of Luiseño Indians
After high school graduation in 1957, Norman served in the U.S. Army as a Paratrooper, Expert Infantry man and member of the famous 82nd Airborne Division, 504th Parachute Infantry Regiment known as "Devils in Baggy Pants."
Ceremony: Pechanga Indian Reservation, October 14, 2010.
Wilbert "Willie" Nelson
1945-2010
La Jolla Band of Luiseño Indians
Clothes Burning: August 31
Viewing: September 3, Alhiser's Mortuary
Burial: September 5, 10 am
Wilma Mankiller
1945-2010
First female Cherokee Chief
Memorial Cherokee Nation Female Chief
Max C. Mazzetti
Viewing: Friday, April 2, 6-8 p.m., at Alhiser-Comer Mortuary, 225 S. Broadway, Escondido, CA. 92025
Memorial Services, Saturday, April 3, 10 a.m., at the First Methodist Church, 341 S. Kalmia St., Escondido, CA. 
Burial: Rincon Cemetery followed by a luncheon at the Rincon Tribal Hall.