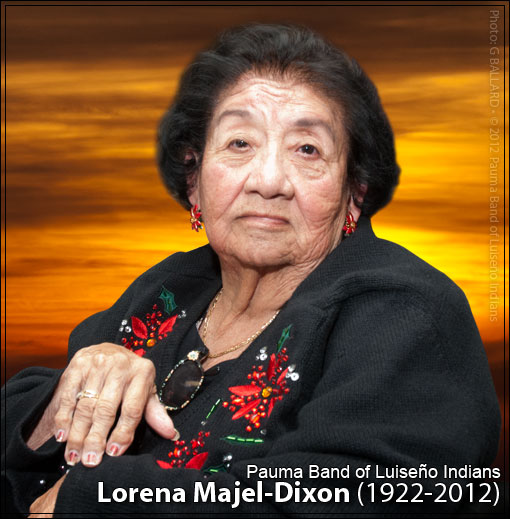 DOWNLOAD PDF Funeral Services flyer.
Lorena L. Majel-Dixon
(1922-2012)
In Memory of Lorena Dixon
Pauma Tribal Elder
It is with deepest sadness to report the passing of Lorena Dixon tribal elder of the Pauma Band of Luiseño Indians.
She passed away peacefully on Saturday (Feb. 11th) of natural causes at her family home on the Pauma Indian Reservation. Her beautiful smile and constant leadership spirit has left a lasting impression on all whose life she touched. 
She had four children, Patti, Gene, Jr. (Kathy), Juanita, and Lee (Joann). She has seven grandchildren, Adam, Luke, Gene M., Therman, Jonathon, Talia, and Mya; five great-grandchildren; and numerous nieces and nephews. She was preceded in death by her son, Lee.
Our thoughts and prayers go out to her family and the Luiseno people. Services are pending.
Naturally, we respectfully request prayers for the Lorena Dixon family.
SERVICES:
Rosary & Wake: Feb. 19th (Sunday evening)
Mass: Feb. 20th (Monday) at 10 am, followed by burial at Pauma tribal cemetery, and lunch at the tribal hall.
Place: Rosary, Wake, Mass, will be at the Pauma Tribal Hall.
Contact Pauma for more info.


Obituary by Roy Cook, Opata-Oodham, Mazopiye Wishasha
TRIBAL DOCUMENTARY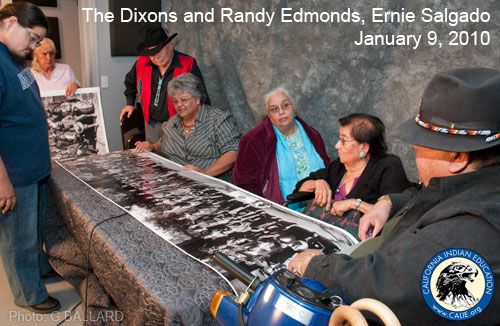 January 9, 2010 — Paul Miranda, Shirley Silvas, Randy Edmonds and the Dixon women (Patricia, Juana, Lorena) participated in Ernie Salgado's second round of historical video interviews — above they are pictured looking at Ernie Salgado's 12-foot-long historical restoration of a 1920 Mission Indian Federation convention group photo. Filming took place at the Southern California Tribal Chairmen's Association SCTCA Rez Valley Studios on the Pala Indian Reservation.
+++++++
To submit memorials, corrections, photos, additional information, please CONTACT CALIE WEBMASTER.
+++++++
WHO PRODUCED THIS ARTICLE?


Ernie C. Salgado Jr.
Tribal: Luiseño
Reservation: Soboba Indian Reservation
EDITOR: The Indian Reporter www.theindianreporter.com
Founder/CEO CALIE: www.californiaindianeducation.org
Web Site: www.apapas.com
CONTACT
RESUME/BIOGRAPHY
PUBLISHED ARTICLES