Publishing Corner:
TRIBAL BLOGGERS:
ROY COOK NEWS BLOG
THE INDIAN REPORTER
JOURNAL FROM SDC
KAREN VIGNEAULT

Indian Community:
TRIBAL COMMUNITY
PROFILES
OBITUARIES
Science & Wonder
ASTRONOMY PORTAL
KID'S CLUBHOUSE
Indian Heros:
VETERAN COMMUNITY
WHO'S IN THE MILITARY?
MEDALS OF HONOR
CODE TALKERS
FAMOUS CHIEFS
HISTORIC BATTLES
POEMS ESSAYS
SPORTS-ATHLETES
MISSION FEDERATION
FAMOUS INDIANS
California Indian Art:
MISSION BASKETS
RED CLAY POTTERY
ETHNOGRAPHIC ART
CAVE ART
MUSIC
CALIE Library:
FEDERAL Resources
HEALTH & MEDICAL
INDIAN BOOK LIST
HISTORICAL Documents
Academic Financial Aid:
SCHOLARSHIPS
GRANTS & FUNDING
Tribal Governments:
TRIBAL COURTS
SOVEREIGNTY
SOCIAL SERVICES
TRIBAL DIRECTORY
Indian Gaming:
INDIAN CASINO FORUM

Personal letter from the CALIE CEO:
"Dear Tribal Community,"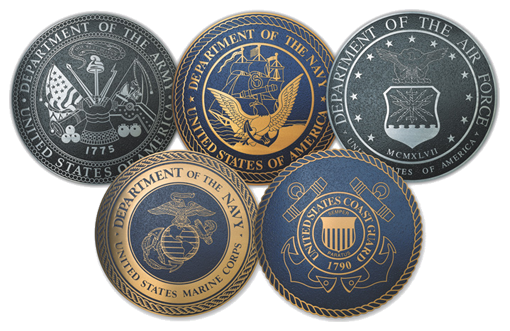 Native American Indian Veterans Community Web Portal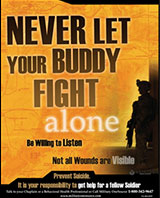 VETERAN CRISIS HOTLINE
1-800-273-8255
(Press 1)
Go to: www.veteranscrisisline.net


CORONA VIRUS COVID-19 information for Native Americans by Native Americans

In every Tribal language: "We support our Warriors - God Bless America."
Please email us with your tribal translation for posting.
O'odham: "Ahchim dagiod s-chu cheggiaDkam – Jiosh ho'ige'id jeweD."
Cherokee: "Aniyosgi Dotsigusdaa - Unelanvhi Wigadoligi Ama Ayetli."
Lakota: "Nahan Akicita unkitawapi ki Owicikiunyapi kte - Wakan Tanka makoce ki la waste kte."
CALIE honors and salutes Native American Indian veteran community of warriors, great Indian chiefs, military veterans, and community heros to provide an important historical reference for Native American students, teachers and veterans for research and inspiring role models, including jobs and jobs services for military veterans and family services.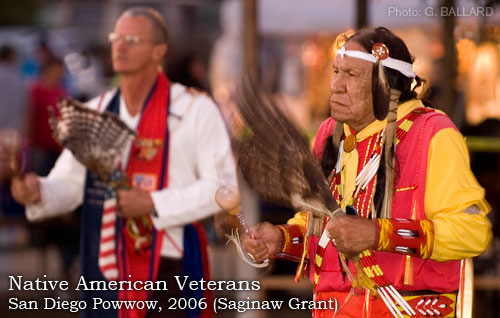 Saginaw Grant, USMC Korean war veteran of Sac-n-Fox,Iowa and Otoe-Missouria Nations, is pictured in a 2006 San Diego powwow gourd dancing with fellow Native American Indian military veterans.
US MILITARY PROTEST LETTERS
American National Anthem Protests
Take a Knee...
A MARINES LETTER TO THE NFL
Jeffrey Powers' open letter to NFL commissioner Roger Goodell
Read the MILITARY PROTEST LETTER

The American Indian Reporter HONORS US VETERANS WITH SPECIAL EDITION:
FREE DOWNLOAD PDF (current issue).

VETERANS DAY is Sunday, November 11, 2018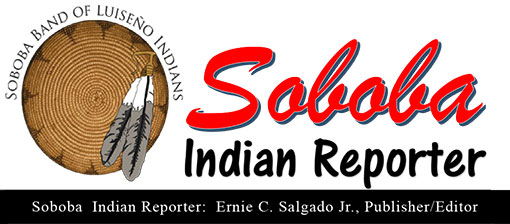 SPECIAL VETERANS DAY ISSUE
"Honoring Soboba Veterans"
by Ernie Salgado, Jr., Editor, Soboba Tribal Elder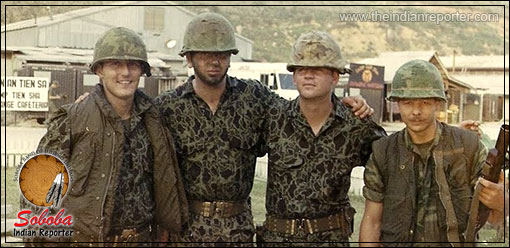 PHOTO CAPTION: The good looking guy second from the right is Richard "Dumbo" Salgado, a tribal member of the Soboba Band of Luiseño Indians. Richard served with the 1st Cavalry Airborne Division in Vietnam. He currently lives in Palms Springs, CA. Richard's Father and brother are also veterans. His father, Ernest Salgado Sr., served in WWII and his brother Ernie Jr. was serving in the Army National Guard when called on active duty in 1966.
SOBOBA TRIBAL MEMBERS KILLED IN ACTION: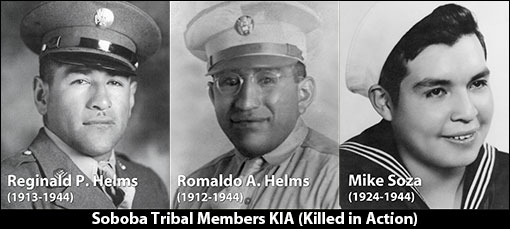 U.S. Army Private, Reginald P. Helms,
Killed in Action in Hotten, Belgium (1913-1944)
U.S. Army Private First Class, Romaldo A. Helms,
Killed in Action Anzio, Italy. (1912-1944)
U.S. Navy, Mike Soza (1924-1941)
Soboba Tribal members have served in the armed forces of the United States in every war and conflict since WW I.
The United States entered the war with the attack on Pearl Harbor, Hawaii on December 7, 1941 ending in May 1945 in Europe and September 2, 1945 with Japan. WW II officially began in September 1939 with the German invasion of Poland.
It is estimated that over 80 million people were killed during the seven years of WW II. U.S. military records indicate their were 670,846 Americans wounded and 405,399 lost their lives, three of which were Tribal Members of the Soboba Band of Luiseño Indians.
Currently 51 veterans are buried at the Soboba Tribal Cemetery of which 32 were Soboba tribal members, 12 Indians from other Indian tribes and 7 non-Indian.
World War I Soboba Veteran buried at Soboba are Prudencio Resvaloso who also served as with the U.S. Calvary as a Scout in Arizona, Danny Navarro, and David Navarro.
Non-Soboba veterans include Eugene Arenas (Cahuilla), Ben Largo (Cahuilla) and Mariano Largo (Cahuilla).... READ ERNIE'S COMPLETE SOBOBA HISTORY ARTICLE
ON-LINE RESOURCES FOR NATIVE AMERICAN INDIAN U.S. MILITARY VETERANS: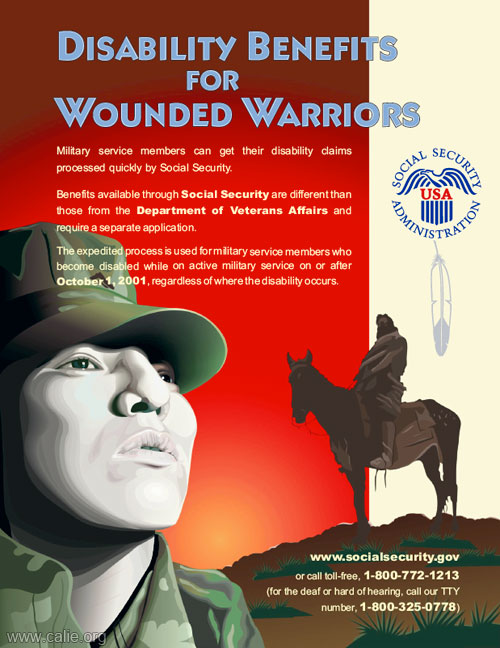 DOWNLOAD POSTER .pdf for posting in your tribal areas.
DISABILITY BENEFITS FOR WOUNDED WARRIORS
Military service members can get their disability claims processed quickly by Social Security. Benefits available through Social Security are different than those from the Department of Veterans Affairs and require a separate application. The expedited process is used for military service members who become disabled while on active military service on or after October 1, 2001, regardless of where the disability occurs.
www.ssa.gov
Call toll-free: 1-800-772-1213
For the deaf or hard of hearing, call our TTY number:
1-800-325-0778

HELPING YOU NAVIGATE YOUR VETERAN BENEFIT OPTIONS:
Veteran Pension
Supplemental Income for Wartime Veterans
Survivors Pension
Additional Monetary Benefits for Veterans
Life Insurance for Veterans
Servicemembers' Group Life Insurance (SGLI)
Veterans' Group Life Insurance (VGLI)
Family Servicemembers' Group Life Insurance (FSGLI)
Servicemembers' Group Life Insurance Traumatic Injury Protection
Service-Disabled Veterans' Life Insurance (S-DVI)
Veterans' Mortgage Life Insurance
Disability Compensation
Dependency and Indemnity Compensation (DIC)
Geriatrics and Extended Care Services
Military Burial

Is your tribe interested in establishing a reimbursement agreement with VA? These tools will help you get started:
Getting to Know VA
IHS THP FactSheet
VA THP Provider Orientation
VA THP Agreement Template
VA Health Eligibility Center Training dates
Upcoming Events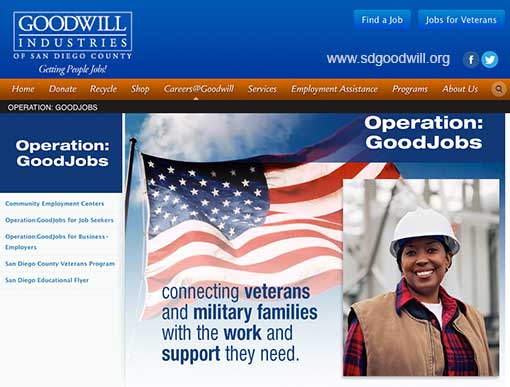 Jobs & Job Training for Veterans in County of San Diego
Goodwill Industries of San Diego County has launched several programs (including Operation:GoodJobs) serving military veterans and their families. These programs focus on eliminating barriers to employment to facilitate your transition to the civilian workplace, prepare for your career, and assist you on the road to economic independence....
Operation:GoodJobs
The Operation:GoodJobs program is being supported by a $5 million grant from the Walmart Foundation and encompasses five states and twelve Goodwill Industries organizations. Each Goodwill organization is partnering with many agencies and organizations in the local area to help ensure that you and your family have every opportunity to succeed.


INSPIRATIONAL Native American Indian Quotations
Hold on to what is good,
Even if it's a handful of earth.
Hold on to what you believe,
Even if it's a tree that stands by itself.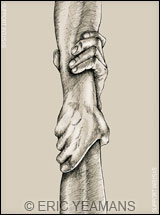 Hold on to what you must do,
Even if it's a long way from here.
Hold on to your life,
Even if it's easier to let go.
Hold on to my hand,
Even if someday I'll be gone away from you.
Pueblo Prayer

The CalVet website thanks you for your service! You may register to get information tailored to the personal profile you create or simply browse the site anonymously.
Learn about the state and federal benefits you are entitled to receive and how to claim them. Those benefits could compensate you for a service-connected disability, allow you to begin or resume your college education, care for your health, train for or find employment, buy a home, live out your years with dignity and respect, and much more!
To find out about the benefits you and your dependents are entitled to receive, visit www.calvet.ca.gov now!


CALIFORNIA SERVICES FOR WAR VETERANS

The state of California has the largest population of veterans of the armed forces in the nation. There are an estimated 2,078,267 veterans in California. Boosting California's veteran population are the ongoing conflicts in Afghanistan (Operation Enduring Freedom—OEF) and Iraq (Operation Iraqi Freedom—OIF). Since September 2001, California deployed 148,028 troops, with 22,305 troops from California deployed as of February 29, 2008. The number of National Guard and Reserve Troops deployed from California since September 2001 is an estimated 31,821...
DO YOU NEED A HELPING HAND?
CALIF TRIBAL DEPARTMENT OF SOCIAL SERVICES — Check out our California Indian Department of Social Services for inter-tribal social services available to both urban and reservation Native American Indians in the greater San Diego County. Learn where and how to find and apply for medical, health and wellness services for Indians living in Southern California, including temporary assistance for needy families TANF services, support services for monthly cash assistance, stipends for child care costs, transportation and/or mileage reimbursements, emergency assistance, referrals to other agencies and organizations; Career Development for on-the-job training....
NATIVE AMERICAN VETERANS LINKS
HOUSING & MORTGAGE GUIDE: This free online guide will help veterans and active military to understand the benefits of, types of, and eligibility requirements for VA Loans.
GRAVE & BURIAL SITE RECORDS: Locate grave and burial sites for veterans or their beneficiaries like children or spouses. Provides additional information like date of birth and death, military branch, rank, wars and cemetery.
COMPARE MEDAL OF HONOR RECIPIENTS: Find and compare Medal of Honor awardees by war, rank, place and other criteria.

VETERAN CRISIS HOTLINE
1-800-273-8255 (Press 1)
www.veteranscrisisline.net
Note: all Roy's below links in this section were later broken (so the webmaster unlinked them), but they may provide you key search words...


compiled by Roy Cook, Opata-Oodham, Mazopiye Wishasha: Writer, Singer, Speaker
U.S. DEPARTMENT OF VETERANS AFFAIRS OFFICIAL WEB PORTAL WEBSITE va.gov
NEW TO THE VA?
BENEFITS BOOK
GENERAL INFORMATION
DISABILITY COMPENSATION
COMPENSATION & PENSION PROGRAMS
GI BILL OF RIGHTS
VOCATIONAL REHABILITATION & EMPLOYMENT PROGRAM
SUCCESS
SURVIVORS & DEPENDENTS ASSISTANCE DEA
SURVIVORS BENEFITS
HOME LOANS
LIFE INSURANCE
TRAUMATIC INJURY PROTECTION
HEALTH CARE
HEALTH CARE
A-Z TOPIC FINDER (HEALTH)
MY HEALTHeVET
MEDS & PRESCRIPTIONS
MENTAL HEALTH
POST TRAUMATIC STRESS DISORDER PTSD
PUBLIC HEALTH ISSUES FOR VETERANS
MILITARY VETERANS & PROSTRATE CANCER
What is prostrate cancer? What are the symptoms of prostate cancer? What testing methods are available? Where can I get screened for prostrate cancer?
BURIALS & MEMORIALS
CEMETERY SERVICES
BURIAL BENEFITS
HEADSTONES & MARKERS
PRESIDENTIAL MEMORIAL CERTIFICATES
NATIONAL CEMETERIES
NATIONAL GRAVE SITE LOCATOR
BURIAL FLAGS
BURIAL ALLOWANCE
BUSINESS
SMALL BUSINESS - DOING BUSINESS WITH THE VA
AMERICAN INDIAN MEDAL OF HONOR WINNERS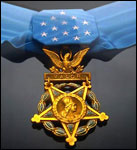 NATIVE AMERICAN MEDAL OF HONOR RECIPIENTS: The Medal of Honor is the highest U.S. military decoration awarded to individuals who, while serving in the U.S. armed services, have distinguished themselves by conspicuous gallantry and courage at the risk of life, above and beyond the call of duty...


Col. Van T. Barfoot (ret.) WW II Medal of Honor — Mr. Barfoot (Choctaw) is one of only five American Indians to be awarded the Congressional Medal of Honor in the 20th century. He served heroically in the WW2, Korean and Vietnam wars...then his neighborhood association told the 90-year-old American warrior to take down his flag pole...


U.S. Army Airborne — historical look back at American special forces history, picture gallery, videos, multimedia...


WW2 NAVAJO CODE TALKERS took part in every assault the U.S. Marines conducted in the Pacific from 1942 to 1945. They served in all six Marine divisions, Marine Raider battalions and Marine parachute units, transmitting messages by telephone and radio in their Native American indigenous language — a "code" that the Japanese never broke....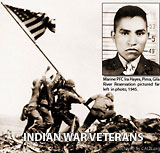 TWENTY TWO YEAR OLD MARINE PRIVATE FIRST CLASS IRA HAYES — first man on left — raises the American flag at the Battle of Iwo Jima in 1945.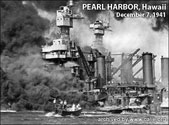 PEARL HARBOR: "December 7, 1941 — a day that will live in infamy."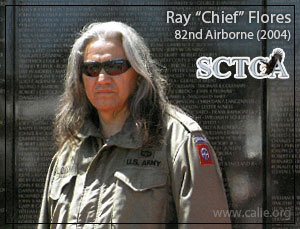 VIETNAM WALL EXPERIENCE
OCEANSIDE, CA — In April of 2004, a replica known as the Vietnam Wall Experience was on display in Oceanside. The wall is a three-quarter-size replica of the 10-foot tall, 493-foot-long black granite monument in Washington, D.C....


MASSING OF THE COLORS
BALBOA PARK SAN DIEGO 2012 — Military veterans, families of veterans, participants professional photo essay during the Massing of the Colors and Service Remembrance held at Spreckels Organ Pavilion in Balboa Park on November 3rd.
VIDEO: US Marines 235th Birthday Tribute
GO DADDY (alternate link) — Thank you Bob Parsons, LCpl 0311, CEO and Founder of godaddy.com (posted by Roy Cook).
VJ Day, Honolulu Hawaii, August 14, 1945 from Richard Sullivan on Vimeo.
MODERN NATIVE AMERICAN INDIAN WARRIORS HONORED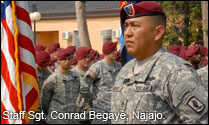 U.S. ARMY STAFF SARGENT Conrad Begaye, Navajo — During a June 30 ceremony at Caserma Ederle's Hoekstra Field, Maj. Gen. William B. Garrett III, commander of U.S. Army Africa, fastened the Silver Star to Begaye's uniform - recognition for his leadership and valor during an enemy ambush Nov. 9, 2007, in Nuristan Province.
THE GREATEST INDIAN CHIEFS


See CALIE's FAMOUS TOP 10 INDIAN CHIEFS...

FAMOUS INDIAN BATTLES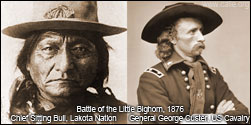 CALIE's TOP TEN MOST FAMOUS HISTORIC INDIAN BATTLES...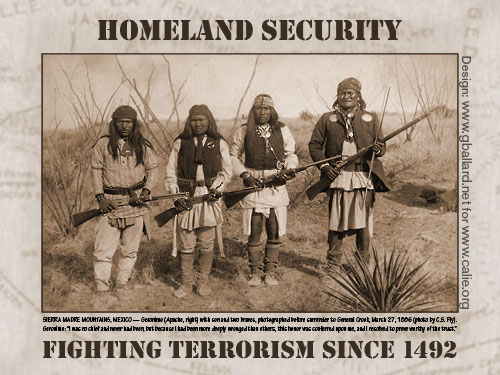 IN MEMORY OF OUR MILITARY VETERANS:
NATIVE VETERANS BLOGS


ERNIE C. SALGADO JR Native American Veteran's BLOG
INDIAN MILITARY HEROS ESSAY by Roy Cook
(more veteran blogs coming soon!)
HELP CONTRIBUTE to veterans section
To help CALIE build this our on-line veterans community blog pages, please CONTACT the webmaster to contribute your information, links research for publication.