Publishing Corner:
ROY COOK NEWS BLOG
THE INDIAN REPORTER
TRIBAL BLOGGERS
Indian Community:
TRIBAL COMMUNITY
PROFILES
OBITUARIES
Science & Wonder
ASTRONOMY PORTAL
KID'S CLUBHOUSE
Indian Heros:
VETERAN COMMUNITY
MEDALS OF HONOR
CODE TALKERS
FAMOUS CHIEFS
HISTORIC BATTLES
POEMS ESSAYS
SPORTS-ATHLETES
MISSION FEDERATION
FAMOUS INDIANS
California Indian Art:
MISSION BASKETS
RED CLAY POTTERY
ETHNOGRAPHIC ART
CAVE ART
MUSIC
CALIE Library:
FEDERAL Resources
HEALTH & MEDICAL
INDIAN BOOK LIST
HISTORICAL Documents
Academic Financial Aid:
SCHOLARSHIPS
GRANTS & FUNDING
Tribal Governments:
TRIBAL COURTS
SOVEREIGNTY
SOCIAL SERVICES
TRIBAL DIRECTORY
Indian Gaming:
INDIAN CASINO FORUM
TOP 10 BEST POEMS ABOUT MILITARY SERVICE CALLS OF DUTY PATRIOTISM INSPIRATIONAL WRITINGS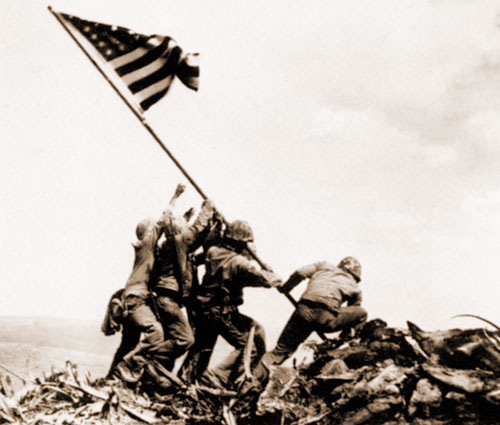 U.S. Marines and a Navy Corpsman raise the American flag during the Battle of Iwo Jima in 1945. Famous war photo: Joe Rosenthal / The Associated Press.
THE MILITARY WARRIOR

It is the Military Warrior, not the reporter, who has given us the freedom of the press.
It is the Military Warrior, not the poet, who has given us the freedom of speech.
It is the Military Warrior, not the politicians, that ensures our right to Life, Liberty and the Pursuit of Happiness.
It is the Military Warrior who salutes the flag, who serves beneath the flag, and whose coffin is draped by the flag.
- Father Dennis Edward O'Brien, Sergeant, USMC (Submitted by Roy Cook)
THE MARINES HYMN
MARINES' HYMN

From the halls of Montezuma,
To the shores of Tripoli;
We will fight our country's battles
In the air, on land, and sea;
First to fight for right and freedom
And to keep our honor clean;
We are proud to claim the title
Of United States Marine.
Our flag's unfurled to every breeze
From the dawn to setting sun;
We have fought in every clime and place
Where we could take a gun;
In the snow of far-off northern lands
And in sunny tropic scenes;
You will find us always on the job
The United States Marines.
Here's health to you and to our Corps
Which we are proud to serve;
In many a strife we've fought for life
And have never lost our nerve;
If the Army and the Navy
Ever look on Heaven's scenes;
They will find the streets are guarded
By United States Marines.
THE SOLDIERS PRAYER
THE SOLDIER'S PRAYER

And When He Gets To Heaven
To Saint Peter He Will Tell,
One More Marine Reporting, Sir
I've Served My Time In Hell.
- Marine Grave inscription, Guadalcanal, 1942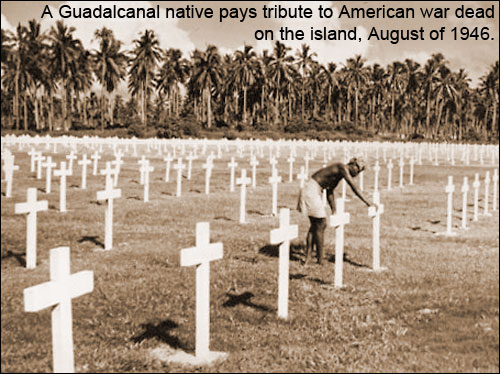 HELP CONTRIBUTE to this section
To help CALIE build this inspirational top 10 warriors page please CONTACT the webmaster to contribute your information, links research for publication.