255 MILLION HITS!!!
Feb. 2008-June 2020
101,000-plus Unique Daily Visitor IPs logged a month!
300,000 Pages Viewed a month!
Publishing Corner:
TRIBAL BLOGGERS:
ROY COOK NEWS BLOG
THE INDIAN REPORTER
JOURNAL FROM SDC
KAREN VIGNEAULT

Indian Community:
TRIBAL COMMUNITY
PROFILES
OBITUARIES
Science & Wonder
ASTRONOMY PORTAL
KID'S CLUBHOUSE
Indian Heros:
VETERAN COMMUNITY
MEDALS OF HONOR
CODE TALKERS
FAMOUS CHIEFS
HISTORIC BATTLES
POEMS ESSAYS
SPORTS-ATHLETES
MISSION FEDERATION
FAMOUS INDIANS
California Indian Art:
MISSION BASKETS
RED CLAY POTTERY
ETHNOGRAPHIC ART
CAVE ART
MUSIC
CALIE Library:
FEDERAL Resources
HEALTH & MEDICAL
INDIAN BOOK LIST
HISTORICAL Documents
STD Information
Academic Financial Aid:
SCHOLARSHIPS
GRANTS & FUNDING
Tribal Governments:
TRIBAL COURTS
SOVEREIGNTY
SOCIAL SERVICES
TRIBAL DIRECTORY
Indian Gaming:
INDIAN CASINO FORUM

CALIFORNIA INDIAN EDUCATION
Mission Statement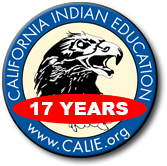 The CALIFORNIA INDIAN EDUCATION (CALIE) website was created in February 2008 by APAPAS DEVELOPMENT CO, a privately-owned American Indian company that specializes in professional consulting services, including strategic communications for government-to-government relations and effective marketing strategies in the Digital Age.
CALIE CELEBRATES NINTH ANNIVERSARY (Feb. 2018)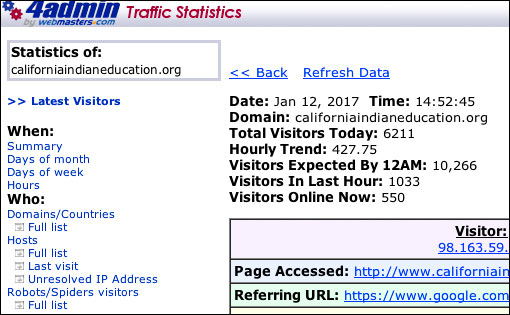 Above Latest Visitors screenshot reflects fairly typical traffic for the CALIE.ORG website only.
Established February of 2008 by Ernie C. Salgado Jr., www.californiaindianeducation.org website celebrated its 10th anniversary during Feb. 2018.
STATISTICS (calie.org domain only):
HITS: 225 MILLION plus (about 2.5 million Hits a month)
PAGES VIEWED: about 300,000 per month
UNIQUE DAILY VISITORS: 4.8 million plus (logging about 120,000 per month)
OUR TOP 10 MOST POPULAR PAGES:
Our affiliated websites include Ahmium Learning Center, Inc. (established 1975), the California Indian Education website (61 million hits), and the Kumeyaay Information Village website (140 million hits) as of 2013.
CALIE.ORG currently collaborates with the twenty seven California Indian Education Centers established by the California Department of Education; the Southern California Tribal Chairmen's Association, Inc. (SCTCA); and the twenty seven Tribal Governments located in Southern California.
Through this enormous California Indian Network, we reach a select group of Tribal leaders & members, casino managers & guests, community leaders, students & teachers, government representatives, including non-Tribal visitors from around the world who are interested in Native American culture.
CALIE's initial goal is to develop a modern educational Web-based communications engine to serve Native American Indian communities as well as non-Native Americans with a dynamic centralized cyber village network, and set new standards for user interaction and sharing of relevant data across the Internet and around the world.
CALIFORNIA INDIAN EDUCATION academic staff, students and volunteers will stand together committed to building a better understanding and community relationships between school children, young adults, adults and elders for a stronger United States of America.
Please CONTACT CALIE for more information.