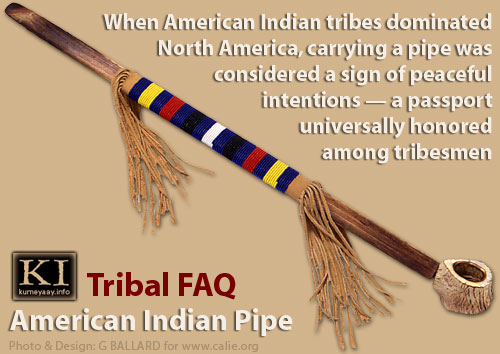 FREQUENTLY ASKED QUESTIONS:
Top 50 Questions About American Indian Tribes and Indian Law
American Indian or Native American? | Federally Recognized | Enrollment-Rolls-Genealogy | Tribes | Indian Law | Sovereignty | Sovereign Immunity | Tribe or Band? | Tribal Councils | 2010 US Census Populations | Trust Land | Indian Country | Reservations & Abject Poverty | Genocide | Indian Schools | Indian Country | Indian Reservations | Origin-Creation | Treaties | Doctrine of Discovery | US Federal Responsibility | Casinos | $26 Billion Year Industry | Indian Preference (jobs) | Federal Agencies | CALIF State Agencies | Military Veterans | Religion | Eagle Feathers | Powwow | Eminent Domain | Tribal TANF
Do you have a question about Native American Indians or can you help us write better commentary? Please CONTACT US.
#1) Which is correct or preferred:

"Native American" or "American Indian"?
Either term is generally acceptable when referring to North American people indigenous to the United States — although some individuals may have a preference, and others may feel being called "Indian" is inappropriate or even offensive.
But as some experts and scholars point out, however, "American Indian" refers specifically to the aboriginal peoples of the lower 48 states — while "Native American" includes Alaska Natives as well.
First Nations generally refers to tribal groups indigenous to Canada — it is generally considered incorrect to refer to U.S. tribes as "First Nations."
Native Hawaiians (Polynesian groups) are not considered to be "Indian" at all.
NEWS MEDIA & ACADEMICS Style Guide:
The term "American Indian" is generally preferred by news media and many academic environments when referencing Native peoples of the lower 48 states.
This article uses the term "American Indian" to reference only the aboriginal Indian people of the contiguous United States.
DISCLAIMER: Our California Indian Network of websites uses "Native American Indian" terminology to aid the search engines in locating and presenting our information, it has no meaning beyond that.
1a) WHEN & WHERE DID THE TERM "NATIVE AMERICAN" ORIGINATE?
First-person historical record from a Southern California tribal elder:

... I want to share the truth on how the phrase or expression "Native American" was coined by a handful of California Tribal Leaders in 1975 as a commendation for the U.S. Bicentennial 1776-1976 celebration.
During that time many Tribal Governments across the country were celebrating the passage of the Indian Self-Determination and Education Act of 1975 (Public Law 93-638) ...
How do I know this to be true?
Because I was there.
I was one of the many militant tribal youth from second generation Mission Indian Federation families.
And since I'm old school, I prefer "American Indian" over the term.
READ ERNIE SALGADO'S FIRST-PERSON HISTORICAL ARTICLE on The American Indian Reporter website.
1b) NON-INDIGENOUS "NATIVES"
One-generation natives:

"Native" is also used by some non-American Indian people to identify their geographical birth area — as in "native Californian" or "native San Diegan" and even "native American."

But at best, a non-Indian native can claim 26 generations in America (and that's if his ancestor came here with Christopher Columbus in 1492).

Because many Native American Indian tribes have occupied North America for 600 generations or more — this article excludes non-Native Americans from our "Native" designation.

When we capitalize the "N" in Native, we are talking specifically about Native American tribal peoples.



I am an Indian, American Indian. I prefer 'American Indian' (because) anyone born in the western hemisphere is a 'native American.'

- Russell Means (1939-2012, Republic of Lakotah)
2) Who is an "American Indian"?
Many millions of American citizens have Native American ancestry in their family trees, but that does not make them "American Indian" in the eyes of the United States government.
For certain administrative purposes, the U.S. government recognizes a person as American Indian only if he or she is "enrolled" in a "federally-recognized" American Indian tribe.
2a) "Urban Indians"
What is an urban Indian?
Because many Native American people are no longer actively associated with a particular reservation or tribal band — they are sometimes referred to as "urban Indians."
This cultural phenomenon is a result of 'well-meaning' government influences like the 19th century Indian school system, and 20th century relocation programs that encouraged Native Americans to leave their poverty-stricken Indian reservations, learn modern American customs and vocational job skills, and assimilate into the general non-Native American population.


3) What does "federally recognized" mean?
Federally-recognized refers specifically to those American Indian tribes recognized by the United States Bureau of Indian Affairs (BIA) for certain administrative purposes.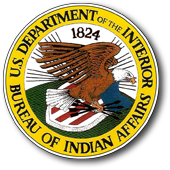 Being federally recognized by the U.S. government is of utmost importance to an Indian tribe and its enrolled members because federal recognition validates their "tribal sovereignty" and helps them qualify for special federal and state programs, funding and social services.
3a) For example, did you know about the "Indian Arts and Crafts Act of 1990"?
Under the Indian Arts and Crafts Act of 1990, an artist must be an enrolled member of a federally-recognized Indian tribe (or an individual certified as an Indian artisan by an Indian tribe) to legally market or sell his or her arts & crafts, including Indian jewelry and paintings, as Native American within the United States.

WIKIPEDIA: The Indian Arts and Crafts Act of 1990 is a truth-in-advertising law that prohibits misrepresentation in marketing of American Indian or Alaska Native arts and crafts products within the United States. It is illegal to offer or display for sale, or sell any art or craft product in a manner that falsely suggests it is Indian produced, an Indian product, or the product of a particular Indian or Indian Tribe or Indian arts and crafts organization, resident within the United States....

It must be frustrating for people with Native American ancestry and professional commitments to their cultural art not to be able to legally sell or promote their work as Indian made.


4) What are tribal "enrollment" and "rolls"?
Tribal enrollment terminology is often used in tribal constitutions, formal BIA documents, and tribal enrollment ordinances...(American Indian Policy Center).
Various types of tribal rolls are used by the Bureau of Indian Affairs (BIA) and tribal governments to determine who is eligible for citizenship in various Indian nations.
"Disenrollment" is a tribal process by which a band disenrolls or removes a band member or a family from its official tribal rolls — disenrollment from a tribal band is not uncommon in today's American tribal communities.
5) How do I get "enrolled" with an Indian tribe?
Individual tribal bands possess exclusive control to determine their own membership or citizenship or rolls.
Tribal governments formally list their members in tribal "rolls" and tribal members must meet a band's unique criteria for enrollment.
The Blackfeet Nation has an interesting website dedicated to Tribal Enrollment.
6) How many federally-recognized tribes are there?
There are currently 565 federally-recognized tribes (bands) in the United States (including some 223 Alaskan village groups), according to the BUREAU OF INDIAN AFFAIRS 2011 TRIBAL DIRECTORY (download PDF).
6)a SOUTHERN CALIFORNIA TRIBE LOCATOR:
SUPPORT CALIFORNIA INDIAN EDUCATION — Click on our map of the Southern California tribes for direct links to their official tribal websites: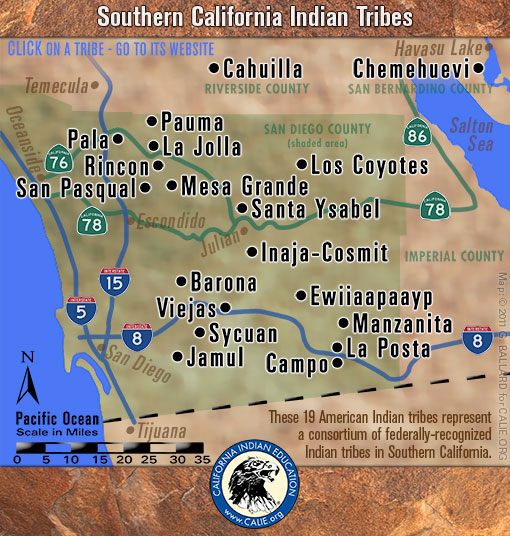 How many unrecognized Native American tribes are there in the U.S.?
WIKIPEDIA maintains a list of unrecognized tribes and groups that are (or claim to be) domestic Native American by ethnicity, but are not recognized by either the U.S. federal government (through the Bureau of Indian Affairs) or state governments in the United States.
7) Can any tribe be federally recognized?
No. Becoming a federally-recognized Indian tribe is an involved and lengthy legal process with stringent tribal and federal guidelines that must be met and approved.
How have tribes become federally-recognized in the past?
Many tribes were originally recognized by treaties they negotiated with the U.S. government in the 1700s and 1800s.
Still other tribes were granted federal recognition by acts of Congress, federal court decisions, presidential executive orders or other federal administrative actions.
Some tribes are currently in the process of becoming federally recognized.
7a) Then how does a tribe become federally recognized today?
In 1978, the Interior Department issued regulations governing the Federal Acknowledgment Process (FAP) to handle requests for federal recognition from Indian groups whose character and history varied widely in a uniform manner. These regulations – 25 C.F.R. Part 83 – were revised in 1994 and are still in effect.
Also in 1994, Congress enacted Public Law 103-454 (PDF), the Federally Recognized Indian Tribe List Act (108 Stat. 4791, 4792), which formally established three ways in which an Indian group may become federally recognized:
By Act of Congress,
By the administrative procedures under 25 C.F.R. Part 83, or
By decision of a United States court.
However, a tribe whose relationship with the United States has been expressly terminated by Congress may not use the Federal Acknowledgment Process. Only Congress can restore federal recognition to a "terminated" tribe.
The Federally Recognized Indian Tribe List Act also requires the Secretary of the Interior to publish annually a list of the federally recognized tribes in the Federal Register.
Source: bia.gov/FAQs


TRIBAL INDIAN LAWS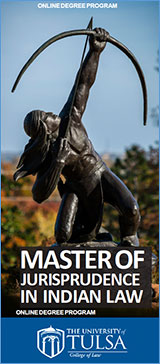 Jurisprudence: The study of the theories and philosophies of law
From Tribal sovereignty, to historical treaties with the U.S. government and the Constitution of the United States, the organization and study of the laws surrounding Native American Indian and Alaska Native tribes of the United States are as interesting and varied as their respective tribal histories and the federal government itself. 
Join others in the study and immerse yourself in the culture, history and application of INDIAN LAW.
8) SOVEREIGN TRIBAL GOVERNMENTS

What does "tribal sovereignty" mean in the United States of America?
TRIBAL SOVEREIGNTY IS A VERY BIG DEAL to Native Americans!
The status of tribes as sovereign, self-governing nations is affirmed and upheld by international treaties, U.S. case law, and the Constitution of the United States — except as may have been expressly excluded and/or amended by the U.S. Congress or the U.S. Supreme Court.
Sovereignty experts explain that tribes are inherently sovereign, meaning they do not trace their existence to the United States of America.
What most non-Indian people may not know about American Tribal sovereignty is it legally exempts federally-recognized Indian tribes and their tribal lands from many of the local, city, state, federal and international laws and regulations, including some types of taxes, permits and zoning issues that strictly govern most non-Indians, their communities and businesses.
The Kumeyaay Informations Village Website maintains an informative WEB PORTAL TO AMERICAN TRIBAL SOVEREIGNTY ISSUES.
8a) A TRIBAL PERSPECTIVE on Sovereign Tribal Governance:

VIEJAS TRIBAL GOVERNMENT — The Viejas Band of Kumeyaay Indians is a sovereign government recognized by the United States Government as having governmental jurisdiction over its land and tribal members.

Tribal governments have autonomy, and are not subject to state jurisdiction, based on their inherent sovereignty — they were governing their lands prior to founding of the United States, treaties with the federal government and the U.S. Constitution.

Along with tribal governments throughout the United States, the Viejas Band has a "trust" relationship with the federal government, enforces federal laws, and participates in issues, relating to its land and people, on a government-to-government basis... (www.viejasbandofkumeyaay.org).



ESSAY: TRIBAL SOVEREIGNTY
Courtesy of "The American Indian Reporter"
by Ernie C, Salgado Jr., (Luiseño Tribal Elder)

Tribal Sovereignty is the U.S. Government's recognition of the power of the Tribal governments to govern itself.
Treaties between United States Government and the American Indian Tribes that granted peace, alliances, trade, and land rights between the two Governments is the foundation for Tribal Sovereignty.
Tribal governments used treaties to confirm and retain such rights as the sovereign right of self-government, fishing and hunting rights and jurisdictional rights over their lands. Treaties did not, as is commonly assumed, grant rights to Indians from the United States. Tribes ceded certain rights to the United States and reserved rights they never forfeited.
Tribal sovereignty preceded the development of the United States Constitution.
The framers of the Constitution specifically recognized the sovereignty of Indian tribes in Article I, section 8, clause 3 which identified Congress as the governmental branch authorized to regulate commerce with "foreign nations, among the several states, and with the American Indian tribes."
The Supreme Court has repeatedly recognized tribal sovereignty in court decisions for more than 160 years. In what is known as the "Marshall Trilogy," the Supreme Court established the doctrinal basis for interpreting federal Indian law and defining tribal sovereignty.
THREE BEDROCK PRINCIPALS
Three bedrock principles resulted from the 19th Century court decisions that continue today to guide the Supreme Court in its interpretation of the respective rights of the federal government, the states, and the tribes:
1) By virtue of aboriginal political and territorial status, Indian tribes possessed certain incidents of preexisting sovereignty;

2) Such sovereignty was subject to diminution or elimination by the United States, by not by the individual states; and

3) The tribes' limited inherent sovereignty and their corresponding dependency on the United States for protection imposed on the latter trust responsibility.
9) What is "sovereign immunity"?
Sovereign immunity is a legal doctrine by which a sovereign government has the legal right to choose the terms on which it can be sued, or it may dismiss disputes altogether under this argument.
In recent and past news articles, some American Indian tribes (as many other governments awound the world) have invoked their sovereign immunity to dismiss lawsuits, agreements and business contracts that challenge their sovereign authority.
10) How does "sovereign immunity" affect non-Indians doing business with Indian tribes?
Native American tribes consider sovereign immunity to be crucial for the protection of tribal resources and the promotion of tribal economic and social interests.
Because of the uncertainties surrounding this doctrine, however, this very same tool of self-determination may be viewed as a significant obstacle to the non-Indian investor, lender or developer who otherwise may be interested in doing business in Indian Country...MORE (SUE WOODROW minneapolisfed.org).
10a) What happens if an Indian or non-Indian has a dispute with a federally-recognized Indian tribe — can an Indian tribe be sued?
For American Indians, some Southern California bands have created an intertribal court system to provide the Native American community and their participating tribes with a cultural-sensitive Judicial Forum in which to present and resolve disputes.
For non-Indians, they will likely need to sue the tribe in federal court....


11) What is the difference between a "tribe" and a "band"?
Tribes are historically societies of people grouped by blood ties, family relationships, and common languages.
11a) Modern tribal "bands" represent distinct groups within a main "tribe" or "nation."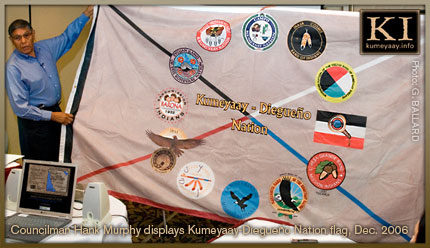 For example:
The Kumeyaay tribe (aka the Kumeyaay Nation) has 12 distinct federally-recognized tribal bands in the United States. Each "Kumeyaay band" belongs to the "Kumeyaay tribe."
The "Kumeyaay Nation" is comprised of 13 sovereign Indian reservations and 12 sovereign tribal governments.
Think of a "tribe" as an American Indian "nation" and its enrolled population as its "tribal members."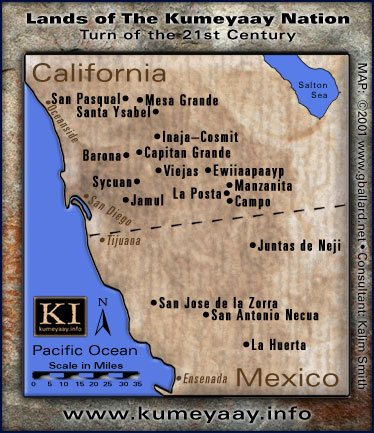 KUMEYAAY GUIDE territories of the Kumeyaay tribe at the turn of the 21st century.


12) What is a "tribal council"?
Tribal council refers specifically to a band's tribal governing body.
Its council members are elected by the band's tribal members and the council serves terms and governs like most other modern democratic government councils.
Depending on the official title a band uses, a tribal band's recognized leader may be called: chairperson, chairman, president, chief, governor or spokesperson.
Here are some example websites of American Indian tribal councils, their council portraits and governing statements:
Saginaw Chippewa | Picayune Rancheria | Muckleshoot | Quileute | Prairie Band | Skokomish | Viejas
13) What is "trust land"?
Trust land is land held in trust by the United States government for the use and benefit of American Indian tribes.
Virtually all American Indian trust land is located on or near reservations.
Tribes also have the ability to purchase land and to petition the federal government to hold it in trust. This trust arrangement protects the land from encroachment and seizure.
14) How many American Indians live in California, in the United States?
According to this 2010 U.S. Census spreadsheet (downloaded & deciphered under the direct supervision of federal Census employees for numerical interpretation and accuracy), the US government's official statistical 2010 population counts are as follows:
| | |
| --- | --- |
| 2010 US Census Figures: | |
| Total "American Indians" counted in the United States (excluding Alaska Natives) | 3,976,137* |
| Total "American Indians" counted in California (excluding Alaska Natives) | 578,623* |
| Total California population counted (the most populous state in the US) | 37,253,956 |
| Total United Sates population counted | 308,745,538 |
| Total Earth population (www.census.gov) | 6.9 Billion |
*The criteria by which the U.S. Census Bureau counted a person as "American Indian" depended on if the person completing the form checked "American Indian" on the Census form — tribal enrollment status was irrelevant in the poll.
PRE-CONTACT Population:
When Christopher Columbus arrived in North America in 1492, the indigenous aboriginal Native population of what is now known as the Americas may have numbered as many as 10 million people.
15) What happened to all the Native people and their legal claims on their vast ancestral homelands?
A BRIEF HISTORY REVIEW FIRST:
After the Spanish, British, French, Mexican and American immigrants took possession of the tribes' prime ancestral homelands — by warring, murdering, introducing European diseases, including starvation and trickery — the surviving tribal people were eventually relocated to government reservations.
15a) And there the Native peoples languished for 200 years in "abject poverty" and neglect...
There (on Indian reservations, and sometimes in Indian prisons) the indigenous survivors languished in abject poverty for the next 200 years — victims of the cruelest forms of American racism, discrimination and neglect.
It is the type of deprived social environment that breeds hopelessness and despair while survivors witnessed their agreements and treaties being broken, their immense land, water and mineral wealth being stolen from their children, and their cultures, languages and histories being erased by tsunami waves of conquering races.

"In California, the genocide of Native tribes was done in the name of the church."
A great on-line resource to explore American Indian history is the PUBLIC BROADCAST SYSTEM (PBS) "Indian Country Diaries":
GENOCIDE | ASSIMILATION | RELOCATION.


16) Indian boarding school experience (1850-2012)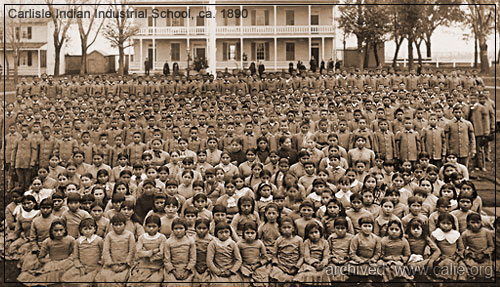 Download higher-resolution photo — Carlisle Indian Industrial School, ca. 1890, Carlisle, Pennsylvania.

"Kill the Indian, and Save the Man"

With the founding of the Carlisle Indian Industrial School in 1879 the U.S. government launched an effort at what is now known as cultural genocide where Indian children were taken away from their families and put into boarding schools for three or more years....


American Indian Boarding School Experience
CALIE hosts an historical Web portal for research into what happened circa 1850-2012...

INDIAN SCHOOLS TODAY:

Since early 1800s, the Bureau of Indian Affairs (BIA) assumed responsibility for the education of children on reservations through Indian schools. In 1978, the federal government began turning over control of the schools to the tribes, while still providing federal funding. Today, the BIA funds or operates nearly 200 schools with some 50,000 students.
17) What are "Indian reservations" and why are they called reservations?
TODAY'S INDIAN RESERVATIONS
Today's Indian reservations vary from ultra-modern "cities" complete with Las Vegas-style casinos, golf courses, shopping centers, medical and dental clinics, fire and police departments, education centers, museums, and luxury housing — to povery-stricken Indian reservations still struggling from generations of historical neglect.

INDIAN RESERVATION PICTURES: Los Coyotes Indian Reservation, San Diego County, Southern California.
17)a SOUTHERN CALIFORNIA INDIAN RESERVATION LOCATOR MAPS:
SUPPORT CALIFORNIA INDIAN EDUCATION — Click on our map of the Southern California Indian reservations for direct links to official tribal websites: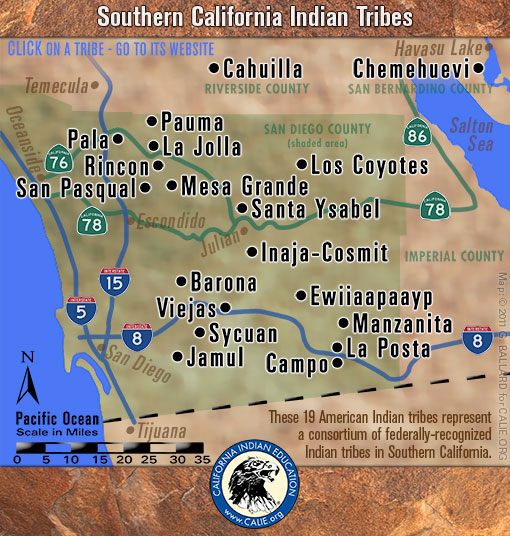 Do all American Indians live on reservations?
No. More than half of American Indians live outside of Indian reservations in the urban environment, according to U.S. Census reports.
18) Where is "Indian Country" today?
Indian Country has very specific and important social and legal meanings that every writer or student should be familiar with.
WIKIPEDIA: Indian Country is a term used to describe (collectively or individually) the many self-governing Native American communities throughout the United States...in the United States legal system, Indian country is a technical term that describes Native American reservations, Indian communities, and trust lands....
19) Treaties & Treaty Rights
Are the historical treaties still valid?
Yes, some old Indian treaties with the government are still being honored, and they form the basis for tribal sovereignty, as provided for in the U.S. Constitution, the treaties must observed.
WIKIPEDIA lists an INDEX OF 89 TREATIES the federal government made with Indian tribes.
What are some examples of contemporary American Indians arguing treaty rights?
Alcatraz Occupation: From November 20, 1969, to June 11, 1971, a group of Native Americans occupied Alcatraz Island until the US government evicted them by force.
The group's argument centered around the 1886 Treaty of Fort Laramie, whereas the United States agreed to return all retired, abandoned or out-of-use federal land to the Native people from whom it was originally acquired. Because Alcatraz penitentiary was closed on March of 1963, and the island had been declared surplus federal property in 1964, the group argued the island qualified for a reclamation under the treaty.
Makes sense, yes?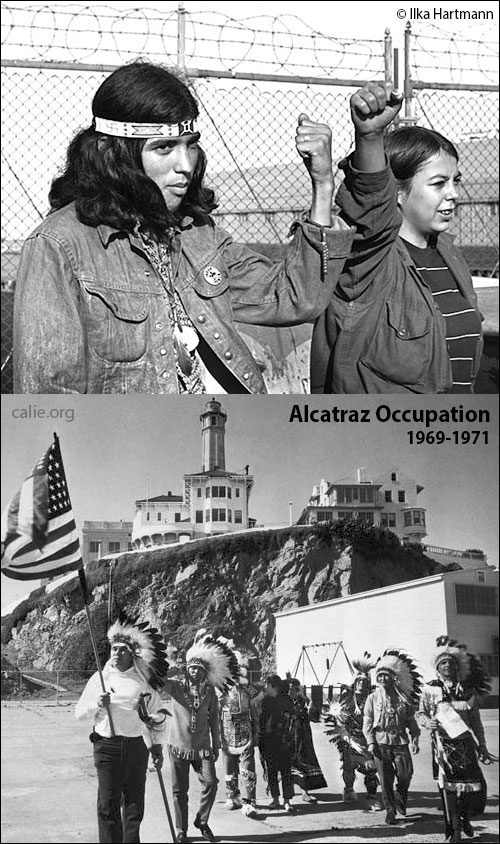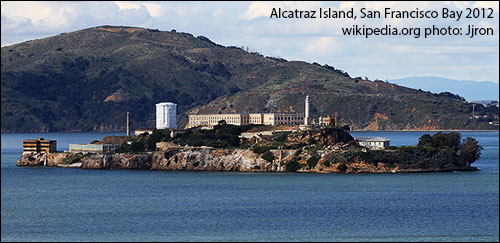 20) Where did American Indians originally come from?
Some anthropologists believe that around 35,000 years ago, American Indian ancestors traveled across an ancient land bridge that once spanned the Bering Strait and connected Asia to North America.
In addition, some people believe that American Indian people originated on the North American continent.
Most American tribes have their own traditional creation stories, however.
21) Why are aboriginal Americans referred to as "Indians"?
Aboriginal people of the United States were first referred to as "Indians" by Christopher Columbus in 1492 because he first thought he had successfully sailed to the East Indies, when in fact he is believed to have landed in the New World on what is now known as San Salvador Island in the Bahamas.
21a) DOCTRINE OF DISCOVERY
Sidebar by Steven T. Newcomb
"PAGANS PROMISED LAND • Decoding the Doctrine of Christian Discovery"

When Christopher Columbus first set foot on the white sands of Guanahani island, he performed a ceremony to "take possession" of the land for the king and queen of Spain, acting under the international laws of Western Christendom.

Although the story of Columbus' "discovery" has taken on mythological proportions in most of the Western world, few people are aware that his act of "possession" was based on a religious doctrine now known in history as the Doctrine of Discovery.

Even fewer people realize that today - five centuries later - the United States government still uses this archaic Judeo-Christian doctrine to deny the rights of Native American Indians...MORE.


22) What is the federal government doing to correct these historic patterns neglect and injustice?
Perhaps the most successful U.S. government strategy took place when the United States Congress passed the INDIAN GAMING REGULATORY ACT (IGRA) in 1988.
With tribal gaming revenue (and this turn-of-the-21st-century government attitude), some of the tribal bands have been able to get a foothold on self sufficiency and begin building a promising future for their people.
22a) Department of the Interior (DOI) letter, 2011:
The Department of the Interior has a solemn responsibility to uphold the federal government's unique government-to-government relationship with federally recognized American Indian and Alaska Native tribes, as provided for by the Constitution of the United States, U.S. treaties and court decisions, presidential executive orders and federal policies and administrative actions.

We recognize that a legacy of injustice and broken promises shapes the history of the federal government's relationship with the American Indian and Alaska Native people. We are therefore working to turn the page on the federal government's pattern of neglect of this community and, instead, build a strategy for empowerment that helps the tribal nations forge futures of their own choosing.

To chart this new path, we are restoring the government-to-government relationship between the federal government and these tribal nations because "self-determination," "sovereignty," "self-government," "empowerment," and "self-reliance" are not abstract concepts. Rather, they are the tools that will enable tribal nations to shape their collective destiny.

This is why Interior is committed to partnering with American Indian and Alaska Native communities to help them prosper by expanding education and employment opportunities for youth and adults, protecting lives and property by strengthening law enforcement, and building strong, sustainable tribal economies....

SOURCE www.doi.gov | PDF


23) Indian gaming casinos & resorts guide.
The Kumeyaay Information Village Website maintains an extensive Web portal on INDIAN GAMING in America for students, researchers, players, professionals, and business people:
23a) CASINO LOCATOR
SUPPORT CALIE SPONSORS — Click on our map of the best Southern California casinos for direct links to their official gaming websites: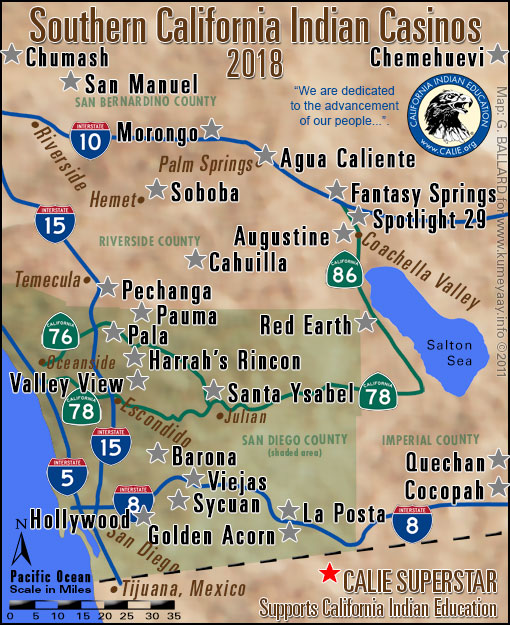 CLICK to go to the full casino guide.
Includes informative casino FAQ and a community study guide in a dynamic multi-media Web format...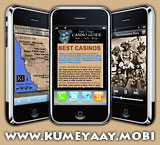 Also visit CASINOS.MOBI website formatted for popular mobile devices and smart phones like Apple's iPhone, iPad, tablets, Android, smartphone and Blackberry devices.
Do all American Indian tribes have casinos?
No. About one-third of the 565 federally-recognized Native American tribes have gaming operations, and some of those are limited to bingo games.
Establishing a tribal casino is neither an easy nor guaranteed process — local non-Indian community opposition has thwarted more than a few good plans to build or expand casino operations, and a band still needs to come up with business plans, a desirable location and investors.
24) How much money does the Indian gaming industry take in a year?
According to National Indian Gaming Commission statistics, the Indian gaming industry brought in more than $26 billion in 2010 — that number represents about 8 percent of the American gaming industry's gross revenue, including Las Vegas.
American Indian gaming is big business — it accounts for over 400,000 American jobs.
25) What is "Indian Preference"
Can Indian Preference help me get a job?
Indian Preference is a legal term that provides preferential treatment to individual Native Americans who live on or near an Indian reservation — many employers in Indian Country accept claims of Indian Preference in job applications.
WWW.EEOC.GOV:
As contained in the U.S. Equal Employment Opportunity Commission: Section 703(i) of Title VII of the Civil Rights Act of 1964, as amended, 42 U.S.C. § 2000e-2(i)(1982), provides an exception to Title VII's general nondiscrimination principles allowing certain employers under certain circumstances to exercise an employment preference in favor of American Indians...(DOWNLOAD PDF).
26) Key federal agencies that work with tribal governments?
DEPARTMENT OF THE INTERIOR (DOI)
U.S. BUREAU OF INDIAN AFFAIRS (BIA)
Within the government-to-government relationship, Indian Affairs provides services directly or through contracts, grants, or compacts to 565 Federally recognized tribes with a service population of about 1.9 million American Indian and Alaska Natives....
NATIONAL INDIAN GAMING COMMISSION (NIGC)
The Commission's primary mission is to regulate gaming activities on Indian lands for the purpose of shielding Indian tribes from organized crime and other corrupting influences; to ensure that Indian tribes are the primary beneficiaries of gaming revenue; and to assure that gaming is conducted fairly and honestly by both operators and players....
FEDERAL BUREAU OF INVESTIGATION (FBI)
27) Key California state agencies:
OFFICE OF THE GOVERNOR OF CALIFORNIA
CALIFORNIA GAMBLING CONTROL COMMISSION
We take appropriate action to foster honest, competitive gambling in California that is free of criminal and corruptive elements. We oversee the State's interest in Tribal-State Compacts....
28) Do Native Americans serve in the armed forces of the United States?
Yes. Native Americans solders, sailors and Marines have a proud and heroic military history of serving their country in both peace and war times, including Medal of Honor recipients and Navajo Code Talkers....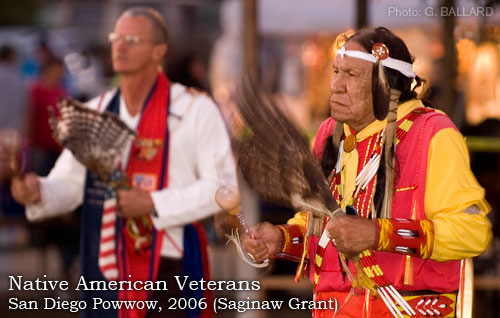 Saginaw Grant, USMC Korean War veteran of Sac-n-Fox (Iowa and Otoe-Missouria Nations), is pictured above (right) in 2006 gourd dancing with fellow Native American Indian military veterans during a powwow in San Diego County.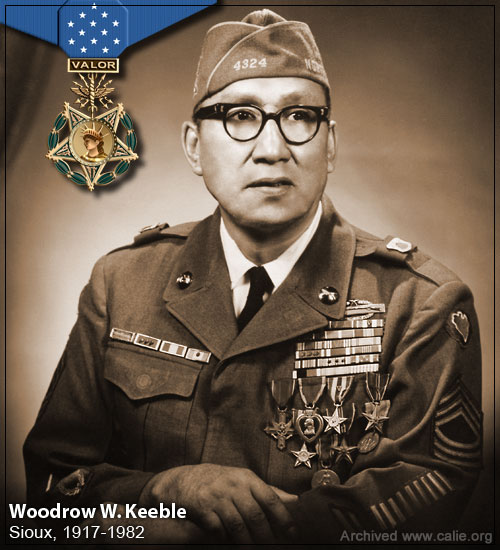 Master Sergeant Woodrow Wilson Keeble (1917-1982) was a highly-decorated war veteran of both World War II and the Korean War. He was a full-blooded member of the Sisseton Wahpeton Oyate of the Lake Traverse Reservation, a Sioux American Indian tribe.
President George W. Bush awarded Mr. Keeble the Medal of Honor posthumously at the White House on March 3, 2008 for his heroic actions in the Korean War. He had previously received the Distinguished Service Cross, the Silver Star, the Bronze Star for Valor, the Bronze Star for merit, and the Combat Infantryman Badge (first and second awards). Although he was wounded at least twice in World War II and three times in Korea, he received only two Purple Hearts... (wikipedia.org).
29) Is there an American Indian religion?
Native American tribes practiced their own forms of religion for thousands of years before the European races 'discovered' North America and converted many of them to Christianity.
In what is now known as California, this Christian movement was founded in 1769 with the Spanish mission system.
Many traditional American Indian religions are based on a belief of the Great Spirit or Creator that reveals itself in every aspect of nature and moral character. Traditional Native American spiritual leaders are sometimes referred to as shamans or medicine people, and that culture still exists today.
However, nearly every American Indian reservation today has a Christian church and Christian followers.
30) What is the significance of eagle feathers to Native American Indians?
The eagle feather holds a universal inter-tribal reverence to traditional Native Americans. Considered a sacred object by many tribespeople, the American eagle is revered as a symbol of strength, intelligence and contains special spiritual powers.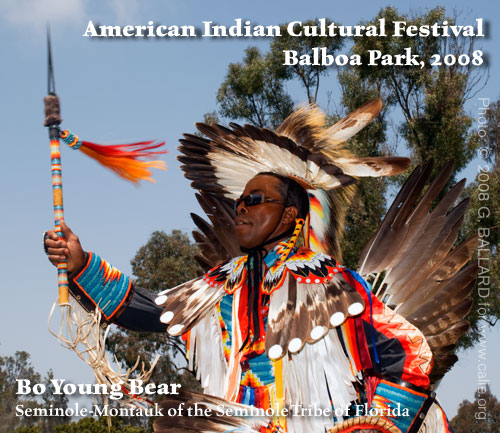 Bo Young Bear, Seminole-Montauk, Seminole Tribe of Florida, danced during the Grand Entry wearing spectacular display of authentic Native American eagle feather regalia and custom beadwork art.
The U.S. Fish and Wildlife Service administrates programs that make eagle feathers available to Native American religious and cultural representatives.
31) What is a pow wow?
Today's modern tribal pow wows are cultural celebrations and social gatherings that honor cultural traditions through dancing, drumming, singing and socializing. Pow wows may be held to honor a special occasion, persons or families.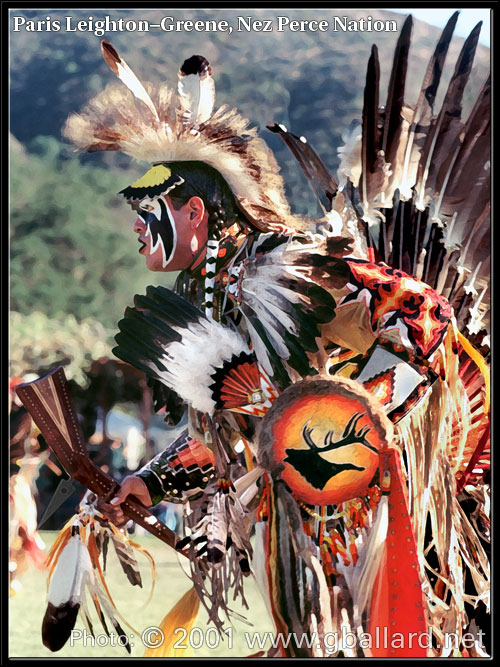 POW-WOW DANCER: Paris Leighton-Greene of the Nez Percé Indian Tribe and a professional pow-wow dancer is pictured above competing for cash prizes in a San Diego pow wow, 2000.
Are non-Indians welcome at pow wows?
Generally, yes, most advertised modern "pow wows" are public events.
32) What is "Eminent Domain"

And can Native American governments use it?
Eminent Domain in the United States historically gives local, federal and state governments the legal authority to take private property for public use, however, the Fifth Amendment to the U.S. Constitution requires the government to provide just compensation to the owner of the property being taken.
A common example of eminent domain is when a government entity takes private property to build a road or park.
Many aspects of property rights are subject to eminent domain, including land, mineral and water rights. The government takes private property under eminent domain through condemnation proceedings. These proceedings entitle the property owner to the right of due process.
In 2013, the Oglala Sioux Tribe took action under the premise of eminent domain to seize Wounded Knee...
INSPIRING NATIVE AMERICAN QUOTES Web Portal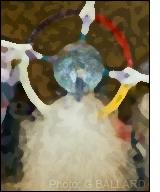 Upon suffering beyond suffering:
The Red Nation shall rise again and it shall be a blessing for a sick world; a world filled with broken promises, selfishness and separations; a world longing for light again.
I see a time of Seven Generations when all the colors of mankind will gather under the Sacred Tree of Life and the whole Earth will become one circle again.
In that day, there will be those among the Lakota who will carry knowledge and understanding of unity among all living things and the young white ones will come to those of my people and ask for this wisdom.
I salute the light within your eyes where the whole Universe dwells. For when you are at that center within you and I am that place within me, we shall be one.
- Crazy Horse, Oglala Lakota Sioux (circa 1840-1877)
Crazy Horse stated as he sat smoking the Sacred Pipe with Sitting Bull for the last time — he was assassinated four days later.
MORE: Inspirational writings, quotations (Traditional & World words of wisdom)...
MORE RESOURCES:
DOWNLOAD PDF: Indian Tribes, Their Rights and Responsibilities (1999) | Funding for this publication was provided by Enterprise Community Partners:
WHAT IS A TRIBE?
WHAT IS A TREATY?
WHAT DOES THE U.S. SUPREME COURT SAY ABOUT TREATIES?
AREN'T TREATIES OLD AND OUT OF DATE?
CAN EVERY INDIAN EXERCISE ALL TREATY RIGHTS?
ARE INDIANS U. S. CITIZENS?
WHY DON'T INDIANS PAY TAXES?
WHY ARE SO MANY TRIBES OPENING CASINOS?
WHY CAN'T NON-INDIANS ADOPT INDIAN CHILDREN?
FAQ: Match-E-Be-Nash-She-Wish Band of Potawatomi