250 MILLION HITS!!!
Feb. 2008-August 2019
Publishing Corner:
ROY COOK NEWS BLOG
THE INDIAN REPORTER
TRIBAL BLOGGERS
Indian Community:
TRIBAL COMMUNITY
PROFILES
OBITUARIES
Science & Wonder
ASTRONOMY PORTAL
KID'S CLUBHOUSE
Indian Heros:
VETERAN COMMUNITY
MEDALS OF HONOR
CODE TALKERS
FAMOUS CHIEFS
HISTORIC BATTLES
POEMS ESSAYS
SPORTS-ATHLETES
MISSION FEDERATION
FAMOUS INDIANS
California Indian Art:
MISSION BASKETS
RED CLAY POTTERY
ETHNOGRAPHIC ART
CAVE ART
MUSIC
CALIE Library:
FEDERAL Resources
HEALTH & MEDICAL
INDIAN BOOK LIST
HISTORICAL Documents
STD Information
Academic Financial Aid:
SCHOLARSHIPS
GRANTS & FUNDING
Tribal Governments:
TRIBAL COURTS
SOVEREIGNTY
SOCIAL SERVICES
TRIBAL DIRECTORY
Indian Gaming:
INDIAN CASINO FORUM
BEST MOST INSPIRING QUOTATIONS, SAYINGS & WRITINGS
Welcome to the California Indian Education collection of only the best, most inspiring quotes by Native American, American Indian, and world writers, philosophers, teachers, entertainers, warriors and leaders.

TRADITIONAL Native American Indian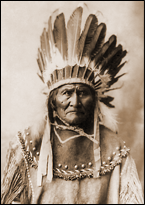 The song that I will sing is an old song, so old that none knows who made it. It has been handed down through generations and was taught to me when I was but a little lad. It is now my own song. It belongs to me. This is a holy song (medicine song), and great is its power. The song tells how, as I sing, I go through the air to a holy place where Yusun (The Supreme Being) will give me power to do wonderful things. I am surrounded by little clouds, and as I go through the air I change, becoming spirit only.
- Geronimo, Apache warrior/leader (1829-1909)

WORLD (non-Indian)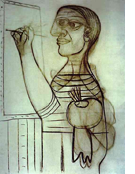 My mother said to me, "If you are a soldier, you will become a general. If you are a monk, you will become the Pope." Instead, I was a painter, and became Picasso.
- Pablo Picasso (Spanish artist, 1881-1973)
This concept is currently being developed by CALIE CEO-President Ernie C. Salgado, Jr. (Soboba).
If you have a quote or poem you would like to add, correct any errors or omissions, please contact us.


Ernie C. Salgado Jr.
Tribal: Luiseño
Reservation: Soboba Indian Reservation
EDITOR: The Indian Reporter www.theindianreporter.com
Founder: www.californiaindianeducation.org
Web Site: www.apapas.com
CONTACT
RESUME/BIOGRAPHY
PUBLISHED ARTICLES
RESEARCHED, COMPILED & PRESENTED: G. BALLARD