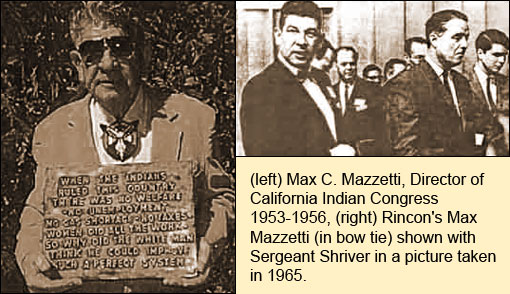 Max Mazzetti
California Indian Obituary
Max Mazzetti, 88, beloved husband, father, grandfather, uncle and friend, passed away March 25, 2010. 
Max is the son of Georgia Calac and Frank Mazzetti, and father of Rincon Tribal Chairman Bo Mazzetti.
Max graduated from Sherman Indian Institute, in Riverside, CA, where he played quarterback for the varsity football team. 
He later served as President of the alumni association for many years.  After graduating, Max joined the U.S. Navy and served in World War II. He met his wife of 64 years, Clarinne, who was a member of the U.S. Marine Corps, at a dance.  She preceded Max in death, passing away August 14, 2009.
After the war, he returned to the Rincon Reservation where he served as tribal chairman and council member during the tumultuous "termination years." Max started working on the Indian Lands and Indian water rights claims in 1947.
He worked  hard as a carpenter at Camp Pendleton and farming on the reservation, as well as working nights on Indian rights issues.  But he knew how to have a good time.  In the 1940s, his band would play at the Rincon Springs General Store and Café and surrounding reservations.
Max had many titles, secretary, treasurer and director and chairman of the Tribal Councils of California, formed to challenge termination; Mr. PL 280, because of his knowledge and experience of the years when criminal law enforcement of California Indians was given to the state; Indian Correspondent, because he kept local newspapers informed of tribal affairs; and as "The Senator" for years of meetings and letter writing to state and local officials on behalf of Indian people.
Max was one of the founders of the National Congress of American Indians, Inter-Tribal Council of California and many other Indian rights organizations.
But Mr. Mazzetti is best remembered for his leadership and commitment to stopping the takeover of Indian lands by the state of California, dissolution of tribal governments, and removal of 117 California tribes from federal trust, ending all federal funding and tribal support programs.
Known as Termination, the federal Legislation — HR 7473 and P.L. 83-280 called for the termination of Indian governments and trust lands in 10 states.  In 1950, Max and other tribal leaders discovered that the Bureau of Indian Affairs (BIA) appropriations for tribes had been cut off, leaving no funds for education, water, health care and other services that the tribes needed.  
Max and friends organized the Tribal Councils of California, which, enlisted  a number of  Congress members  and state representatives to help get the funds temporarily restored and a resolution  (Resolution No. 4)passed by the state, opposing termination. 
This act saved the majority of  California tribes from termination.  It also gave them back their sovereign right to govern their lands, as well as ensuring that the federal government would continue to meet its "Trust Responsibility" to tribes.  Max served as the first secretary/treasurer of the organization and a variety of  other prominent posts as chairman and director.
Termination and Public Law 280 created confusion over jurisdictions between the state and tribes.  An example was stopping of tribal fiestas because they didn't meet county health codes, and Indian arrests for fishing and hunting on their reservations, Max  worked to reinstate these rights too.
Another issue that Max took to heart was the refusal to grant GI Loans to Indians, and, as Chairman of the Tribal Councils, Max turned to officials in Washington D.C., when five Indian patients were prematurely released from the San Diego County Hospital in one week and died.
Max also fought against the county placing liens on Indian land in violation of federal law, he won.
After securing World War ll temporary housing units that were offered as salvage for three counties in California, Max led a lawsuit against Riverside County, which would not allow the homes to be rebuilt on reservations because they were "red tagged" and substandard by county ordinances.   The suit was decided in favor of the Indians, reconfirming that counties, like states, have no authority to enforce their ordinances on tribal land.
Also serving on a tribal organization to restore water to four North County reservations, Max was able to see legislation signed by then President Regan, which began the process of returning water that was illegally routed to cities back to the reservations.
Max leaves a legacy as a leader, mentor and friend.  He will be dearly missed, not just for the passion he showed, or the time and resources he gave to defending Indian people, but for the many kindnesses and generosity of heart he shared with all who knew him.
Max is survived by his two sons Ed (Suzanna) and Bo (Mary), sister Alberta McNeal, brother George (Jody) Mazzetti, numerous grandchildren, great grandchildren, nieces and nephews.  He was preceded in his death by his wife, Clarinne, and brother,Frank Mazzetti, Jr.
Viewing services will be Friday, April 2, 6-8 p.m., at Alhiser-Comer Mortuary, 225 S. Broadway, Escondido, CA. 92025, with Memorial Services, Saturday, April 3, 10 a.m., at the First Methodist Church, 341 S. Kalmia St., Escondido, CA. 
Burial will be at the Rincon Cemetery followed by a luncheon at the Rincon Tribal Hall.
To submit memorials, corrections, photos, additional information, please CONTACT WEBMASTER.