Publishing Corner:
ROY COOK NEWS BLOG
THE INDIAN REPORTER
TRIBAL BLOGGERS
Indian Community:
TRIBAL COMMUNITY
PROFILES
Science & Wonder
ASTRONOMY PORTAL
KID'S CLUBHOUSE
Indian Heros:
VETERAN COMMUNITY
MEDALS OF HONOR
CODE TALKERS
FAMOUS CHIEFS
HISTORIC BATTLES
POEMS ESSAYS
SPORTS-ATHLETES
MISSION FEDERATION
FAMOUS INDIANS
California Indian Art:
MISSION BASKETS
RED CLAY POTTERY
ETHNOGRAPHIC ART
CAVE ART
MUSIC
CALIE Library:
FEDERAL Resources
HEALTH & MEDICAL
INDIAN BOOK LIST
HISTORICAL Documents
Academic Financial Aid:
SCHOLARSHIPS
GRANTS & FUNDING
Tribal Governments:
TRIBAL COURTS
SOVEREIGNTY
SOCIAL SERVICES
TRIBAL DIRECTORY
Indian Gaming:
INDIAN CASINO FORUM
DARRELL "SHIFTY" POWERS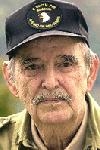 Darrell "Shifty" Powers, 86, of Shifty Lane, Clinchco, Va., passed away Wednesday June 17, 2009 at Wellmont Regional Hospital, Bristol, Tenn., after a courageous battle with cancer.
He was a charter member of Clinchco Missionary Baptist Church. Shifty was a veteran of World War II, having served in the 101st Airborne, 506 Parachute Infantry Regiment. He was a member of the famed Easy Company whose exploits received worldwide recognition in "Band of Brothers," a book by historian Stephen Ambrose, and miniseries produced by Tom Hanks and Stephen Spielberg.
Shifty dropped behind enemy lines in Normandy on D-Day. He also participated in all of Easy Company's battles including Operation Market Garden, Battle of the Bulge, and the capture of Hitler's Eagles Nest.
Powers liked school because got to play basketball. In fact, he got his nickname, "Shifty," from his outstanding basketball play. After graduating from the local high school, Powers decided to go to technical school.
"After the Japanese bombed Pearl Harbor, they (the government) moved all of us from the school over to the Navy Shipyard at Portsmouth, to do work on the ships there. I worked there as a machinist for a while, My buddy "Popeye" (Robert Wynn, a fellow Virginian from South Hill) and me wanted to join the military so we went and signed up for the Army before we got stuck at the shipyard. We volunteered for paratrooper school." Powers and his fellow paratroopers were originally sent to Camp Pickett in Virginia where they got their basic physicals and their numerous shots and immunizations, but soon shipped out to Camp Toccoa, Georgia.
Powers said, "And parachuting to the ground isn't hard either. If you jump out of an airplane you're going to hit the ground, one way or another." Powers laughed. "The hard part back then was landing. Nowadays they have a different type of chute and they can land fairly soft, but back then, with the chutes we had, you hit the ground pretty hard.
They taught us to yell Geronimo when we jumped. It was supposed to take our mind off jumping, but it didn't work for me, so the instructors told me to yell Currahee (The men of the 506th were nicknamed the Currahees after the Currahee Mountain at Camp Toccoa), but that didn't help either. They finally told me to just yell anything I wanted. Well I finally found something I could yell and it kind of distracted me, I'd yell 'Oh S_ _ t what am I doing here.' It worked for me" Currahee is Cherokee for "Stands alone." Powers and his fellow Currahees adopted it as a unit motto.
"I was in the army three years, one month and a couple of days," Powers said before he passed on. "I was glad to see home. But you know something that puzzles me? In just about three years, we went into the army, exercised, trained, fought and won a war and came home. Our boys have been in Iraq three years now. They can't come home because the Iraqi army boys can't do the job and do their own fighting yet? I just believe that as long as our boys are there to do their fighting for them they won't ever learn to help themselves."
To submit memorials, please CONTACT WEBMASTER.