Publishing Corner:
ROY COOK NEWS BLOG
THE INDIAN REPORTER
TRIBAL BLOGGERS
Indian Community:
TRIBAL COMMUNITY
PROFILES
SOARING EAGLES
OBITUARIES
Science & Wonder
ASTRONOMY PORTAL
KID'S CLUBHOUSE
Indian Heros:
VETERAN COMMUNITY
MEDALS OF HONOR
CODE TALKERS
FAMOUS CHIEFS
HISTORIC BATTLES
POEMS ESSAYS
SPORTS-ATHLETES
MISSION FEDERATION
FAMOUS INDIANS
California Indian Art:
MISSION BASKETS
RED CLAY POTTERY
ETHNOGRAPHIC ART
CAVE ART
MUSIC
CALIE Library:
FEDERAL Resources
HEALTH & MEDICAL
INDIAN BOOK LIST
HISTORICAL Documents
Academic Financial Aid:
SCHOLARSHIPS
GRANTS & FUNDING
Tribal Governments:
TRIBAL COURTS
SOVEREIGNTY
SOCIAL SERVICES
TRIBAL DIRECTORY
Indian Gaming:
INDIAN CASINO FORUM

Travis Weber pictured center with his son, Traveling Wolf, at his 8th grade graduation in Alpine, CA, in 2014.
Travis Chris Weber
1964-2015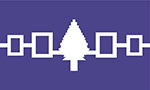 Travis Chris Weber was born of a Seneca mother in San Diego County on August 10, 1964 and passed away in San Diego County on September 25, 2015 of natural causes.
Portions of Trav's childhood and adulthood were lived on Viejas Reservation in Alpine California; and on Tonawanda Reservation in New York State.
Trav could read, write, and speak the Seneca language, and was very zealous of Native American culture: especially its songs, its music, its dances, its ceremonies, and its prayers. Trav loved powwows, and was a regular at all he could attend.
Trav was a heavy equipment operator by trade, especially back hoe, and was the go-to guy for difficult jobs on steep slopes.
Towards the end, Trav was attending school at Cuyamaca Community College in El Cajon with the goal of leaving the earth moving world and becoming a counselor.
Fate didn't permit Trav to grow old and long in the tooth; but he was here long enough to leave behind four daughters, five sons, and nine grandchildren.
To say he's missed by family and friends; would be an understatement. Trav was a living medicine wheel-- a key ingredient in the recipe of our contentment.
Trav is buried in Viejas Reservation's cemetery; his headstone will be dedicated in September of 2016.
Posted by Cliff Weber