Publishing Corner:
ROY COOK NEWS BLOG
THE INDIAN REPORTER
TRIBAL BLOGGERS
Indian Community:
TRIBAL COMMUNITY
PROFILES
Science & Wonder
ASTRONOMY PORTAL
KID'S CLUBHOUSE
Indian Heros:
VETERAN COMMUNITY
MEDALS OF HONOR
CODE TALKERS
FAMOUS CHIEFS
HISTORIC BATTLES
POEMS ESSAYS
SPORTS-ATHLETES
MISSION FEDERATION
FAMOUS INDIANS
California Indian Art:
MISSION BASKETS
RED CLAY POTTERY
ETHNOGRAPHIC ART
CAVE ART
MUSIC
CALIE Library:
FEDERAL Resources
HEALTH & MEDICAL
INDIAN BOOK LIST
HISTORICAL Documents
Academic Financial Aid:
SCHOLARSHIPS
GRANTS & FUNDING
Tribal Governments:
TRIBAL COURTS
SOVEREIGNTY
SOCIAL SERVICES
TRIBAL DIRECTORY
Indian Gaming:
INDIAN CASINO FORUM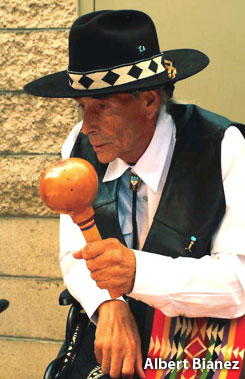 Albert Bianez
Singers and friends:
Many of us have sat at the drum with Albert Bianez over the years. He passed on this Tuesday 10/20/09. Albert was born in San Fernando, New Mexico. Albert was a self-taught artist and currently had a retrospective of his paintings in the Centro Cultural de la Raza in Balboa Park.
He grew up on the tough streets of East LA. He remembered the Mexican Pachuco gangs and knew the Barrio argot language. The word "pachuco" comes from the Nahuatl dialect: Pachoacan; this word means, "Place where is governed". We ask you to include him and his family in your prayers during this memorial time.
Albert has been very eager to learn traditional songs of all styles. He sang Kiowa songs with the Red Warriors for over 25 years.  Recently he had been supportive and loyal to the Wildcat singers under the instruction of Jon Meza Cuero. This is a picture of him at Tecolote Park October 10, 2009. This crisis in his health is very sudden and sad.
Thank you all for your prayers.
To submit memorials, please CONTACT WEBMASTER.