500 MILLION+ HITS!!!
Feb. 2008 - Sept. 2023
101,000-plus Unique Daily Visitor IPs logged a month!
300,000 Pages Viewed a month!
NATIVE NEWS
Assignments Editor
Publishing Corner:
TRIBAL BLOGGERS:
NativeSportsMedia.com
Shaynedel.com
ROY COOK NEWS BLOG
THE INDIAN REPORTER
BOOK STORE
Indian Community:
TRIBAL COMMUNITY
SOARING EAGLES
LEADER PROFILES
OBITUARIES
TRIBAL TANF GUIDE
KID'S GUIDES
Science & Wonder
ASTRONOMY PORTAL
KID'S CLUBHOUSE
Indian Heros:
VETERAN COMMUNITY
WHO'S IN THE MILITARY?
MEDALS OF HONOR
CODE TALKERS
FAMOUS CHIEFS
HISTORIC BATTLES
POEMS ESSAYS
SPORTS-ATHLETES
MISSION FEDERATION
FAMOUS INDIANS
California Indian Art:
MISSION BASKETS
RED CLAY POTTERY
ETHNOGRAPHIC ART
CAVE ART
MUSIC
CALIE Library:
FEDERAL Resources
HEALTH & MEDICAL
OBAMACARE
INDIAN BOOK LIST
HISTORICAL Documents
STD Information
TRIBAL FAQ
Inspirational Quotes:
TRADITIONAL
WORLD
Academic Financial Aid:
SCHOLARSHIPS
GRANTS & FUNDING
Tribal Governments:
TRIBAL COURTS
SOVEREIGNTY
SOCIAL SERVICES
TRIBAL DIRECTORY
Indian Gaming:
INDIAN CASINO FORUM
CALIFORNIA INDIAN EDUCATION
Celebrating 15 years serving the tribal community: 2008-2023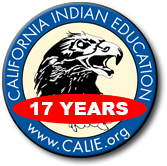 WELCOME to the official California Indian Education CALIE website, the American Indian tribal community leader in on-line Native American educational resources and community services in Southern California Indian Country.
We collaborate with the thirty California Indian Education Centers established by the California Department of Education, and the twenty seven federally-recognized Tribal Governments located in Southern California.
Please contact our Editor in Chief Ernie Salgado, Soboba Indian Reservation, to become involved with your tribal community website!

Español | 中文 | 日本 | Française | Deutsch | 한국어 | Россию | پارس
INDIGENOUS AMERICAN INDIAN TRIBES OF THE UNITES STATES
There are some 574 federally-recognized Indian tribes in the United States (approximately 109 of them are located in California, with some 18 of those in the County of San Diego).
In addition, there are millions of Native American urban Indians living off reservation, many of whom depend on and benefit from tribal educational, news and tribal TANF programs.
NEWS | COMMUNITY VOICES | JOBS | EVENTS | DEATHS | SUPPORT TRIBAL EDUCATION
DAILY PINS:
News, Features, Events, Letters
Bookmark these links - they expire weekly
Biden-Harris Administration Announces Almost $8 Million for Tribal Recycling Infrastructure Projects in the Pacific Southwest 
On America Recycles Day and Anniversary of President Biden's Bipartisan Infrastructure Law, EPA announces grants funded in part by the largest recycling investment in 30 years
November 15, 2023
Source (press release): www.epa.gov
Recipients of the grant and amounts, include:
Cher Ae Heights Indian Community of the Trinidad Rancheria ($950,679) 
Gila River Indian Community ($1,276,606) 
Iipay Nation of Santa Ysabel ($1,500,000) 
Mesa Grande Band of Mission Indians ($173,750) 
Pechanga Band of Indians ($1,065,473) 
Rincon Band of Luiseño Indians ($1,500,000) 
Santa Ynez Band of Chumash Indians ($406,837) 
Shingle Springs Band of Miwok Indians ($653,120) 
Shoshone-Paiute Tribes of the Duck Valley Indian Reservation ($389,194) 
Posted by John Senn, Office of Public Affairs, U.S. EPA, San Francisco Regional Office, phone: 415-972-3999 (see press release for email and more information)
Killers of the Flower Moon | Official Trailer 2 (2023 Movie)
Paramount Pictures, Exclusively in theatres October 20th.
Killers of the Flower Moon is "Scorsese's most innovative and best movie in decades." Starring Leonardo DiCaprio, Robert De Niro, and Lily Gladstone.
At the turn of the 20th century, oil brought a fortune to the Osage Nation, who became some of the richest people in the world overnight.
The wealth of these Native Americans immediately attracted white interlopers, who manipulated, extorted, and stole as much Osage money as they could before resorting to murder.
Based on a true story and told through the improbable romance of Ernest Burkhart (Leonardo DiCaprio) and Mollie Kyle (Lily Gladstone), "Killers of the Flower Moon" is an epic western crime saga, where real love crosses paths with unspeakable betrayal.
Also starring Robert De Niro, Jesse Plemons, Tantoo Cardinal, Cara Jade Myers, JaNae Collins, and Jillian Dion,
"Killers of the Flower Moon" is directed by Academy Award winner Martin Scorsese from a screenplay by Eric Roth and Martin Scorsese, based on David Grann's best-selling book.
Follow Paramount Pictures for more about Killers of the Flower Moon: Official Site: http://www.paramount.com/


Press Release: Ramos and Potter sign state's gaming compact with Redding Rancheria: negotiations respectful of tribal rights and ensure California's interests protected...


Holt Hamilton Films is where Native American Indian, Indigenous, and those interested in Native Country turn for quality, family-friendly, uplifting and wholesome entetainment.

ROOTED WINCHESTER CHURCH
Assembly of God
"Come and get Rooted with us!"
Pastor Bonnie Stevens McCall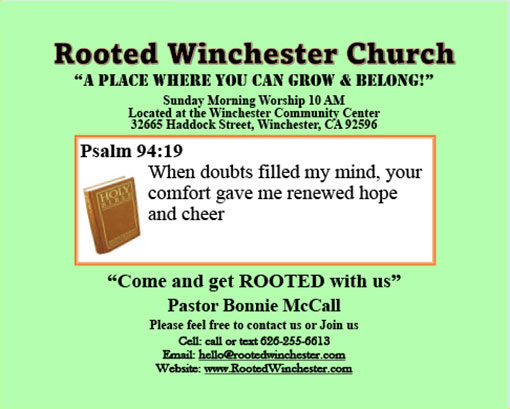 JOB POSTS, ACLU of Southern California:
The American Civil Liberties Union (ACLU) defends the fundamental rights outlined in the United States Constitution and the Bill of Rights. These include the right to freedom of speech and assembly, the right to religious freedom, due process of law, equality before the law and the right to privacy. The ACLU also relies on state constitutional provisions and federal and state laws that further these and similar rights....
Posted July 18, 2023 by Tabatha Garcia, Human Resources Generalist, ACLU of Southern California

"Native Ball: Legacy of a Trailblazer" to Launch on PBS Affiliates
Award-winning documentary to air nationwide beginning November 2023
WATCH TRAILER | HOST A SCREENING

US Supreme Court Rules Against Navajo Nation in Water Rights Case. The vote was 5 to 4, with the majority finding that an 1868 treaty did not require the federal government to ensure the tribe had access to water.

US Supreme Court rejects race-based challenge to Native American adoption law -- What to know about the Supreme Court ruling upholding the Indian Child Welfare Act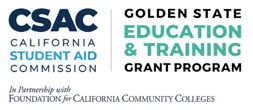 CSAC CALIFORNIA STUDENT AID COMMISSION Golden State Education and Training Grant Program www.csac.ca.gov

The Pirate Radio Broadcaster Who Occupied Alcatraz and Terrified the FBI -- Over fifty years ago, John Trudell overcame tragedy to become the national voice for Native Americans—and a model for a new generation of activists....

'We are unstoppable': Youth climate strikes return in full force

Native American tribe gets its land back after being displaced nearly 400 years ago

NATIVE KNOWLEDGE 360 EDUCATION INITIATIVE Transforming teaching and learning about Native Americans
STICKIE PINS:

(Daily Pins of a more permanent nature)


Newsletter for Current Tribal Events
Welcome to Dorothy Ramon Learning Center's online newsletter...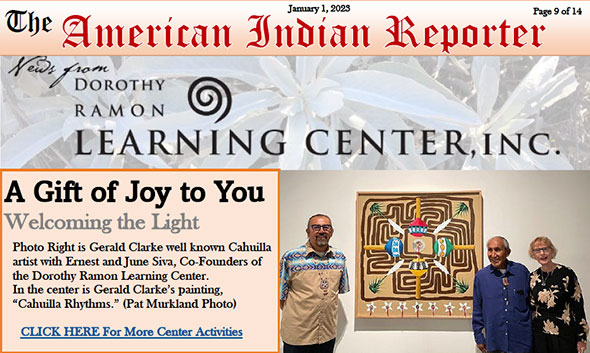 our words
our arts
our stories
tell the stories.
sing the songs.


SHAYNE DEL COHEN The American Indian Reporter (Tribal Education Columnist) professional experience working with American indigenous tribes spans more than 40 years...

SCHOLARSHIPS list free money for college and education for Native Americans, from Shayne del Cohen, PhD

SEARCH SHAYNE'S MASSIVE ARCHIVES for more scholarship lists for Native Americans
Courtesy of The American Indian Reporter

Being is a spiritual proposition. Gaining is a material act. Traditionally, American Indians have always attempted to be the best people they could. Part of that spiritual process was and is to give away wealth, to discard wealth in order not to gain.
- Russell Means, Republic of Lakotah
(Activist, actor 1939-2012)

CALIE INCORPORATES as a Non-Profit 501(c)(3) American Indian Organization!
FEATURED CALIE ARTICLES & COMMUNITY NOTICES:
BREAKING NEWS IN INDIAN COUNTRY
New AIR SUBSCRIPTION FORM - Receive Your Free Tribal Newspaper E-Mailed Directly to Your Home or Office or Mailing List

SUBSCRIBE to The American Indian Reporter (AIR) tribal newspaper.
Tribal members' full-color community newspaper emailed to you: FREE electronic downloads through our newsletter.
CTCA Establishes six-member Executive Council — California Tribes speak with one unified voice:
California Tribal Chairpersons Association, Inc. (CTCA)
by Ernie C. Salgado, Jr.
Publisher, Executive Editor, The American Indian Reporter
The California Tribal Chairpersons Association, Inc. became a realty in December 2018 with the formal approval of the organizational documents and the seating of the Board of Directors and the Executive Council.
The Board of Directors consist of one representative from each of the member tribes. The six-member Executive Council is composed of two representatives from the three geographical areas identified as Southern, Central, Northern.

Bo Mazzetti, Tribal Chairman of the Rincon Band of Luiseño Indians, has provided the leadership in bringing the tribal leaders together.

Michael Hunter, Tribal Chairman of the Coyote Valley Band of Pomo Indians was elected Vice Chairman of CTCA.

Garth Sundberg, Tribal Chairman of the Trinidad Rancheria was elected Treasurer of the CTCA.

Erica M. Pinto, Tribal Chairwoman of the Jamul Indian Village of California was elected Secretary.

Kevin Day, Tribal Chairman of Tuolumne Band of Me-Wuk Indians was elected Member at Large of the CTCA.

Dale Miller, Tribal Chairman of Elk Valley Rancheria was elected Member at Large of the CTCA.

Denis Turner, Executive Director of the Southern California Tribal Chairmen's Association, Inc. SCTCA, provided the organization with expertise on the development of organizational document and in-service training.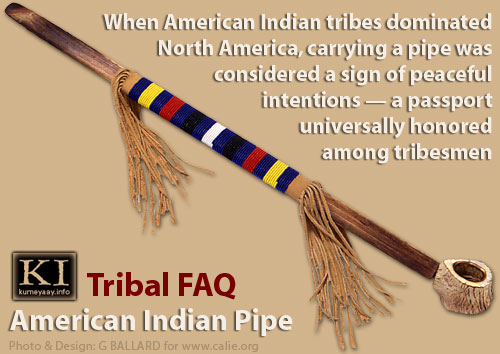 TOP 50 Frequently Asked Questions about American Indian tribes — "American Indian or Native American?" | "Tribe or Band?" | "Who is an American Indian?" | "What is Indian Country?" | "Tribal Sovereignty" | "Indian Preference Jobs"...
CALIE WEBSITE Hosts the World's Best Inspirational Quotes of All Time: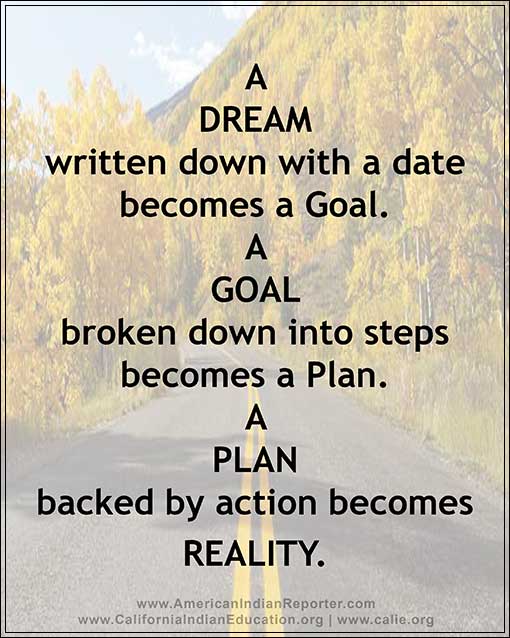 DOWNLOAD high resolution poster print size - royalty free print and post it in your home or office - quote thanks to www.shaynedel.com - more of the best inspirational American quotes.
FEATURED SOUTHERN CALIFORNIA TRIBAL NEWS STORIES:

FEATURED TRIBAL MEMBERS PROFILE: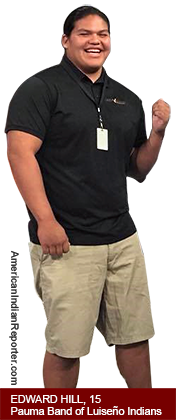 Edward Hill, Pauma, All CIF Football
by Ernie Salgado
At six foot three and 285 pounds, 15-year-old Edward Hill, a junior at Valley Center High School in Escondido....
FEATURED EVENTS & BREAKING NEWS: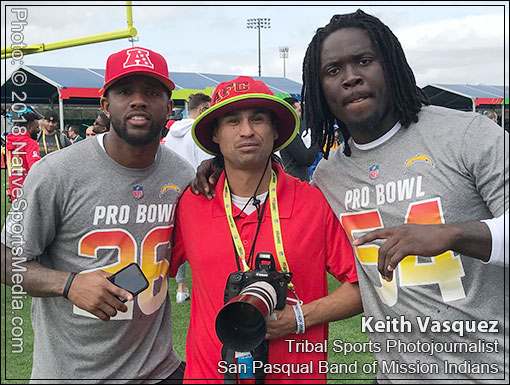 KEITH VASQUEZ, Sports Reporter
San Pasqual Band of Mission Indians
Keith Vasquez (Kumeyaay) has joined CALIE as tribal Sports Editor. He was born and raised on the San Pasqual Indian Reservation located near Valley View Casino Hotel in the County of San Diego. The 35-year-old social media correspondent is an enrolled Kumeyaay tribal member who's also the father of five beautiful children (three boys and two girls). He self-publishes Southern California's premier Native American Indian sports news website: NativeSportsMedia.com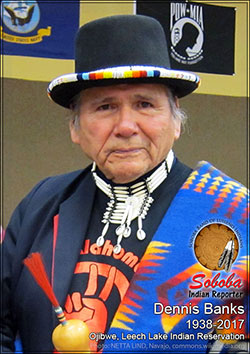 DENNIS BANKS, 80
1937-2017
American Indian Icon
Activist, Teacher, Author
by Ernie C. Salgado, Jr., Editor
Mr. Dennis Banks, Co-Founder of (AIM) the American Indian Movement passed away on October 29, 2017. However, his legacy will live forever as a true American Indian "Warrior" of the people.
In our short lives we seldom have the opportunity to meet or know of very few "Distinguished People" that truly grace us with their presence. I am proud to say Dennis Banks was my friend and one of the "Great Men" of our time.
Anyone that ever had the honor of meeting him knew him as an honest, humble and caring person. When he spoke to anyone it was with respect regardless of status, they be a United States Senator or a Reservation Indian, it didn't matter...READ THE FULL NEWS STORY CALIE'S FAMOUS INDIAN STUDY & RESEARCH GUIDE ABOUT DENNIS BANKS.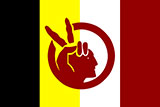 Dennis Banks co-founded the American Indian Movement (AIM) in 1968. Russell Means (left) joined the organization shortly thereafter. The two iconic Native American Indian leaders were key activists and spokespersons for the historic Wounded Knee incident (1973), and the Native American Occupation of Alcatraz Island (1969-1971).
PERSEVERANCE
Special OP-ED to The American Indian Reporter
by Ernie C. Salgado, Soboba Tribal Elder
Recent featured American Indian Reporter news articles:


Pauma's Edward Hill All CIF Football
by Ernie Salgado
At six foot three and 285 pounds, 15-year-old Edward Hill a Junior at Valley Center High School in Escondido....


SANTA ROSA REZ FACING SELECTIVE LAW ENFORCEMENT...
by Ernie Salgado
Although the Soboba Indian Reporter does not support the legalization of marijuana, the enforcement of federal statutes on the Santa Rosa Indian Reservation is troublesome.
At issue is the sovereign authority of the tribe versus the federal statutes of the United States Government against the legal cultivation and sales of marijuana (cannabis) in California...


The True Origin of the Term "Native American"
by Ernie Salgado
Have you ever wondered who, where and when the term "Native American" originated?
Most folks under the age of 60 most likely assume it was always a term used to make reference to the American Indian people and as such just accept it.

DENNIS BANKS, DEAD AT 80
by Ernie Salgado, Soboba Tribal Elder
I am proud to say Dennis Banks was my friend and one of the "Great Men" of our time...


VETERANS DAY, HONORING SOBOBA MILITARY
by Ernie Salgado, Soboba Tribal Elder
Soboba Tribal members have served in the armed forces of the United States in every war and conflict since WWI ... It is estimated that over 80 million people were killed during the seven years of WW II. U.S. military records indicate their were 670,846 Americans wounded and 405,399 lost their lives, three of which were Tribal Members of the Soboba Band of Luiseño Indians...

YACK-A-DE-YACK, JOE CALAC
by Ernie Salgado, Soboba Tribal Elder
The year was around 1951–52 when my brothers, Bobby and Dumbo and I were the youthful menaces on the Soboba Indian Reservation...


YES, WE ARE STILL HERE
by Annette Guachino, Iipay Nation of Santa Ysabel
While I was at La Jolla Shores, an elderly foreign woman, maybe Russian approached me. Heavy accent, she asked if we were real Indians and why we were singing and dancing there on the beach. She was genuinely interested, no sarcasm...


BACK TO SCHOOL ON THE RESERVATION
by Ernie Salgado, Soboba Tribe
It seems like the older we get the faster time flies or is it just my imagination getting the best of me, again?...


ED CASTILLO is a well-known tribal educator and American Indian activist who participated in the historic 19-month American Indian occupation of Alcatraz (1969-1971). He's also a celebrated Native American book author and retired professor/director of Native American Indian Studies at the Sonoma State University in California...


SILENT RAIN ESPINOZA (Viejas), Christian High School Girls Softball team posted an outstanding .560 batting average with 62 hits and scored 64 runs, named All American First Team...


AVELLAKA ARIVSO (Soboba), Hemet High School Girls Softball team, wins Bulldogs 2017 Most Valuable Player (MVP) award...


KEYERA "FLORES" CAMERON placed 2nd in the NFL 8-9 Year Old Pass, Punt and Kick Division Championships...


JOE BURTON (Soboba), a 2009 West Valley High School and Oregon State University Beavers basketball player, Joseph was voted 2016 MVP in his professional rookie year with the French ALM Évreux Basketball league team, continues successful pro sports career...
CALIE.ORG Website Turns 15 Years!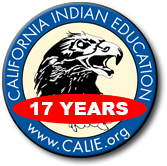 Established February of 2008 by Ernie C. Salgado Jr., www.californiaindianeducation.org website celebrated its 13th anniversary during Feb. 2022.
STATISTICS (calie.org domain only):
HITS: 400 MILLION plus (about 2 million Hits a month)
PAGES VIEWED: about 300,000 per month
UNIQUE DAILY VISITORS: 6 million plus (logging about 120,000 per month)
CALIE'S TOP 10 MOST POPULAR PAGES:
Please contact our CEO/ASSIGNMENTS EDITOR, Ernie Salgado, for more information about becoming involved with your tribal community website and supporting California Indian Education.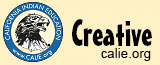 CALIE.ORG/creative is developing a Wordpress site to showcase the best tribal inspired creative multimedia content on the Internet — everything from photojournalistic still documentaries, research articles, posters. Creative Indian is a work in progress...

TRADITIONAL Native American Indian & World Quotations

I am an Indian, American Indian. I prefer 'American Indian' (because) anyone born in the western hemisphere is a native American.
- Russell Means, Republic of Lakotah
(Activist, actor 1939-2012)
READ MORE Earth writings...



Contact CALIE ASSIGNMENTS EDITOR to request a news reporter to cover your tribal events.


YES, WE ARE STILL HERE
by Annette Guachino, Iipay Nation of Santa Ysabel
special to the Soboba Indian Reporter
While I was at La Jolla Shores, an elderly foreign woman, maybe Russian approached me. Heavy accent, she asked if we were real Indians and why we were singing and dancing there on the beach. She was genuinely interested, no sarcasm.
She said she was in the restroom and couldn't wait to go out to see it for herself.
She was brought to tears listening to the bird songs and watching the young women dance. She kept saying it was beautiful just beautiful.
She asked if we lived on Indian reservations. I told her yes a lot (many) of us do and I told her she was on Kumeyaay land now.
She was so excited and the look in her eyes as she stood there and watched in disbelief that "real Indians" were before her was something I'd never witnessed.
I left her with tears in her eyes and a smile like a child looking at the gates of Disneyland.
She'd thought we were extinct.
This commentary was contributed by Annette Guachino and published with her permission.
American Indians Second Class Citizens by Choice
by Ernie C. Salgado, Jr., Soboba Indian Reservation
I told myself not to write this article but sometimes I just can't help myself. I guess I'm like the bug in the movie "Bugs Life" when he was told don't look at the lights and as he looked at the light he said "I can't help it." So since I can't help myself I am going to expose this can of worms.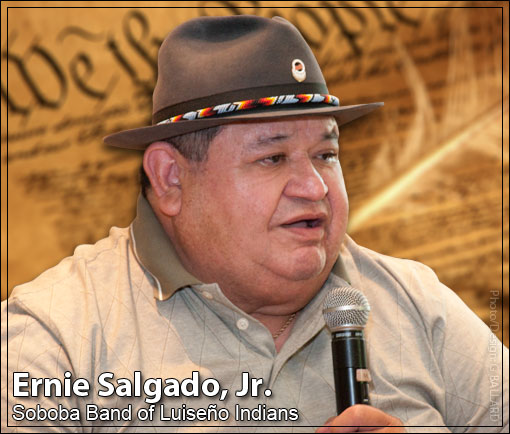 What is pathetic is that non-American citizens seem to get more protections from the Constitution of the United States of America than the American Indian tribal people. In fact just the other day the Federal Court judge in Hawaii ruled that the Trump travel ban was not legal because it violated the Civil Rights of the non-citizens. And if that's not bad enough the Supreme Court ruled that the U.S. forces in combat fighting the Islamic extremist must read them their Miranda Rights.
Sure the United States Congress passed the Indian Civil Rights Act in 1968 (H.R. 2516) stating "The Indian Civil Rights Act of 1968 (ICRA) applies to the Indian tribes of the United States and makes many, but not all, of the guarantees of the Bill of Rights applicable within the tribes. The legislation also addressed the crises of domestic violence that pledge the American Indian community.
The Act appears today in Title 25, sections 1301 to 1303 of the United States Code. The "and makes many, but not all," are troublesome and were not defied The US Supreme Court had made clear that tribal internal affairs concerning tribal members' individual rights were not covered by the Fifth Amendment to the US constitution. However, the tribes were ultimately subjected to the power of Congress and the Constitution... READ MORE.

Serving the Southern California Inter-Tribal Community with employment information, job fairs, job listings, vocational training, education, courses and leads to gainful full and part time jobs in Southern California.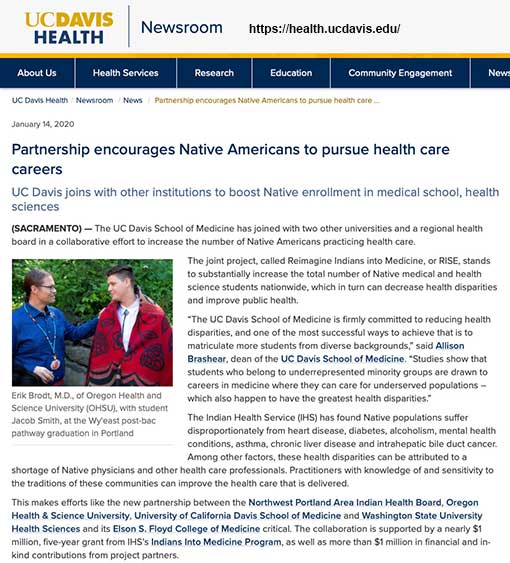 Partnership encourages Native Americans to pursue health care careers - UC Davis joins with other institutions to boost Native enrollment in medical school, health sciences
(SACRAMENTO) - The UC Davis School of Medicine has joined with two other universities and a regional health board in a collaborative effort to increase the number of Native Americans practicing health care.
Employment & Job Training for Veterans in County of San Diego
Goodwill Industries of San Diego County has launched several programs (including Operation:GoodJobs) serving military veterans and their families. These programs focus on eliminating barriers to employment to facilitate your transition to the civilian workplace, prepare for your career, and assist you on the road to economic independence....
To post your job notices here, please CONTACT WEBMASTER...
AMERICAN INDIAN WOMEN IN HISTORY


Sacagawea, Shoshone, c. 1788-1812, Guide


Maria Tallchief, Osage, 1925-2013 "America's First Prima Ballerina"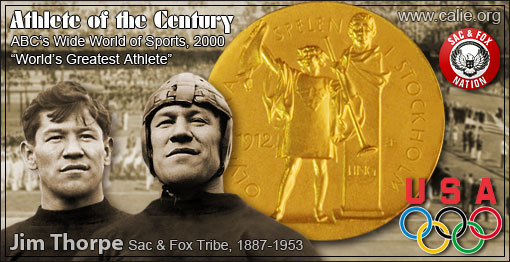 JIM THORPE (Sac & Fox Tribe) 1987-1953,
"Athlete of the Century" | "Greatest Athlete in the World"....


AMERICAN TRIBAL SOVEREIGNTY — American tribes practiced their own forms of government for thousands of years before European intrusion and the formation of the United States government. The Constitution of the United States, U.S. Supreme Court, federal and state laws, as well as historical treaties all support the tribes' present-day legal rights to self-government and certain forms of tribal sovereignty....


JOHN CHIEF MEYERS (Cahuilla, Riverside, CA), 1880-1971, MLB teams the "Ironman" played for: New York Giants, Boston Braves, Brooklyn Robins. Career batting average .291, played in four World Series (1911, 1912, 1913, 1916)....


American Indian Boarding School Experience
CALIE is compiling a historical Web portal for research into what happened circa 1850-1930...


VIEJAS "V-STARS" hold successful Public Safety & Native Wellness Conference for Native American Indian youth and families...professional photo blog.
www.californiaindianeducation.org AKA www.CALIE.org www.californiaindianeducation.com • CALIE.ORG is not affiliated with www.calie.com www.calie.gov www.cali.gov www.calie.edu www.cali.com www.cali.org www.calie.gov