49 MILLION HITS!!!
Feb. 2008-April 2013
Publishing Corner:
TRIBAL BLOGGERS:
ROY COOK NEWS BLOG
THE INDIAN REPORTER
JOURNAL FROM SDC
KAREN VIGNEAULT
BOOK STORE
Indian Community:
TRIBAL COMMUNITY
PROFILES
OBITUARIES
Science & Wonder
ASTRONOMY PORTAL
KID'S CLUBHOUSE
Indian Heros:
VETERAN COMMUNITY
MEDALS OF HONOR
CODE TALKERS
FAMOUS CHIEFS
HISTORIC BATTLES
POEMS ESSAYS
SPORTS-ATHLETES
MISSION FEDERATION
FAMOUS INDIANS
California Indian Art:
MISSION BASKETS
RED CLAY POTTERY
ETHNOGRAPHIC ART
CAVE ART
MUSIC
CALIE Library:
FEDERAL Resources
HEALTH & MEDICAL
INDIAN BOOK LIST
HISTORICAL Documents
STD Information
Academic Financial Aid:
SCHOLARSHIPS
GRANTS & FUNDING
Tribal Governments:
TRIBAL COURTS
SOVEREIGNTY
SOCIAL SERVICES
TRIBAL DIRECTORY
Indian Gaming:
INDIAN CASINO FORUM
CALIFORNIA INDIAN SHOPPING
CALIFORNIA INDIAN EDUCATION website is starting an online Native American Indian store to buy and sell the hottest posters, T-shirts and art — please contact us about how to advertise your products or develop your ideas — proceeds benefit California Indian Education and may be tax deductible.
BUY BOOKS
Earth Pigments & Paint of the California Indians Meaning & Technology
Author/Review:
Paul D. Campbell
Availability:
•In Stock (temporarily being sold & shipped by kumeyaay.info).
•FREE SHIPPING (media rate) in the U.S. with USPS tracking!
•Contact us for international rates and expedited shipping rates.
•Sales tax paid outside California will be refunded.
Product Details:
Hardcover: 224 pages
Publisher: Sunbelt Publications; November 11, 2007
Language: English
ISBN-10: 0979378001
ISBN-13: 978-0979378003
Product Dimensions: 9" x 6" x 1"
Shipping Weight: 1.4 pounds
FINE-ART POSTERS:
Our tribal posters begin with professional high-resolution digital scans of historical photographs; are creatively designed; and archival printed on fine photographic-quality paper to last 100 years or more with normal care.
MISSION INDIAN FEDERATION POSTERS:
Add your Tribal logo and information.
Original CALIE MIF poster 2x4 feet.
Available up to 4x8 feet: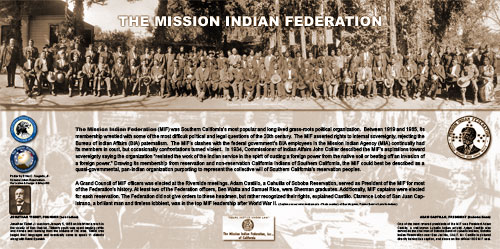 Click for larger example.
Original CALIE MIF poster 2x12 feet.
Also 1x6 feet.
Available up to 4x24 feet:



Click for larger example.
Add your Tribal logo and information.
Mounting and framing available.
GERONIMO WAR PARTY POSTERS:
HOMELAND SECURITY FIGHTING TERRORISM SINCE 1492 — buy our bulk wholesale posters and sell retail at your next tribal fund-raising event — high-quality commercially-printed copies of our famous Geronimo poster available in 8.5x11 and 11x14 print sizes (minimum order 25 prints).
Archival print sizes (fine-art-grade):
14x18
20x24"
24x32"
44x52"
HISTORICAL INFORMATION ABOUT GERONOMO
Mounting and framing available.
T-SHIRTS:
AMERICAN INDIAN INDIAN TEA PARTY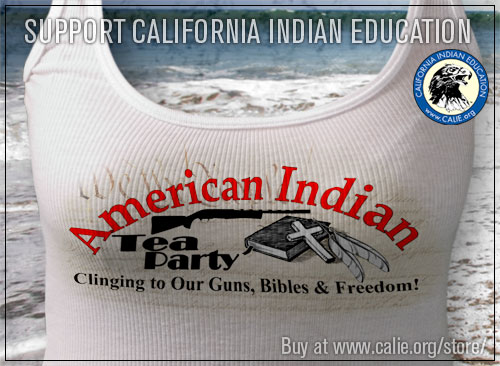 CALIE is developing this Native American clothing line of hot T-shirts for summer fun — please CONTACT US for more information, how to sell your T-shirts here in our on-line store.
For more information, or you have ideas for posters or T-shirts, PLEASE CONTACT ERNIE SALGADO:
+++++++


Ernie C. Salgado Jr., Executive Director, Ahmium Education, Inc.
Tribal: Luiseño
Reservation: Soboba Indian Reservation
EDITOR: The Indian Reporter www.theindianreporter.com
Founder/CEO CALIE: www.californiaindianeducation.org
Web Site: www.apapas.com
CONTACT
RESUME/BIOGRAPHY
PUBLISHED ARTICLES