Publishing Corner:
ROY COOK NEWS BLOG
THE INDIAN REPORTER
TRIBAL BLOGGERS
Indian Community:
TRIBAL COMMUNITY
PROFILES
OBITUARIES
Science & Wonder
ASTRONOMY PORTAL
KID'S CLUBHOUSE
Indian Heros:
VETERAN COMMUNITY
MEDALS OF HONOR
CODE TALKERS
FAMOUS CHIEFS
HISTORIC BATTLES
POEMS ESSAYS
SPORTS-ATHLETES
MISSION FEDERATION
FAMOUS INDIANS
California Indian Art:
MISSION BASKETS
RED CLAY POTTERY
ETHNOGRAPHIC ART
CAVE ART
MUSIC
CALIE Library:
FEDERAL Resources
HEALTH & MEDICAL
INDIAN BOOK LIST
HISTORICAL Documents
STD Information
Academic Financial Aid:
SCHOLARSHIPS
GRANTS & FUNDING
Tribal Governments:
TRIBAL COURTS
SOVEREIGNTY
SOCIAL SERVICES
TRIBAL DIRECTORY
Indian Gaming:
INDIAN CASINO FORUM

It is CALIE's policy to encourage reader participation on our editorial pages, and letters to our community. Published letters are the views and opinions of the person(s) who wrote the letter, and do not necessarily reflect the views of CALIE.
HOW TO SUBMIT LETTERS TO OUR EDITOR FOR PUBLICATION
To submit your letters (or articles) for publication, please CONTACT THE PUBLISHER DIRECTLY for more information.
All letters are subject to editing, including grammar and factual accuracy.
By submitting a letter for publishing, you agree to be legally bound by the Terms and Conditions contained our User Agreement.
COMMUNITY LETTERS: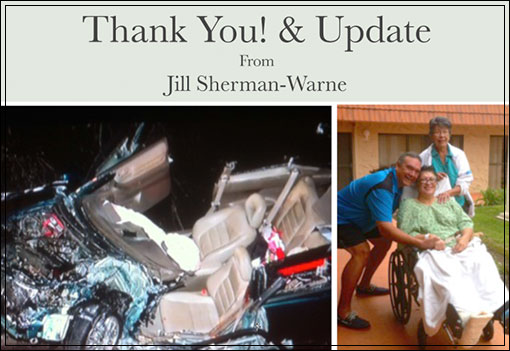 Dear Community,
My family and I give our sincere thanks to the many friends and colleagues that have sent cards, flowers and most important, the prayers and encouragement for my recovery. Following a Native American Environmental Protection Coalition (NAEPC) meeting, I was hit by a drunk driver (twice the legal limit) in a head on collision at 65 mph. This was a life changing event, but we look at the positive, I am alive. After 4 months of rehab and surgeries, I am not home yet but I hope to be home soon. I will have some permeant disability, but I will be back to work for Indian country soon. This terrible accident reminds me there is much more work to do for our Tribal members and I want to be a part of it DOWNLOAD PDF.
Jill Sherman-Warne
Dear Community,

I am writing to see if you or your organization would be interested in sponsoring an event for our Warner Springs High School.
The objective of the fundraising event is: To help the Senior graduating class raise money for their upcoming endeavor's.
Our Senior class is fundraising for prom (at this time due to lack of funds there may be no Prom) and our graduating class trip to Walt Disney World.
Being that we are a back country school our resources are limited in fundraising. We have done a Halloween carnival, carwashes every Friday, dances, and bake sales.
Though our small community has been as generous as they can we are still in need of financial help. We have decided to expand our horizons by coming into town and putting on a final fundraising event in hopes of reaching our goal. Our 1st Annual Vibrant Color Fun Run!... MORE
EN ESPANOL
RE: U-T San Diego article by Karen Pearlman, Feb. 7, 2014: JAMUL CASINO PROPOSAL DRAWS STRONG OPPOSITION; SUITS FILED
Editorial by Gary G. Ballard, Feb. 8, 2014
Few quotations in the news move me to publicly comment these days about American Indian affairs, but this is such a profound statement:
"Jamul will never be the same (if the Jamul casino is built). It would bring other big-city problems, more noise, more crime, more traffic, more light pollution."


Dianne Jacob, San Diego County Supervisor
I am not sure if San Diego County Supervisor Jacob conveyed these words in an official capacity or as a local citizen, yet they bear discussion from an historical perspective.
First, I will say to Ms. Jacob and her neighbors — yes, that's called "progress" and American Indians certainly know a thing or two about "progress." ... READ EDITORIAL.
Government to allow Wind Energy Industry to Kill Eagles


by Ernie C. Salgado, Jr., Soboba tribal elder, January 17, 2014
American Bald and Golden Eagles have been an American national icon pride for over 200 years, and they are sacred birds for the Native American people. The feathers of the Eagle are central to many American Indian religious and spiritual customs, especially among American Indians in the United States and First Nations in Canada....
Now the Obama administration will allow some wind energy companies to kill or injure Bald and Golden Eagles for up to 30 years without penalty in an effort to spur the development and investment in green energy while balancing its environmental consequences.... READ EDITORIAL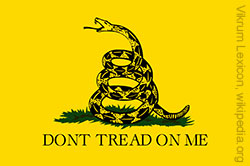 The Gadsden flag is a historical American flag with a yellow field depicting a snake coiled and ready to strike. Positioned below the snake are the words "Don't tread on me". The flag was designed by and is named after American general and statesman Christopher Gadsden. It was also used by the Continental Marines as an early motto flag, along with the Moultrie Flag (source wikipedia.org).
New York town confiscates veteran's flag, claiming "Tea Party" ties
by Timothy Whiteman
The City Council of New Rochelle, NY has ordered the Revolutionary War's Gadsden Flag to be removed from its flagpole and confiscated from a patriotic veteran's group, as reported by the Sacramento Bee on April 8, 2013.
The conservative-leaning Thomas More Law Center has been retained by New Rochelle resident and former U.S. Marine Peter Parente, who is also the president of the United Veterans Memorial & Patriotic Association of New Rochelle, New York (UVMPA-NR).
"We have just begun to fight," Richard Thompson, President and Chief Counsel of the Thomas More Law Center said... READ STORY.
+++++++
Dear Tribal Leaders and Community Members,
Fletcher Stephen Linton, Jr. (Stevie) is an enrolled tribal member of the Iipay Nation of Santa Ysabel. He is a Brazilian Jiu Jitsu fighter and looking for sponsorship to maintain his competition schedule, tournament fees, travel, and nutrition.
In order to generate money he is looking to perform seminars for martial arts gyms.
I have attached pictures of his competitions and a letter from Stevie regarding his career (DOWNLOAD PDF).
He can be reached at (760) 315-1434 or his mother, Linda Linton (760) 315-0916, or his father's email flinton1(at) aol (dot) com.
As a Veteran, college graduate, and athlete, he is a positive role model for the tribal youth and we look forward to his continued success.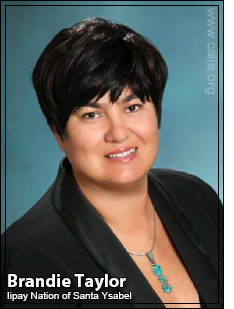 Thank you for your consideration.
Respectfully,
Brandie Taylor
Vice-Chairwoman
Iipay Nation of Santa Ysabel
JOIN HANDS TO PRESERVE KOSA'AAY
May 2013
Friends of Kosa'aay,

SANDAG has published in two volumes the Draft SEIS/SEIR for the Mid Coast Corridor Transit Project. One may request from SANDAG a free CD of the Draft SEIS/SEIR, (EIR). Printed copies are in the SD branch libraries. SANDAG DOWNLOAD this EIR.
Because Taylor Street has not been turned into a freeway connector, we consider this treatment of the Taylor Street grade crossing a win for Old Town, Mission Hills, and Kosa'aay. I congratulate you all because without your involvement this probably would not have happened.
The review period ends July 16, 2013. Volume 1 mentions "Old Town" 74 times and "Taylor Street" 34 times. It appears that the grade crossing at Taylor Street will be left alone but there will be more stacking lanes for automobiles and a faster cycle time for the crossing arms. Table 3-23 projects that the number of trains traveling through the Taylor Street grade crossing during the two-hour peak period which is currently 24 will be 56 in 2030... READ MORE.
KOSA'AAY.ORG INTERPRETATION PROPOSAL: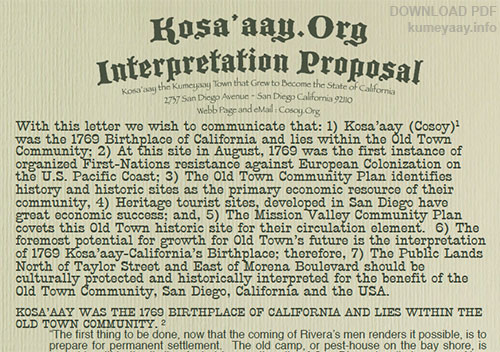 With this letter we wish to communicate that:
1) Kosa'aay (Cosoy) was the 1769 Birthplace of California and lies within the Old Town Community;
2) At this site in August, 1769 was the first instance of organized First-Nations resistance against European Colonization on the U.S. Pacific Coast;
3) The Old Town Community Plan identifies history and historic sites as the primary economic resource of their community,
4) Heritage tourist sites, developed in San Diego have great economic success; and,
5) The Mission Valley Community Plan covets this Old Town historic site for their circulation element.
6) The foremost potential for growth for Old Town's future is the interpretation of 1769 Kosa'aay-California's Birthplace; therefore,
7) The Public Lands North of Taylor Street and East of Morena Boulevard should be culturally protected and historically interpreted for the benefit of the Old Town Community, San Diego, California and the USA...
October 10, 1012
YOUTH SUICIDES ALARM TRIBES
by Stephanie Woodard
100Reporters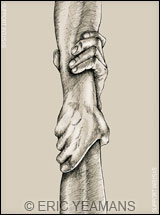 Almost one in four Native American youths has attempted suicide.
(U.S. Department of Health and Human Services.)
A youth-suicide epidemic is sweeping Indian country, with Native teens and young adults killing themselves at more than triple the rate of other young Americans, according to federal government figures.
In pockets of the United States, suicide among Indian youngsters is 9 to 19 times as frequent as among other youths, and rising. From Arizona to Alaska, tribes are declaring states of emergency and setting up crisis-intervention teams.
"It feels like wartime," says Diane Garreau, a child-welfare official on the Cheyenne River Sioux Reservation, in South Dakota. "I'll see one of our youngsters one day, then find out a couple of days later she's gone. Our children are self-destructing."
So dire is the alarm that of 23 grants the U.S. federal government awarded nationally to prevent youth suicides in September, 10 went to Native American tribes or organizations, with most of them receiving nearly $500,000 per year for three years... MORE.
September 21, 1012
Dear Tribal Community,
A few years past the Vietnam Veterans Memorial Wall was created to honor the 58,282 brave American warriors that were killed in action or missing during the Vietnam War.
The Vietnam Veterans Memorial Fund is currently expanding the honoring of these heroes by building The Education Center next to "The Wall."

Two local American Indian boys — Joe Pink (Pala), and Willie Lyons (Morongo) — have already been included in this national war memorial project.

YOUR PERSONAL INVITATION

I would like to extend an invitation for you to join us at Ahmium in identifying any other of our brothers or sisters that were killed or missing in Vietnam or any of our Wars or "Conflicts".

Please read my COMPLETE TRIBAL LETTER for more information, including special contact information....

Ernie C. Salgado Jr.
Executive Director, Ahmium Education, Inc.
Soboba Tribal Member
ROUND TABLE ON CALIFORNIA EDUCATION:
Why is California not hosting a Roundtable on Education?
California has the highest population with Over 450,000 American Indians which is approx 15% of the Nations American Indian population — California also has the highest number of reservations and rancherias with 101 of the nations 505, approx 20% — it seem that the U.S. Department of Education lacks or needs some education as to the demographic of the American Indian population in California.
Ernie C. Salgado Jr., CEO CALIE.ORG
WRITTEN TESTIMONY FOR THE RECORD OF RICHARD ALLEN ADAME
Submitted to the United States Senate Committee on Indian Affairs
Oversight Hearing on Programs and Services for Native Veterans
May 24, 2012
Submitted by
Richard Allen Adame, Sergeant First Class, retired U.S. Army, Prairie Band of Potawatomi Nation Veteran

Undated, published August, 2011
SUPPORT FALLEN HEROS, FAMILIES
by Hans Degner, Jamul Indian Village
Many families of fallen heros are faced with financial hardships of funeral costs of their loved ones in the Iraq and Afghanistan wars...DOWNLOAD (PDF)
Monday, August 29th, 2011
IN SUPPORT OF JUAN CASTELLANOS
by Mercedes Amavisca
My name is Mercedes Amavisca, and I am a member of the Mesa Grande Band of Mission Indians. I received an announcement from the Indian Human Resource Center Board and was angered and in disbelief by their disastrous decision to let go of Mr. Juan Castellanos...READ MORE
CALIE Publisher, Editor in Chief:


Ernie C. Salgado Jr.
Tribal: Luiseño
Reservation: Soboba Indian Reservation
EDITOR: The Indian Reporter www.theindianreporter.com
Founder/CEO CALIE: www.californiaindianeducation.org
Web Site: www.apapas.com
CONTACT
RESUME/BIOGRAPHY
PUBLISHED ARTICLES