OFFICE OF TRIBAL GOVERNMENT RELATIONS
Eastern Region Training Summit for military veterans
WHEN: April 9-10, 2013
WHERE: Pala Casino Spa & Resort, Pala, California
DOWNLOAD BROCHURE PDF
Alaska Native and American Indian military veterans from tribes across the United States gathered on the Pala Indian Reservation (north of San Diego and south of Los Angeles) to attend lectures and workshops held by top government and civilian organizations like the US Department of Veteran Affairs, Office of Tribal Government Relations, American Indian Veterans Association AIVA, National American Indian Veterans NAIV, American Indian Warriors Association AIWA, Indian Health Services. Topics included health care, education, emergency, survivors and burial benefits — where to get information about how to qualify, apply for and receive government assistance.
PALA TRIBAL NEWS PHOTOS: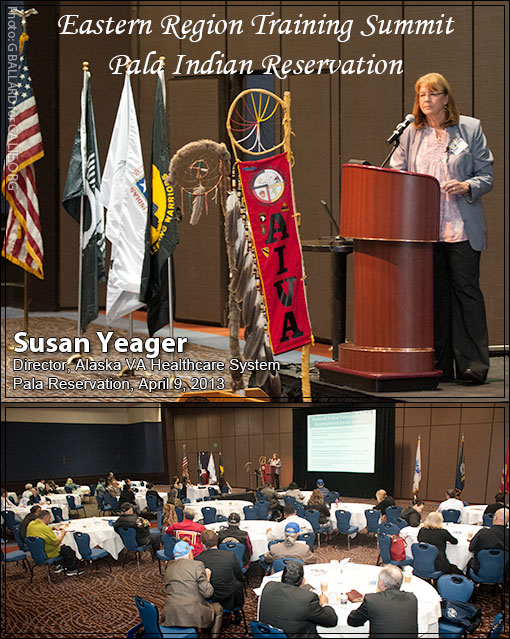 Susan Yeager, Director of Alaska VA Healthcare System, speaks during the opening ceremonies of the Eastern Region Training Summit, Pala Indian Reservation.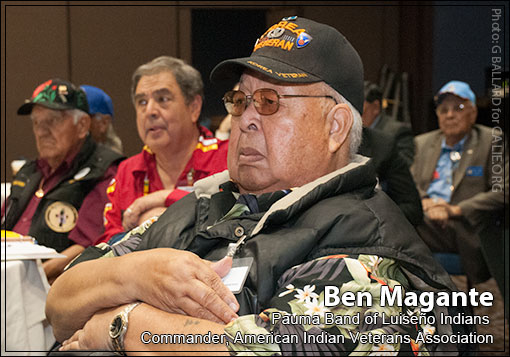 Ben Magante, Commander of American Indian Veterans Association and Pauma tribal member, pictured during the national veterans conference held in Southern California on the Pala Indian Reservation.
PALA VA/IHS Outreach April 2013


Edited by Roy Cook, Opata-Oodham, Mazopiye Wishasha: Writer, Singer, Speaker
Pala Tribal land and Casino is the location of the Veterans Administration-Indian Health Service April 7-9, 2013 outreach to the Southern California Tribal Nations. I pre-registered as a Vietnam era veteran with service connected disability. I joined the Army in 1964 from Snookson (Tucson, Arizona) and listed as Oodham from Wa ak.
There were many informative workshops on past and current issues vital to the interest and services earned by our Warriors in many of the theaters of conflict and war over the years. American Indian communities have the highest volunteer military status in relation to size of population of any other culture group.
This writer participated, under the direction of Ernie Salgado and in collegial association representing the CALIE efforts to support the Vietnam Wall tribute to the 230 fallen tribal warriors on the Vietnam wall in Washington DC as military historian and writer. Additionally, as secretary and historian for the American Indian Warriors Association veterans group in San Diego.
This Native American Veterans gathering is of vital and significant interest to our Tribal members and Brothers in Arms.
Of particular note are the Workshops attended:
Post traumatic stress disorder, understanding PTSD and Trans-generational PTSD.
Diabetes management.
How to request a headstone, marker or medallion.
Overcoming barriers in serving AI/AN Veterans.
Tuesday evening entertainment included the singing and Warriors dancing to the songs of Gourd dance.
Additionally, the Luiseño Bird songs and dancers were excellently explained and gracefully presented.
Airborne, All the way.
Alternate americanindiansource.com RELEASE (PDF).
LIST OF KIA & MIA NATIVE AMERICANS IN THE VIETNAM WAR: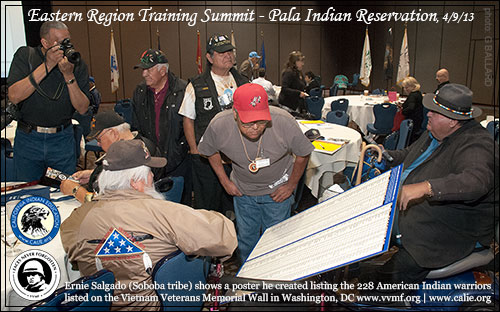 Ernie Salgado (Soboba), a US Army veteran (right), shows his veterans poster to local tribal veterans listing the 230 Indian warriors listed as "Native American" on the Vietnam Veterans Memorial Wall in Washington, DC.
Mr. Salgado is collaborating with Janna Hoehn and Jan Scruggs of the Vietnam Veterans Memorial Fund (VVMF) and American tribes to identify all the American Indian and Alaska Natives listed on The Wall project in Washington, DC.
HOW WERE VETERANS DESIGNATED AS "NATIVE AMERICAN" ON THE VIETNAM MEMORIAL WALL?
A veteran's status as Native American on The Wall was dependent on if s/he checked the Native American check box on their induction papers or not — so there are likely many more Tribal members who are not properly designated.
Please click on the free poster below and look for your tribal members' information — if they are not listed — we need you to contact us.
We are developing a Form and process for you to submit this information and photographs to Washington, D.C., for inclusion in The Education Center interactive memorial: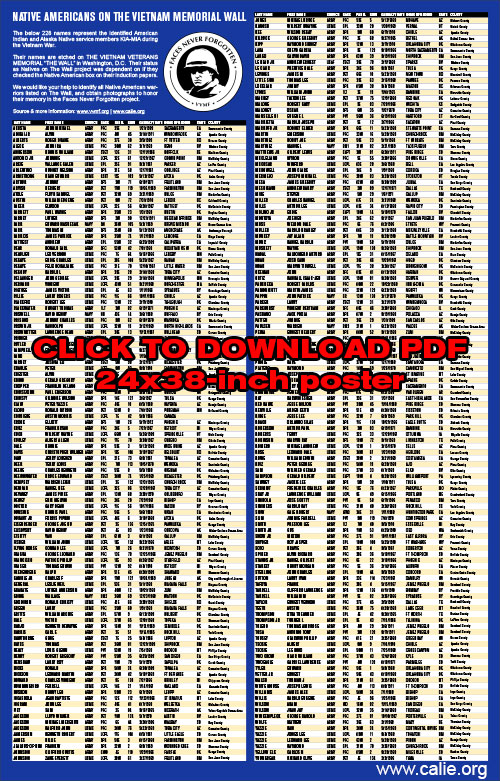 PLEASE DOWNLOAD AND PRINT THIS POSTER — POST IT IN YOUR TRIBAL AREAS — EMAIL IT TO YOUR FAMILY MEMBERS.
For more info about the Vietnam Veterans Memorial Fund "Faces Never Forgotten" project please read:
From the CALIE CEO/Editor:
"Dear Tribal Community,"
(especially U.S. Military Veterans and their families)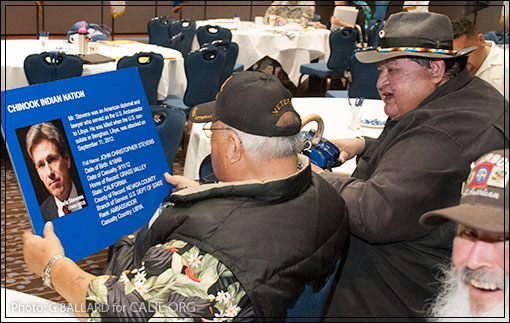 Ben Magante (Pauma) examines a poster Ernie Salgado (CALIE CEO) created honoring John Christopher Stevens.
Mr. Stevens was a Chinook Indian Nation tribal member and US Ambassador to Benghazi, Libya, who was killed on 9/11/2012, when terrorists attacked the Unites States Embassy there.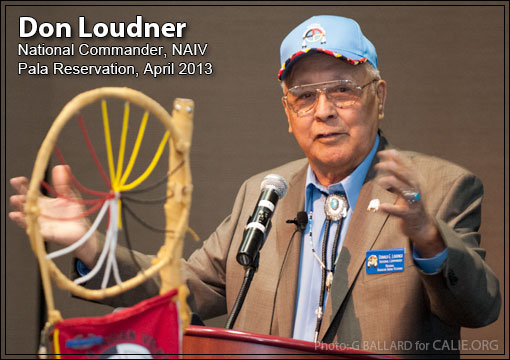 National Commander Donald E. Loudner (Crow, Creek, Sioux of South Dakota), former congressman, addressed the conference during its opening ceremonies. NAIV - National American Indian Veterans on FACEBOOK.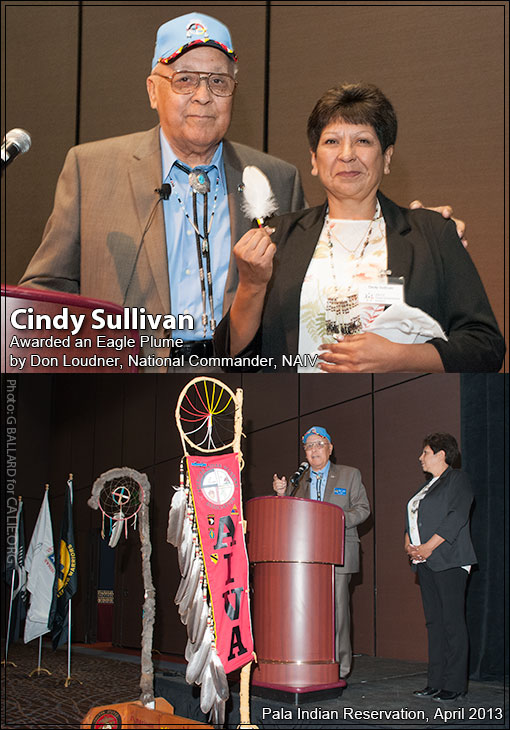 Commander Loudner honored US Army veteran Cindy Sullivan (Pala) with an Eagle Plume.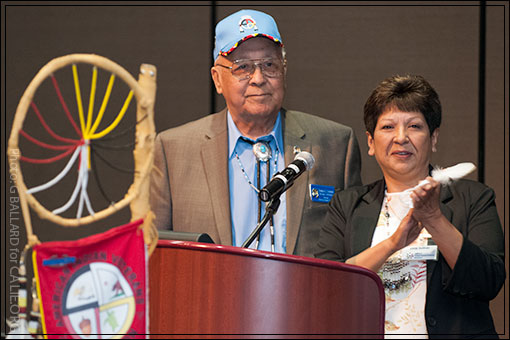 Cindy Sullivan accepted her award and thanked her fellow veterans and mentors.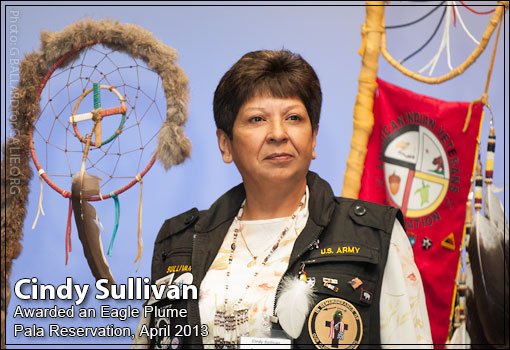 Ms. Sullivan posed for a portrait minutes after she was presented her Eagle Plume award.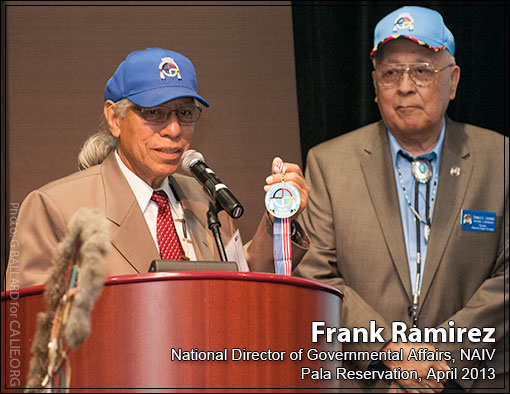 Frank Ramirez, National Director of Government Affairs, NAIV, holds the National Commanders Medallion for the National American Indian Veterans, Inc.  It represents the highest honor awarded by the NAIV National Commander, Donald E. Loudner, to American Indian and Alaskan Native veterans and NAIV veteran supporters.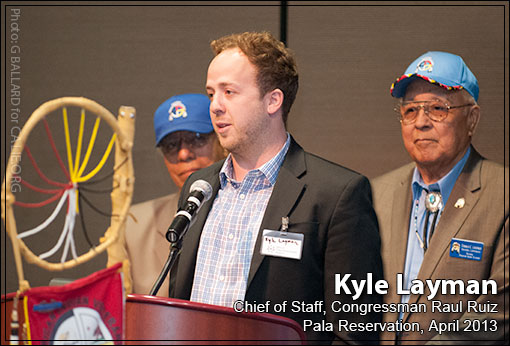 Kyle Layman, Chief of Staff for Congressman Raul Ruiz, also spoke during the opening ceremonies.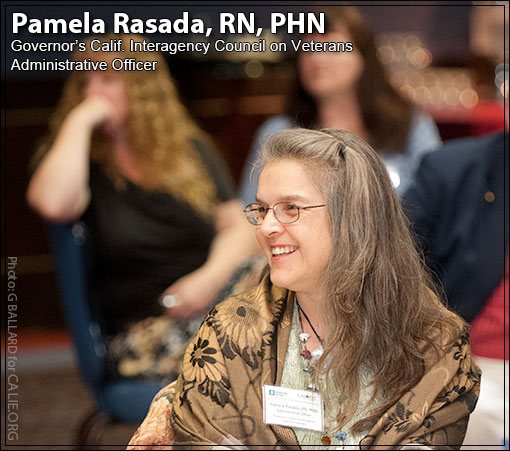 Pamela J. Rasada, RN, PHN, Administrative Officer of the Governor's California Interagency Council on Veterans (ICV), stood up and spoke during the opening ceremonies.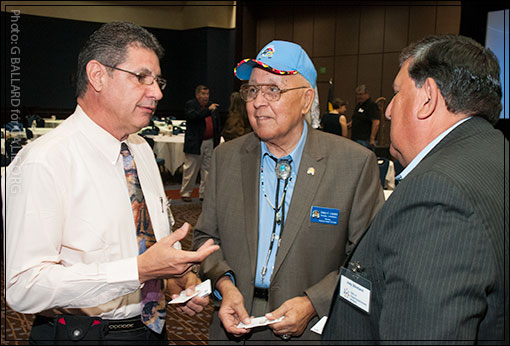 Dr. Gaspar R. González, Jr., Special Advisor on Global Alliances and Director of International Development in Strategic Affairs (left), talks with Don Loudner (center) and Joey Strickland (right).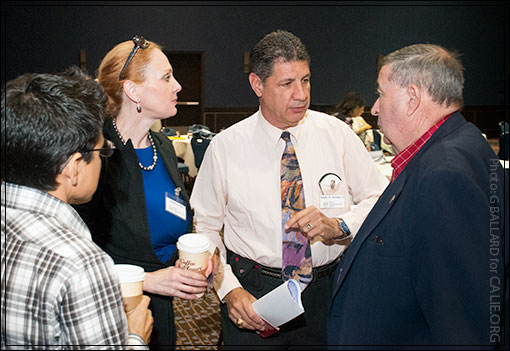 (R-l): William H. Prouty (Managing Director of GEWDC Veterans Resource Center); Dr. Gaspar R. González, Jr.; Nanette Van Wyk (Senior International Advisor, Development of Business Alliances in Strategic Affairs).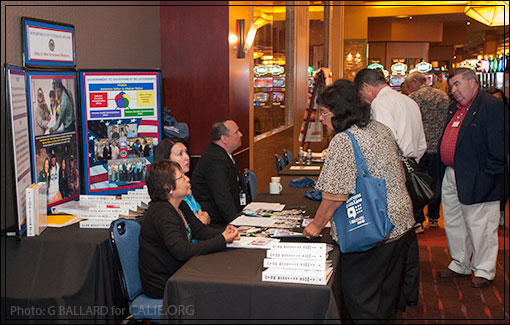 Registration booth — the event was held inside the beautiful Pala Casino.

LIST OF CASINOS NEAR SAN DIEGO WITH CASINO LOCATOR MAP.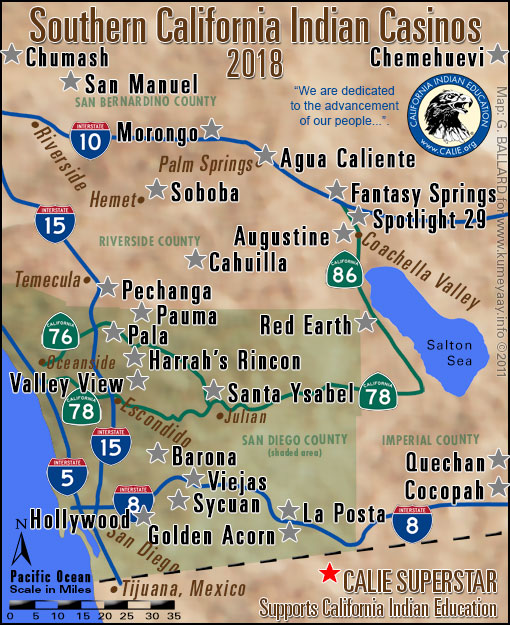 SPECIAL TRIBAL CONTACT INFORMATION:

For more information or to donate or participate in our tribal community projects — please contact me at Ahmium Learning Center office at 951-654-2781 — on my cell at 951-217-7205 — or by my E-MAIL.

Very sincerely yours,


Ernie C. Salgado Jr.
Ahmium Learning Center, Inc., Executive Director
Tribal: Luiseño, Soboba Tribe
Founder/CEO: californiaindianeducation.org
CONTACT
More CALIE cultural projects under development:


NATIVE AMERICAN VETERANS PORTAL — CRISIS HOTLINES, NEWS, HEALTH CARE, HOUSING & DISABILITY BENEFITS, EMPLOYMENT, BURIALS, STATE & FEDERAL PROGRAMS...


NATIVE AMERICANS AWARDED THE MEDAL OF HONOR


FAMOUS INDIAN CHIEFS, WARRIORS & LEADERS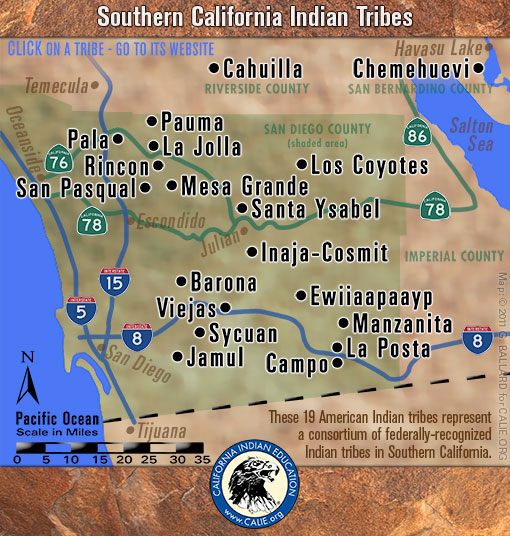 TRIBES MAP OF SOUTHERN CALIFORNIA INDIANS


FAMOUS AMERICAN INDIAN ATHLETES


Sacagawea, Shoshone, c. 1788-1812, Guide


Maria Tallchief, Osage, "America's First Prima Ballerina"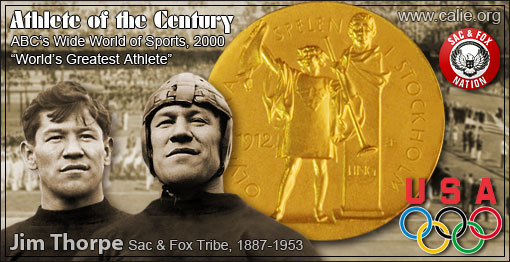 JIM THORPE (Sac & Fox Tribe) 1987-1953,
"Athlete of the Century" | "Greatest Athlete in the World"....


AMERICAN TRIBAL SOVEREIGNTY — American tribes practiced their own forms of government for thousands of years before European intrusion and the formation of the United States government. The Constitution of the United States, U.S. Supreme Court, federal and state laws, as well as historical treaties all support the tribes' present-day legal rights to self-government and certain forms of tribal sovereignty....


JOHN CHIEF MEYERS (Cahuilla, Riverside, CA), 1880-1971, MLB teams the "Ironman" played for: New York Giants, Boston Braves, Brooklyn Robins. Career batting average .291, played in four World Series (1911, 1912, 1913, 1916)....


American Indian Boarding School Experience
CALIE is compiling a historical Web portal for research into what happened circa 1850-1930...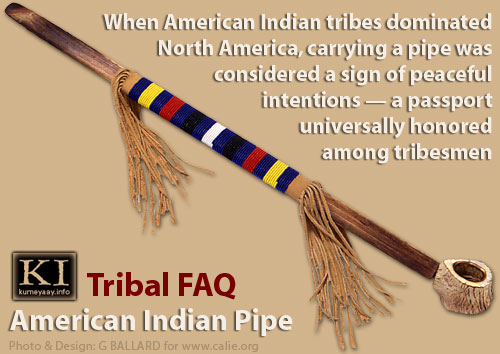 TOP 50 Frequently Asked Questions about American Indian tribes — "American Indian or Native American?" | "Tribe or Band?" | "Who is an American Indian?" | "What is Indian Country?" | "Tribal Sovereignty" | "Indian Preference Jobs"...

TRADITIONAL Native American Indian Quotations
Hold on to what is good,
Even if it's a handful of earth.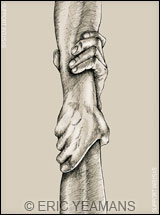 Hold on to what you believe,
Even if it's a tree that stands by itself.
Hold on to what you must do,
Even if it's a long way from here.
Hold on to your life,
Even if it's easier to let go.
Hold on to my hand,
Even if someday I'll be gone away from you.
Pueblo prayer
READ MORE Earth writings...


PHOTOS & PRESENTATION: G BALLARD