Barona Cultural Gathering 2013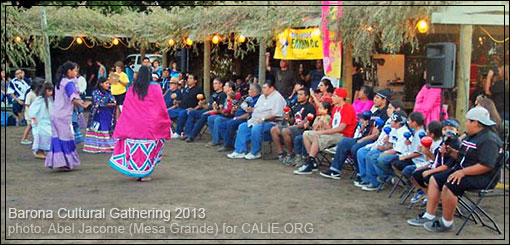 Barona 7th Annual Traditional Gathering
WHEN: August 9-11, 2013
WHERE: Barona Gathering Grounds
DOWNLOAD PDF POSTER


by Roy Cook, Opata-Oodham, Mazopiye Wishasha: Writer, Singer, Speaker
These are beautiful Tipai people and friends under a star filled night. All bright smiles in round brown faces attending this gathering tonight are enjoying being just who we are, Indian people. This afternoon and night, August 9, 2013, like so many nights before it, Tribal People gathered around fires, singing traditional songs.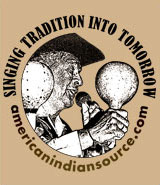 These round brown faces remind me of earlier times of attending Fiestas on this and the different Tribal reservations. And here too there are other faces that we only see seldom and only on this Barona location.
The cultural committee gifted attendees with their tribal pride T-shirts in the favorite Kumeyaay sizes this day and more the next two, too.
There are Northerly Tribal friends from over the mountain and along the Colorado River. Also there are many more from San Diego and other urban locations. It is always an honor to be invited to attend these cultural gatherings and be a part in the joy of the occasion.
A good row of tin can, Tipai singers led by Daniel Murphy are called upon in the afternoon to start the singing session. It is so delightful to see so many young singers swinging gourds and learning these traditional songs. Paul Cuero, Ral Christman, Leroy Elliot and many other adult singers join in on the line to be a link to what it is to be Tipai.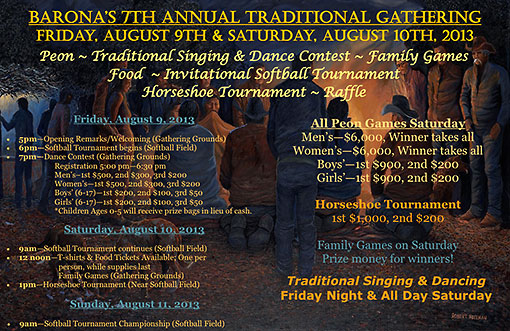 Artwork by Robert Freeman.
The Barona cultural committee hosted a meal for all participants just like past years and eons before. Dusk to dark and during this last singing session folks were moving about the dozen food booths for soup or coffee or maybe even a bit more to fill the inner person.
With full bellies and happy hearts under a star filled night we settle back to enjoy the sounds of the songs and the murmurs of conversations from Tribal people enjoying being ourselves. Oh my, it cannot be better because this night all is just right the way it is.
Naturally, many will be back the next two afternoons and nights for the family and youth activities, games and of course the peon competition and songs. Mehan.
And still more CALIE cultural projects under development:


NATIVE AMERICAN VETERANS PORTAL — CRISIS HOTLINES, HEALTH CARE, HOUSING & DISABILITY BENEFITS, EMPLOYMENT, BURIALS, STATE & FEDERAL PROGRAMS...


FAMOUS INDIAN CHIEFS, WARRIORS & LEADERS


FAMOUS AMERICAN INDIAN ATHLETES


AMERICAN TRIBAL SOVEREIGNTY GUIDE


MISSION INDIAN FEDERATION
+++++++
WHO PRODUCED THIS BLOG?


Ernie C. Salgado Jr.
Tribal: Luiseño
Reservation: Soboba Indian Reservation
EDITOR: The Indian Reporter www.theindianreporter.com
Founder/CEO CALIE: www.californiaindianeducation.org
Web Site: www.apapas.com
CONTACT
RESUME/BIOGRAPHY
PUBLISHED ARTICLES