Publishing Corner:
TRIBAL BLOGGERS:
ROY COOK NEWS BLOG
THE INDIAN REPORTER
JOURNAL FROM SDC
KAREN VIGNEAULT
BOOK STORE
Indian Community:
TRIBAL COMMUNITY
PROFILES
OBITUARIES
Science & Wonder
ASTRONOMY PORTAL
KID'S CLUBHOUSE
Indian Heros:
VETERAN COMMUNITY
MEDALS OF HONOR
CODE TALKERS
FAMOUS CHIEFS
HISTORIC BATTLES
POEMS ESSAYS
SPORTS-ATHLETES
MISSION FEDERATION
FAMOUS INDIANS
California Indian Art:
MISSION BASKETS
RED CLAY POTTERY
ETHNOGRAPHIC ART
CAVE ART
MUSIC
CALIE Library:
FEDERAL Resources
HEALTH & MEDICAL
INDIAN BOOK LIST
HISTORICAL Documents
STD Information
Academic Financial Aid:
SCHOLARSHIPS
GRANTS & FUNDING
Tribal Governments:
TRIBAL COURTS
SOVEREIGNTY
SOCIAL SERVICES
TRIBAL DIRECTORY
Indian Gaming:
INDIAN CASINO FORUM
THE AMERICAN INDIAN VETERANS ASSOCIATION - SOUTHERN CALIFORNIA meet at Sycuan
The Southern California chapter of the American Indian Veterans Association gathered at the Sycuan Golf Resort near the Indian reservation and held their meeting. Ben Magante (Pauma Band of Luiseño Indians) is the Comander of the veterans group.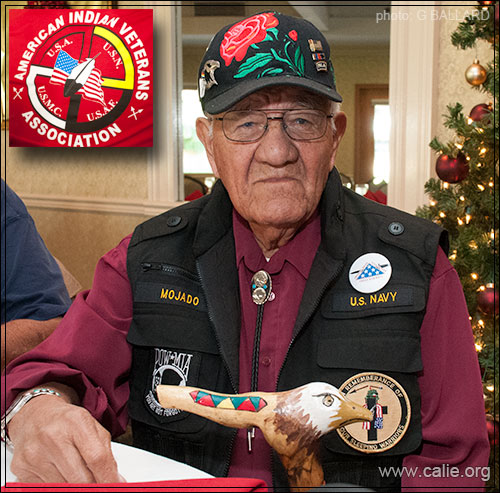 American Indian war veterans of Southern California region attended the event.
Sycuan Chief Hank Murphy (retired), a USMC Korean War veteran (right), is a member of the group organized the event on his band's east county reservation.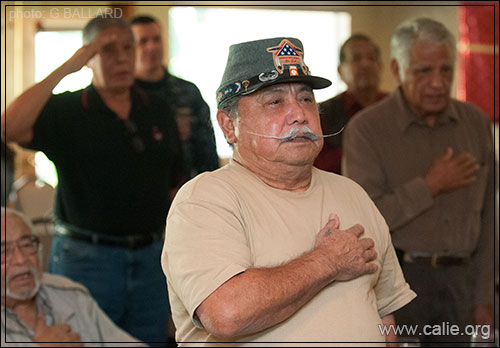 PAYING RESPECT to the American colors, Southern California military veteran tribal members listen to Taps just prior to officially opening their meeting.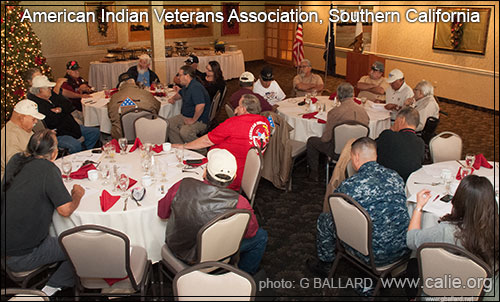 A buffet-style breakfast was served, professionally catered by Sycuan catering services. The non-profit veterans group discussed their business at hand, including planning for an upcoming fund-raising golf tournament.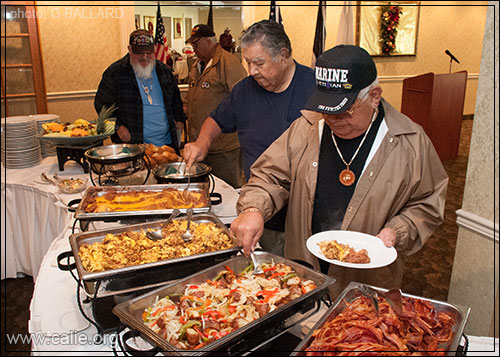 Photo shoot courtesy of TASPAN.ORG

September 21, 1012
Dear Tribal Community,
A few years past the Vietnam Veterans Memorial Wall was created to honor the 58,282 brave American warriors that were killed in action or missing during the Vietnam War.
The Vietnam Veterans Memorial Fund is currently expanding the honoring of these heroes by building The Education Center next to "The Wall."

Two local American Indian boys — Joe Pink (Pala), and Willie Lyons (Morongo) — are already included in this memorial.
YOUR PERSONAL INVITATION
I would like to extend an invitation for you to join us at Ahmium in identifying any other of our brothers or sisters that were killed or missing in Vietnam or any of our Wars or "Conflicts".
Please read my COMPLETE LETTER for more information, including special contact information....
Ernie C. Salgado Jr.
Executive Director, Ahmium Education, Inc.
Soboba Tribal Member
SO CAL TRIBAL TIES
PALA TRIBE: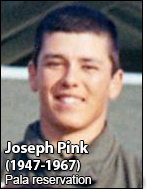 JOSEPH PATRICK PINK is honored on Panel 28E, Row 56 of the Vietnam Veterans Memorial.
Full Name: JOSEPH PATRICK PINK
Wall Name: JOSEPH P PINK
Date of Birth: 10/17/1947
Date of Casualty: 10/23/1967
Home of Record: SAN JACINTO
County of Record: RIVERSIDE
State: CA
Branch of Service: ARMY
Rank: SP4
Casualty Country: SOUTH VIETNAM
Casualty Province: QUANG TIN
MORONGO TRIBE: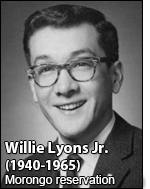 WILLIAM JOHN LYONS is honored on Panel 3E, Row 19 of the Vietnam Veterans Memorial.
Full Name: WILLIAM JOHN LYONS
Wall Name: WILLIAM J LYONS
Date of Birth: 7/27/1940
Date of Casualty: 11/4/1965
Home of Record: BANNING
County of Record: RIVERSIDE COUNTY
State: CA
Branch of Service: ARMY
Rank: 1LT
Casualty Country: SOUTH VIETNAM
Casualty Province: PR & MR UNKNOWN
THE VIETNAM WALL EXPERIENCE: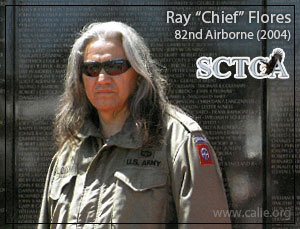 OCEANSIDE, CA — In April of 2004, a replica known as the Vietnam Wall Experience was on display in Oceanside. The wall is a three-quarter-size replica of the 10-foot tall, 493-foot-long black granite monument in Washington, D.C.: MORE.




WHO PRODUCED THIS TRIBAL MILITARY VETERANS WEB BLOG?


Ernie C. Salgado Jr.
Ahmium Education, Inc., Executive Director
Tribal: Luiseño, Soboba Tribe
Founder/CEO: californiaindianeducation.org
CONTACT
PHOTOS/CAPTIONS Professional Presentation: GARY BALLARD