Publishing Corner:
TRIBAL BLOGGERS:
ROY COOK NEWS BLOG
THE INDIAN REPORTER
JOURNAL FROM SDC
KAREN VIGNEAULT

Indian Community:
TRIBAL COMMUNITY
PROFILES
OBITUARIES
Science & Wonder
ASTRONOMY PORTAL
KID'S CLUBHOUSE
Indian Heros:
VETERAN COMMUNITY
MEDALS OF HONOR
CODE TALKERS
FAMOUS CHIEFS
HISTORIC BATTLES
POEMS ESSAYS
SPORTS-ATHLETES
MISSION FEDERATION
FAMOUS INDIANS
California Indian Art:
MISSION BASKETS
RED CLAY POTTERY
ETHNOGRAPHIC ART
CAVE ART
MUSIC
CALIE Library:
FEDERAL Resources
HEALTH & MEDICAL
INDIAN BOOK LIST
HISTORICAL Documents
STD Information
Academic Financial Aid:
SCHOLARSHIPS
GRANTS & FUNDING
Tribal Governments:
TRIBAL COURTS
SOVEREIGNTY
SOCIAL SERVICES
TRIBAL DIRECTORY
Indian Gaming:
INDIAN CASINO FORUM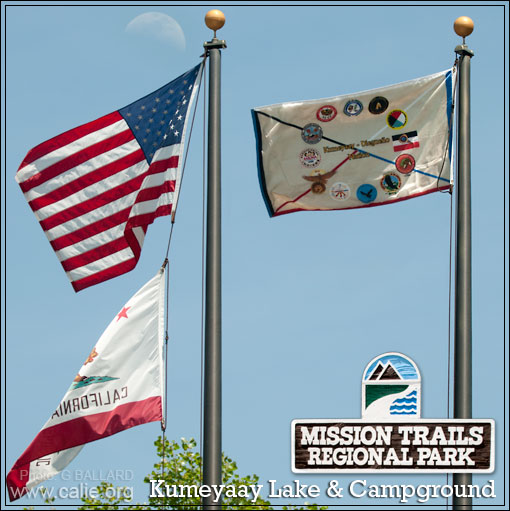 National flag of the sovereign Kumeyaay-Diegueño Nation displayed alongside the American and California state flags.
Español | 中文 | 日本 | Française | Deutsch | 한국어 | Россию | پارس
Kumeyaay-Diegueño Flag Raising Ceremony & City Proclaims "Jane Dumas Day"
SAN DIEGO, CA, April 28, 2012 — Kumeyaay tribal members gathered with City of San Diego Park officials and community supporters at the Kumeyaay Lake and Campground, Mission Trails Regional Park, and hoisted the national flag of the Kumeyaay-Diegueño Nation.
The event began at 1 p.m. with Kumeyaay tribal elder Jane Dumas giving the invocation — she spoke to the crowd of about 200 people in both English and her native Kumeyaay language (San Diego's original language).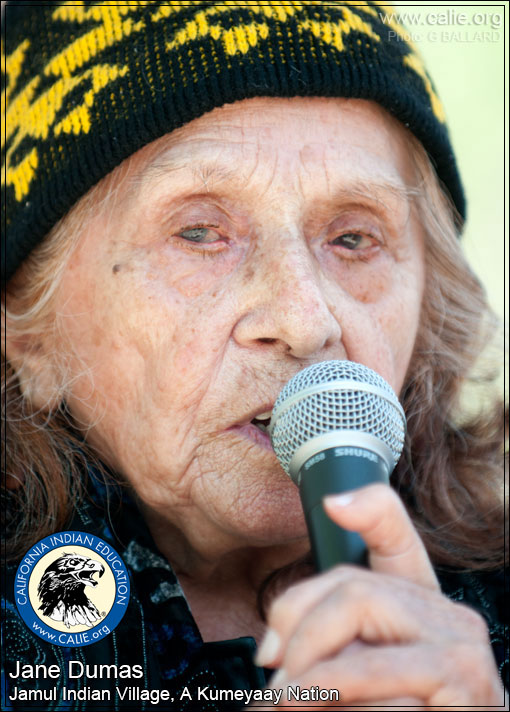 Jane Dumas addresses the crowd just prior to beginning her opening traditional prayer.
JANE DUMAS DAY APRIL 28TH — Later in the event, Jane was honored with an official Proclamation from the City of San Diego declaring April 28, 2012, as "Jane Dumas Day."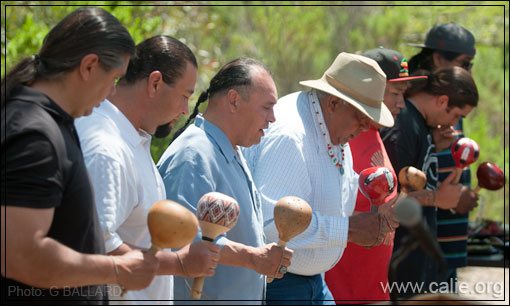 Kumeyaay bird singers followed Jane's blessing and performed several traditional Southern Californian songs. The Kumeyaay singers are pictured singing and shaking gourd rattles during their performance.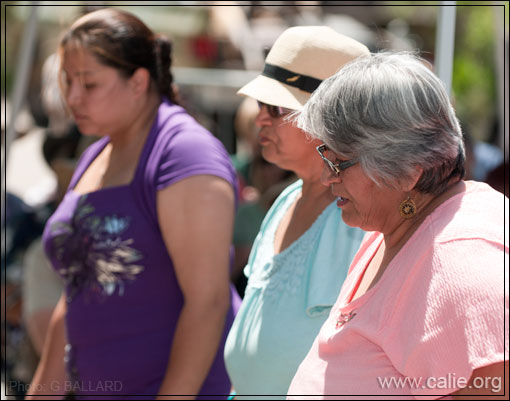 Several dancing women, bird dancers, accompanied the men.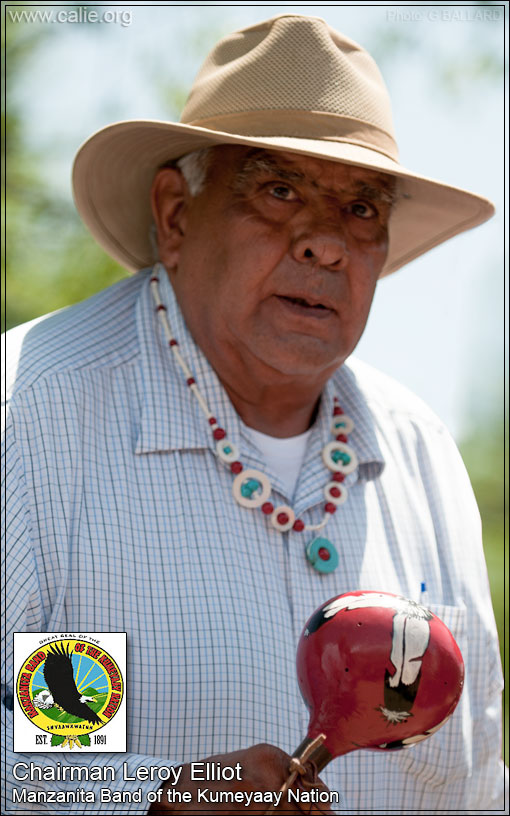 Tribal Chairman Leroy Elliott, Manzanita Band of the Kumeyaay Nation, talked to the audience during his song sets, including the special relationship Kumeyaay culture holds for the land.
Mr. Elliott is a fluent Native speaker of his Kumeyaay language, a Kumeyaay bird song leader, and he is dedicated to the preservation and teaching of his Kumeyaay traditions and Southern California American Indian tribal culture.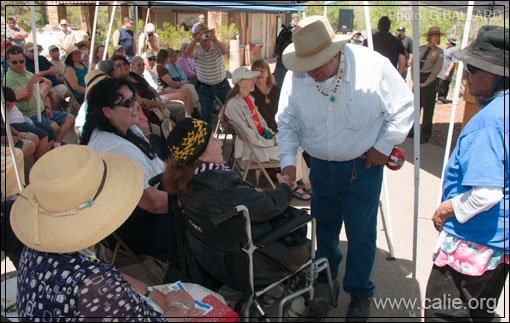 After the songs, Chairman Elliott greeted Jane Dumas during a community Indian-style walk around.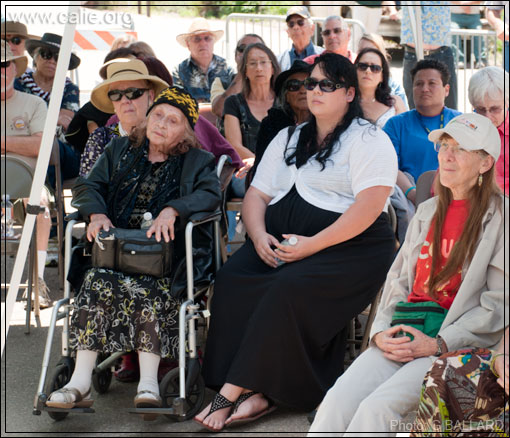 About 200 people attended the event.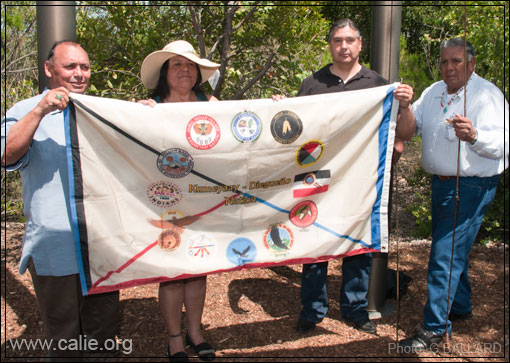 Local Kumeyaay tribal members display the flag just prior to hoisting it at the park for the first time. Pictured (l-r): Louis Guassac, Anita Uqualia (Viejas), Jamie LaBrake (Sycuan), Leroy Elliot (Manzanita).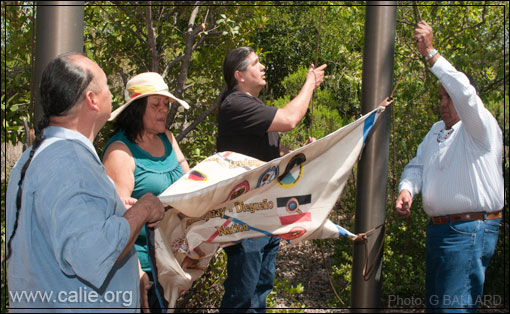 Chairman Elliott attached the flag, Jamie LaBrake hoisted it to the top, Anita and Louis helped guide it upwards.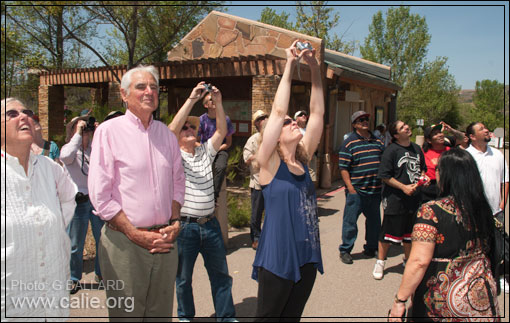 Picture perfect, the Kumeyaay-Diegueño flag is a symbol of Native American pride and commemorates the 12,000-year Kumeyaay history in the County of San Diego.
The City Council of San Diego, presented by Councilmember Marti Emerald, proclaimed April 28, 2012, as Jane Dumas Day on behalf of the people of San Diego for her decades of proud service to San Diego's American Indian community and greater region.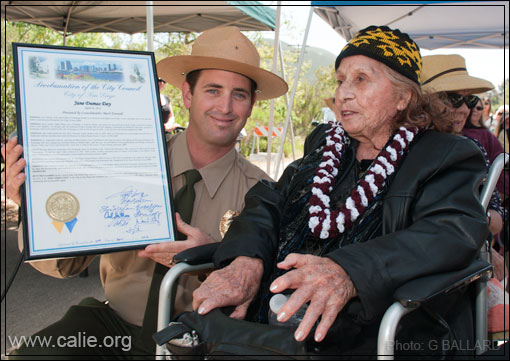 Senior Park Ranger Sanford read the Proclamation and presented Jane with her official City of San Diego proclamation award.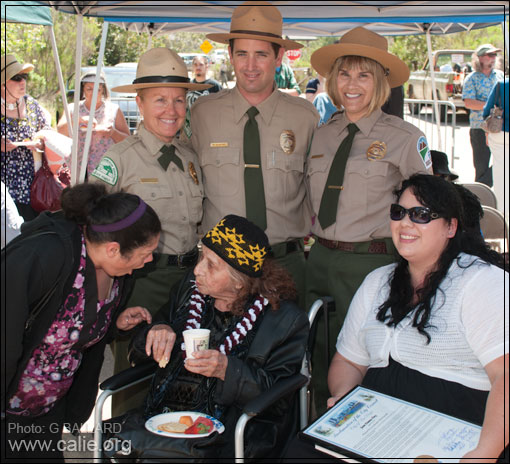 Today was Jane's special day...

The KUMEYAAY INFORMATION VILLAGE has an extensive archive of Jane's family photographs online.
KUMEYAAY RESOURCES ON-LINE: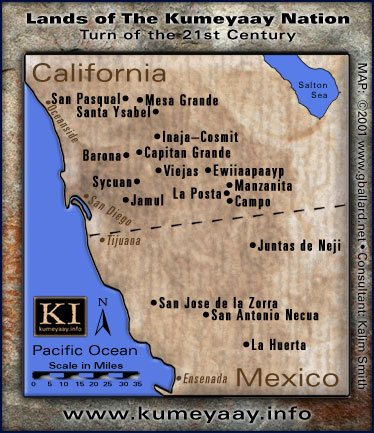 KUMEYAAY GUIDE territory of the Kumeyaay at the turn of the 21st century.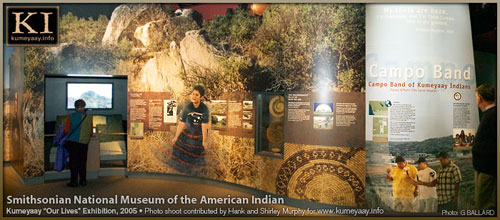 KUMEYAAY AT THE SMITHSONIAN — the Kumeyaay Nation was featured in the Smithsonian National Museum of the American Indian "Our Lives" exhibition in Washington D.C.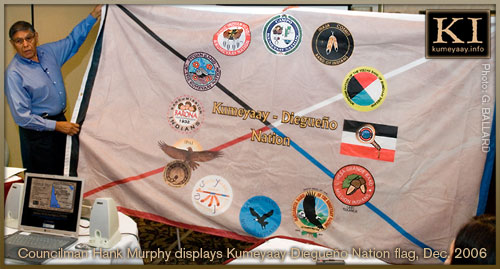 CALIFORNIA INDIAN SOVEREIGNTY — the Viejas Band of Kumeyaay Indians is one of twelve federally-recognized Kumeyaay bands in Southern California that comprise the Kumeyaay Tribe of North America. In addition, there are four recognized Kumiai Indigenous Communities in Northern Baja California, Mexico.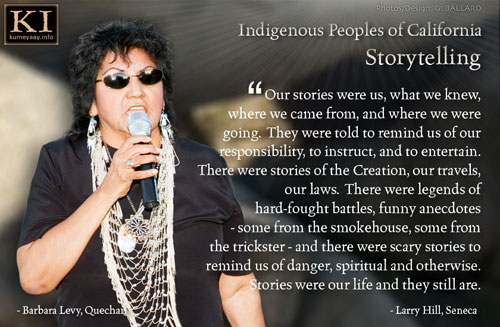 NATIVE AMERICAN STORYTELLING featuring the Kumeyaay stories of Sam "Howka Sam" Brown, Viejas.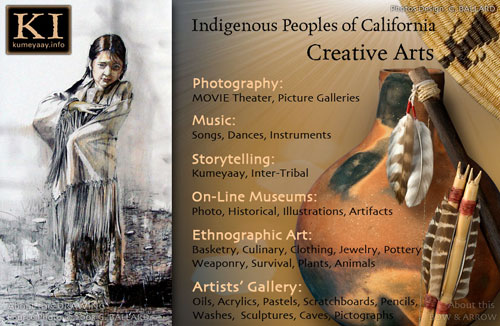 KUMEYAAY CULTURE — learn about the Kumeyaay culture online.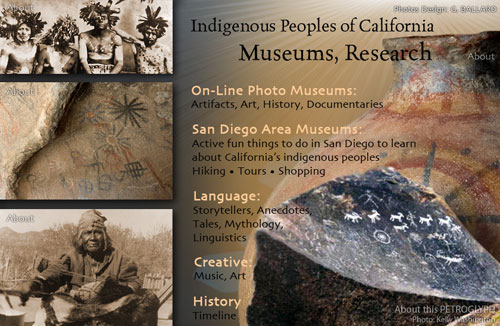 KUMEYAAY RESEARCH — learn information about how to research the Kumeyaay Tribe of Southern California.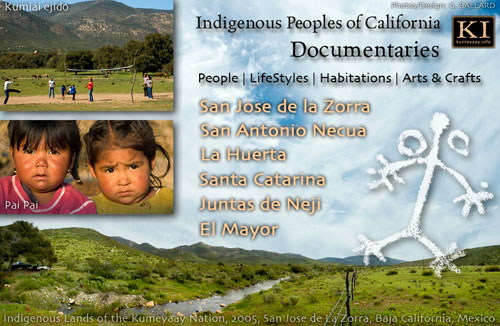 CONTEMPORARY BAJA TRIBAL MULTIMEDIA DOCUMENTARIES — San Jose de la Zorra, San Antonio Necua, La Huerta, Santa Catarina, Juntas de Neji, El Mayor.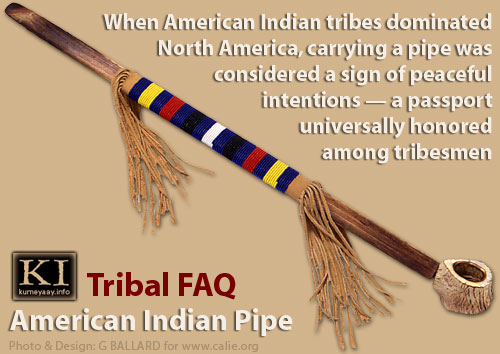 TOP 50 Frequently Asked Questions about American Indian tribes — "American Indian or Native American?" | "Tribe or Band?" | "Who is an American Indian?" | "What is Indian Country?" | "Tribal Sovereignty" | "Indian Preference Jobs"...
Proclamation of the City Council
City of San Diego
Jane Dumas Day
April 28, 2012
Presented by Councilmember Marti Emerald
WHEREAS, Jane Dumas, of the Jamul Band of Kumeyaay Indians, is a well-known and highly revered elder, teacher, and leader both in the American Indian community and throughout San Diego County; AND
WHEREAS, Jane's mother, Isabel Thing, was a Kuseyaay, or medicine woman, who passed her vast knowledge of herbs, plants, and ancient remedies down to her daughter.  For decades, Jane has dedicated herself to keeping alive her first language of Kumeyaay by sharing her impressive repertoire of Kumeyaay culture and medicine with other Kumeyaay, as well as with the general public, at special events and speaking engagements; AND
WHEREAS, Jane helped found the San Diego American Indian Health Center in 1981, where she worked first as a home health aide and then as a traditional medicine specialist.  Jane joined the Board of the Indian Human Resource Center in 1986; AND
WHEREAS, in conjunction with the reopening of father Junipero Serra Trail Road in 1993, Jane took part in the naming and blessing ceremony for the Kumeyaay Lake and Campground (formerly known as Hollins Lake).  Later that year, she participated in the groundbreaking and blessing ceremony for Mission Trails' new Visitor and Interpretive Center and, in 1995, for the Center's Grand Opening celebration; AND
WHEREAS, Jane shared her knowledge of Kumeyaay culture in the filming of the "Trails of the Kumeyaay" video, produced in 1994, as well as in the "Stewardship Through the Ages" video, produced in 1999.  Both of these excellent educational films are shown in the theater of the Mission Trails Visitor Center and are viewed by thousands of school children and people each year; AND
WHEREAS, Jane Dumas was inducted into the San Diego County Women's Hall of Fame in 2002 and is recognized as the catalyst for Mission Trails Regional Park acquiring a Kumeyaay-Diegueño Nation flag to fly proudly at the Kumeyaay Lake and Campground in her honor from here on out; AND
WHEREAS, Jane continues to share her expertise in medicinal plants by teaching Ethnobotany classes at Sycuan's Kumeyaay Community College.  It is her hope that the knowledge and traditions of her people will continue to be passed down from generation to generation and never be forgotten; NOW THEREFORE
BE IT PROCLAIMED, by the Council of the City of San Diego, that this Council, for and on behalf of the people of San Diego, does hereby declare April 28, 2012 to be "Jane Dumas Day" in the City of San Diego and commends Jane Dumas for her proud service to San Diego's American Indian community and to our greater region.
Signed by the Mayor and eight council members as approved April 24, 2012.
City of San Diego seal attached, framed and presented to Jane April 28, 2012 during the Kumeyaay-Diegueño flag raising, Mission Trails Regional Park, Kumeyaay Lake and Campground.
+++++++
WHO PRODUCED THIS ARTICLE?


Ernie C. Salgado Jr.
Tribal: Luiseño
Reservation: Soboba Indian Reservation
EDITOR: The Indian Reporter www.theindianreporter.com
Founder/CEO CALIE: www.californiaindianeducation.org
Web Site: www.apapas.com
CONTACT
RESUME/BIOGRAPHY
PUBLISHED ARTICLES

+++++++

PROFESSIONAL PHOTOJOURNALISM, WEB DESIGN & PRESENTATION BY: GARY G. BALLARD