UNIVERSITY OF SAN DIEGO PARTNERS WITH SCAIR TO PROVIDE CLINICAL MENTAL HEALTH SERVICES FOR NATIVE AMERICANS

FOR IMMEDIATE RELEASE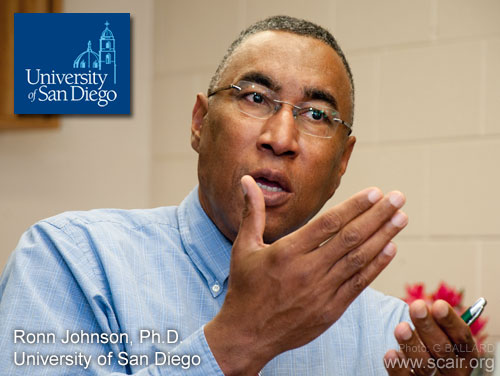 Dr. Ronn Johnson makes a point to SCAIR executives during a meeting at the SCAIR family training center in Alpine, California, September 2, 2009.
NA-FACES
by Ronn Johnson, Ph.D., ABPP
NA-FACES refers to the Native American Forensic Assessment, Consultation and Education Services offered through the SOUTHERN CALIFORNIA AMERICAN INDIAN RESOURCE CENTER (SCAIR).
This service is operated through University of San Diego's (USD) Clinical Mental Health Counseling (CMHC) specialization. It targets Native Americans residing in urban communities and on various reservations.
The primary purpose of this clinical instruction center is to provide direct service opportunities for USD CMHC students in the way of practicum and internship to fulfill licensed professional counselor requirements.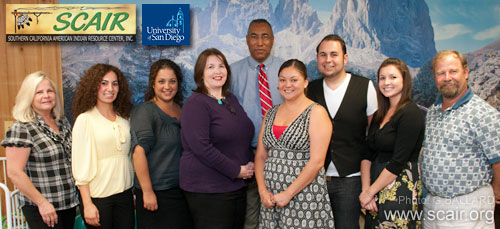 Professor Johnson takes a photo with members of his USD team and SCAIR Board President William Johnson (far right) and SCAIR Director Wanda Michaelis (far left).
PROGRAM NEWS Update, March 11-2, 2010:



SCTCA multimedia producers were on hand to document the grand opening of two new SCAIR-USD mental health counciling facilities for Native Americans in San Diego County.
There are two elements of NA-FACES.
First, NA-FACES is a counseling service based on Native healing practices.
NA-FACES was developed using a model program that combines mental health and substance abuse counseling with traditional healing practices for Native American families. For example, suicide is a major public health problem for Native Americans in the United States. Published studies indicate that Native Americans experience the highest rate of suicide of all ethnic groups in the United States.
NA-FACES could serve an important role in identifying risk factors associated with suicide among American Indians at the selected reservations, educate staff at rural reservations on how to screen for suicide, implement prevention, mental-health services, and offer culturally congruent recommendations for practice.
NA-FACES was crafted using traditional Native American values and is an innovated model for integrated health services.
The second element of NA-FACES takes on forensic mental health focus.
Under licensed supervision, students are allowed to work with the Tribal Courts in providing a wide range of mental health services (friend of the court). These forensic mental health services (assessment, consultation, and counseling) would be fully controlled through the tribal court system in order to maximize its utility for various tribal court-specific needs.
NA-FACES is a manual-driven service that is a central to the clinical instruction training for USD CMHC students required to complete practicum and internships. A designated supervisor would be responsible for weekly individual and group supervision. It is expected that two practicum and four CMHC internships would be available at any given time.
Training timeframe (student orientation, yearlong activities, ect) are identified as well as a "Native American Cultural Plunge" experience that is required for every USD CMHC student assigned to NA-FACES
At this point, there are several NA-FACES elements. Some of these elements include:
Distance education leadership opportunity between USD-CMHC students and urban rural reservation Indians through mental health resource development.
Multi-day on reservation CMHC experience that could include screening for depression, suicide, substance abuse, and provide a wide range of counseling-related services like career counseling.
Specific evaluation or outcome measures from NA-FACES while meeting CACREP clinical instruction standards.
USD CMHC mental health support for various tribal court systems.
Mental health services at satellite American Indian program sites.