Viejas' Silent Rain Espinoza Named All American First Team 2017
by Ernie C. Salgado, Jr. (Soboba tribe)
Photos by Steven Silva
Special to the Soboba Indian Reporter
Silent Rain Espinoza, a senior at Christian High School in El Cajon, CA., was named to the 2017 MAXPREP high school All American First Team for Softball.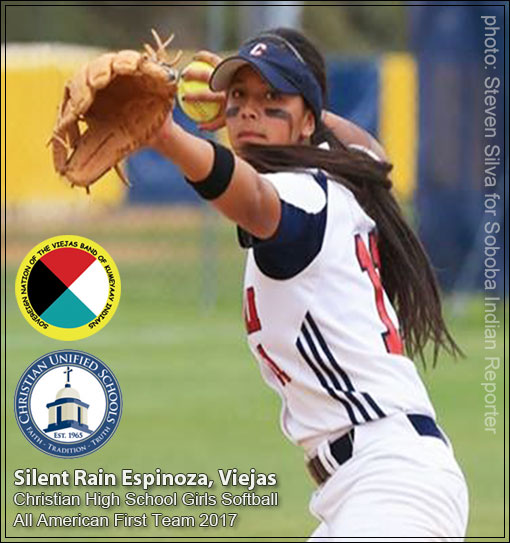 The Viejas tribal member led her high school team to the CIF San Diego Section D3 Championship with a 26-9-1 record. She posted an outstanding .560 batting average with 62 hits and scored 64 runs. Almost half her hits were for extra bases. She had 34 RBIs with 19 doubles and 9 homeruns and stole 15 bases.
The young American Indian superstar athlete was also selected to the All CIF first team and was named East San Diego County Player of the Year.
Silent Rain is an enrolled tribal member of the Viejas Band of Kumeyaay Indians. Her very proud parents are Greybuck and Mackenzie Espinoza. Her grandparents are Orlando and Diana Vigil.
In the fall of 2017 she will be attending the University of Washington which she chose over Stanford and Arizona State. She has a 3.97 GPA (Grade Point Aver-age) for her four years in high school.
Congratulations Silent Rain the San Diego tribal community will be following your career at Washington.
You make our people proud. God bless you and keep you safe.
TRIBAL SPORTS NEWS: 2019
Southern California Sports Standout
University Huskies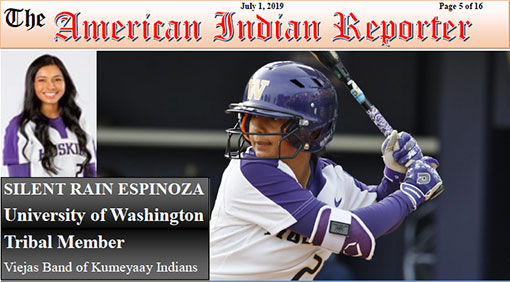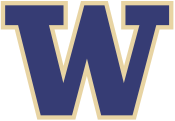 AMERICAN INDIAN REPORTER: Southern California female tribal member Silent Rain Espinoza is standing tall at 5'4" and brings "Big Thunder" to the University of Washington, Washington Huskies, woman's softball team.
She is a tribal member of the Viejas Band of Kumeyaay Indians. The Viejas Indian Reservation is locate off of Interstate 8 near the village of Alpine in east San Diego County ... DOWNLOAD THE FULL ARTICLE.
+++++++
If you enjoyed this Soboba Indian Reporter sports profile, you may also enjoy Ernie Salgado's historical and news feature articles on standout Native American Indian athletes.

WE WELCOME YOUR NEWS & STORY IDEAS FOR PUBLICATION:
MAILING & CONTACT INFORMATION:
ERNIE SALGADO, EDITOR
P.O. BOX 366, SAN JACINTO, CA 92581
CONTACT ERNIE SALGADO by email
Tribal: Luiseño
Reservation: Soboba Indian Reservation
FOUNDER/CEO: www.calie.org
PUBLISHER/EDITOR: The American Indian Reporter
Web Site: www.apapas.com
+++++++
MORE ERNIE SALGADO SPORTS BLOGS: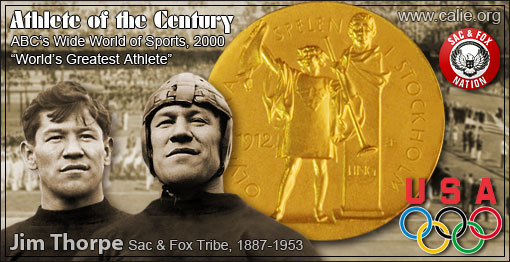 JIM THORPE (Sac & Fox) 1987-1953,
"The Greatest Athlete of All Time"...

CHIEF MEYERS (Cahuilla, Riverside, CA), 1880-1971, MLB teams played for: New York Giants, Boston Braves, Brooklyn Robins. Career batting average .291, played in four World Series (1911, 1912, 1913, 1916)....

JOE "THE BOSS" HIPP (Blackfeet) World Boxing Federation (WBF) World Heavyweight Champion (1999) forms the All Nations Foundation and sets out on a mission to tutor and mentor tribal youth...
+++++++
PRODUCED by: ERNIE SALGADO JR (Soboba)
Page design by: G. BALLARD