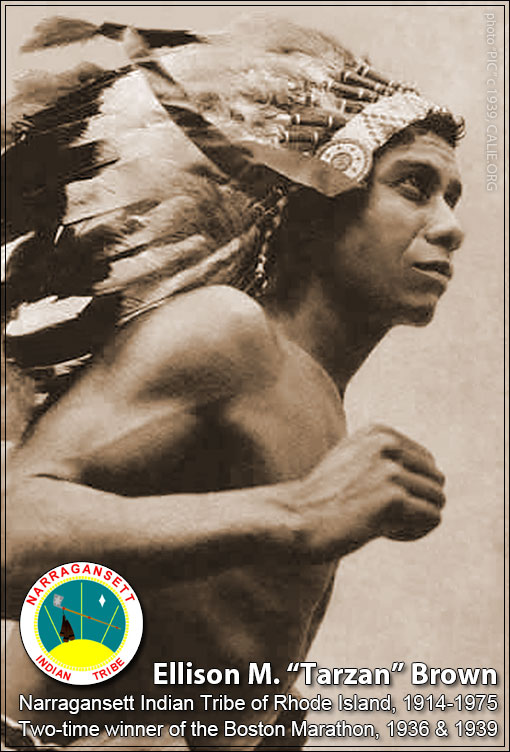 TWO-TIME BOSTON MARATHON WINNER & U.S. OLYMPIC ATHLETE Ellison Brown pictured circa 1939 wearing an eagle-feathered headdress for a "PIC" magazine sports feature.
Ellison "Tarzan" Brown
Narragansett Indian Tribe of Rhode Island
Narragansett tribal member Ellison Myers Brown (1914-1975) is famous in American history for winning two Boston Marathon foot races in 1936 and 1939.
Photos & article by Brian Lightfoot Brown (a grand nephew)
The photo of Uncle Tarzan wearing the headdress was taken around 1939 and used in a magazine called "PIC". I am not certain, but I believe it was a magazine about running, as a sport. I am not sure if the headdress was passed on through family or if he actually traded or sold it in exchange for food, money or something else to help provide for his family.
Sadly, my grand uncle traded or sold a lot of his items simply to put food on the table for his wife and children. The headdress may have been lost over the years. He also sold many of his medals and trophies away.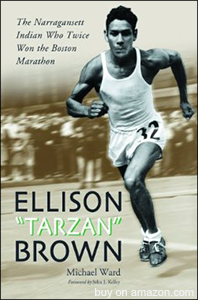 My uncle grew up very poor, but he was always full of spirit and an upbeat outlook. He lived in a shack just on the literal border of the Narragansett reservation in Charlestown, Rhode Island.
He was a man born a few centuries too late, my family used to say. He was known to disappear for a week or two and understood how to survive in the woods alone. He was a skilled shell fisherman and stone mason, too.
He ran more as if it was simply a hobby, or just something to do. He won almost seemingly whenever he felt like it. He was known to hold off and take 2nd place in some races if he felt the 2nd place prize would serve his family better than the 1st prize would.
He was a selfless and devoted man. He was a legend in his own time and an even bigger legend since his untimely death in 1975.
My grandmother, his oldest sister, used to recall that he was always unafraid to try things, even if they were a risk. He had a lot of pride in who and what he was. He was intensely proud of his Narragansett Indian roots and of his family.
In case you wondered, the photo of him running with people standing off to each side of him with buildings in the background (below), is him crossing the finish line when he won the 1939 Boston Marathon. I wish I had more photos to share.
We greatly miss our Uncle Tarzan.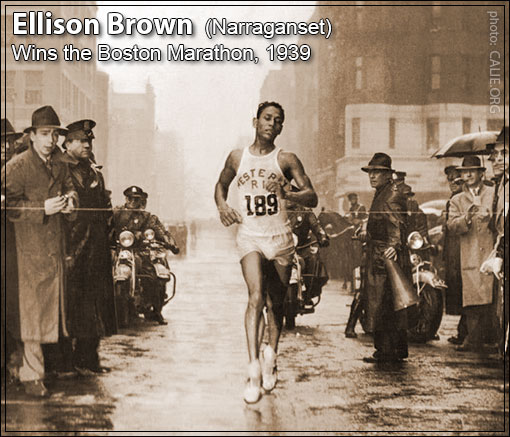 Pictured above wearing his Westerly RI 189 jersey, "Tarzan" crosses the finish line in the 1939 Boston Marathon. Wikipedia has his official 1939 time as 2:28:51, and his 1936 winning time as 2:33:40.
More facts & trivia:
Ellison Brown was on the 1936 United States Olympic Track & Field Team when the Olympics took place in Hitler's Berlin, Germany. Ellison brown was scheduled to participate in the 1940 Summer Olympics in Helsinki, but because of World War II, the games were canceled.
Ellison M. Brown was inducted into the American Indian Athletic Hall of Fame in 1973. Hopefully some of this information helps honor his memory as a true American hero and positive role model to Native American youths.
The Annual Tarzan Brown Road Race in Connecticut named in his honor.
He married a Narragansett woman named Ethel Wilcox and they had four children. In 1975, a van hit and killed him in Westerly, Rhode Island.
ELLISON BROWN PHOTO GALLERY: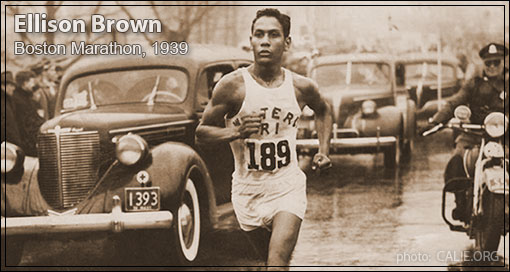 Pictured above wearing his Westerly RI 189 jersey, "Tarzan" runs in the rain during 1939 Boston Marathon with police escort.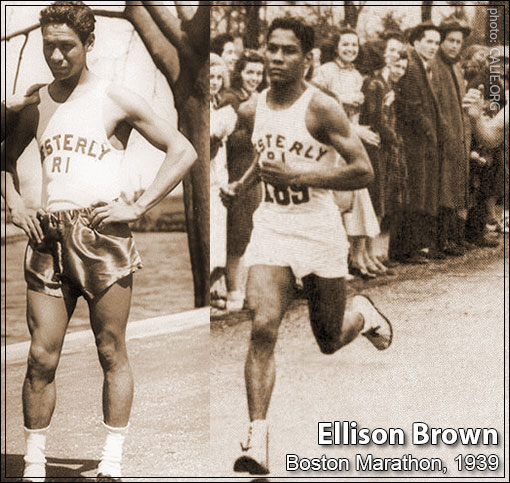 Ellison Brown is pictured running the 1939 Boston Marathon (right) and an uncaptioned photo (left).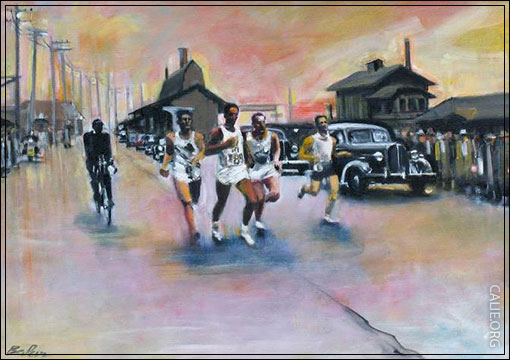 Ellison Brown painting of him running in the 1939 Boston Marathon wearing famous number 189. Artists signature looks like Baker, but could not confirm.
Ellison Brown's career sports statistics:
1946 Boston Marathon, placed 12th
1943 Boston Marathon, placed 21st
1940 Boston Marathon, placed 13th
1939 Boston Marathon, 1st place
1938 Boston Marathon, placed 51st
1937 Boston Marathon, placed 31st
1936 Summer Olympics, U.S. Olympic Team
1936 Boston Marathon, 1st place
1935 Boston Marathon, placed 13th
1934 Boston Marathon, placed 32nd
ELLISON "TARZAN" BROWN SOCIAL MEDIA & RESEARCH PORTAL:

ELLISON BROWN ON FACEBOOK

ELLISON BROWN BIO ON WIKIPEDIA
Do you have children who are interested in participating in sports?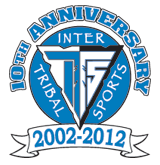 INTER TRIBAL SPORTS organization provides free sports programs for Native American Indian youth, 15-18, 11-14, 10 & under; free clinics and coach training; uniforms provided; play against teams from surrounding reservations; news & cultural events — Softball, Flag Football, Volleyball, Basketball — the Inter Tribal Sports program also needs coaches, assistant coaches, team parents, fans and sponsors... (see link for more info).
Do you have children who are interested in participating in cultural dance groups?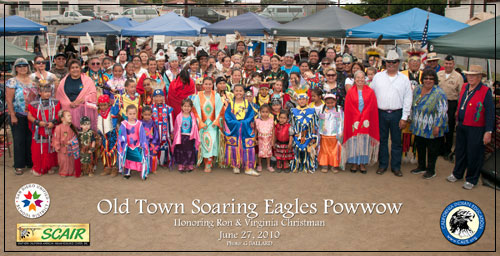 THE SOARING EAGLES YOUTH GROUP — A family-based community educational program for on-reservation and off-reservation urban American Indian youths — reconnect with your culture, heritage, tribal traditions and Native American community members in the greater San Diego County region of Southern California; volunteers and sponsors needed... (see link for more info).
MORE FAMOUS NATIVE AMERICAN INDIAN ATHLETES:

FAMOUS NATIVE AMERICAN CHIEFS:

AMERICIAN INDIAN & ALASKA NATIVE MILITARY VETERANS:

TRIBAL STUDY GUIDES: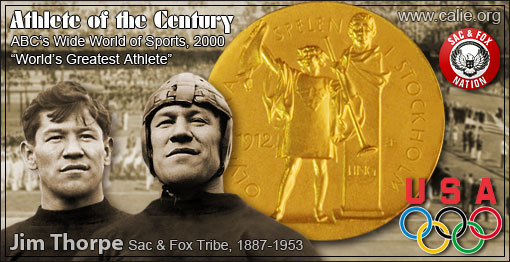 JIM THORPE (Sac & Fox Tribe) 1987-1953,
"Athlete of the Century" | "Greatest Athlete in the World"....


JOHN CHIEF MEYERS (Cahuilla, Riverside, CA), 1880-1971, MLB teams the "Ironman" played for: New York Giants, Boston Braves, Brooklyn Robins. Career batting average .291, played in four World Series (1911, 1912, 1913, 1916)....


AMERICAN TRIBAL SOVEREIGNTY — American tribes practiced their own forms of government for thousands of years before European intrusion and the formation of the United States government. The Constitution of the United States, U.S. Supreme Court, federal and state laws, as well as historical treaties all support the tribes' present-day legal rights to self-government and certain forms of tribal sovereignty....


American Indian Boarding School Experience
CALIE is compiling a historical Web portal for research into what happened circa 1850-1930...
AMERICAN INDIAN WOMEN IN HISTORY


Sacagawea, Shoshone (c. 1788-1812), Guide


Maria Tallchief, Osage (1925-2013) "America's First Prima Ballerina"
+++++++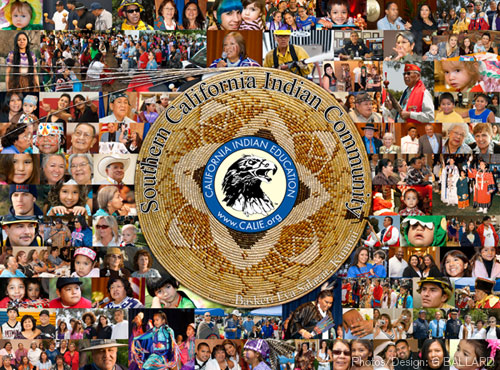 CALIE CREATIVE MEDIA — Collection of professional creative multimedia photojournalism Web blogs promoting NATIVE PRIDE in Family Values and American Indian community social networking.
+++++++
WHO PRODUCED THIS BLOG?


Ernie C. Salgado Jr.
Tribal: Luiseño
Reservation: Soboba Indian Reservation
EDITOR: The Indian Reporter www.theindianreporter.com
Founder/CEO CALIE: www.californiaindianeducation.org
Web Site: www.apapas.com
CONTACT
RESUME/BIOGRAPHY
PUBLISHED ARTICLES