Publishing Corner:
ROY COOK NEWS BLOG
THE INDIAN REPORTER
TRIBAL BLOGGERS
Indian Community:
TRIBAL COMMUNITY
PROFILES
OBITUARIES
Science & Wonder
ASTRONOMY PORTAL
KID'S CLUBHOUSE
Indian Heros:
VETERAN COMMUNITY
MEDALS OF HONOR
CODE TALKERS
FAMOUS CHIEFS
HISTORIC BATTLES
POEMS ESSAYS
SPORTS-ATHLETES
MISSION FEDERATION
FAMOUS INDIANS
California Indian Art:
MISSION BASKETS
RED CLAY POTTERY
ETHNOGRAPHIC ART
CAVE ART
MUSIC
CALIE Library:
FEDERAL Resources
HEALTH & MEDICAL
INDIAN BOOK LIST
HISTORICAL Documents
Academic Financial Aid:
SCHOLARSHIPS
GRANTS & FUNDING
Tribal Governments:
TRIBAL COURTS
SOVEREIGNTY
SOCIAL SERVICES
TRIBAL DIRECTORY
Indian Gaming:
INDIAN CASINO FORUM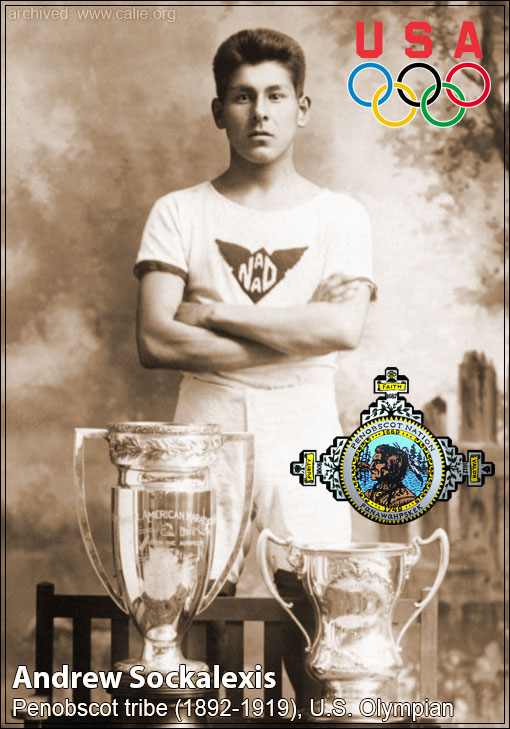 ANDREW SOCKALEXIS
Penobscot Nation
Andrew Sockalexis (1892-1919) is best known for his participation in the 1912 Summer Olympics, Stockholm, Sweden, as an American track and field athlete. He finished fourth in the 1912 Olympic men's marathon.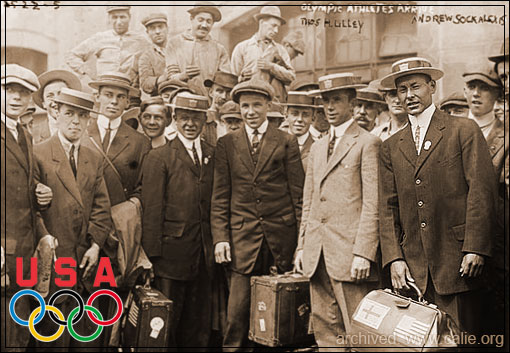 Historical photograph "Athletes Arrive" notes Andrew Sockalexis to right holding bag, and Thos Lilley to Andrew's right (carrying a suitcase) — it appears from the historical notes members of the 1912 American athletic team are pictured arriving in Stockholm for the Games of of the V Olympiad.
FAMOUS AMERICAN INDIAN OLYMPIANS
Two other famous 20th century American Indian Olympians who participated in the 1912 Summer Games are Jim Thorpe (Sac and Fox) and Lewis Tewanima (Hopi). Thorp won two Gold Medals for the decathlon and the pentathlon, and Tewanima won a Silver Medal for the 10,000-meter footrace. Both Olympic medal winners played college-level sports for the Carlisle Indian Industrial School.
OFFICIAL TRIBAL BIOGRAPHY:
For more information about Andrew Sockalexis please review the official Penobscot Nation Cultural & Historic Preservation Department's online ANDREW SOCKALEXIS BIOGRAPHY:


RESEARCH Andrew Sockalexis: WIKIPEDIA.ORG
Produced by Ernie Salgado Jr (Soboba tribe).
Research/presentation: G BALLARD.