Publishing Corner:
ROY COOK NEWS BLOG
THE INDIAN REPORTER
TRIBAL BLOGGERS
Indian Community:
TRIBAL COMMUNITY
PROFILES
OBITUARIES
Science & Wonder
ASTRONOMY PORTAL
KID'S CLUBHOUSE
Indian Heros:
VETERAN COMMUNITY
MEDALS OF HONOR
CODE TALKERS
FAMOUS CHIEFS
HISTORIC BATTLES
POEMS ESSAYS
SPORTS-ATHLETES
MISSION FEDERATION
FAMOUS INDIANS
California Indian Art:
MISSION BASKETS
RED CLAY POTTERY
ETHNOGRAPHIC ART
CAVE ART
MUSIC
CALIE Library:
FEDERAL Resources
HEALTH & MEDICAL
INDIAN BOOK LIST
HISTORICAL Documents
Academic Financial Aid:
SCHOLARSHIPS
GRANTS & FUNDING
Tribal Governments:
TRIBAL COURTS
SOVEREIGNTY
SOCIAL SERVICES
TRIBAL DIRECTORY
Indian Gaming:
INDIAN CASINO FORUM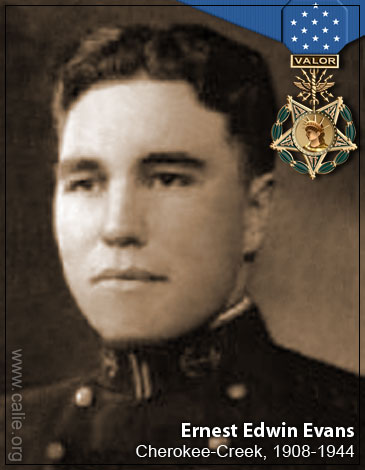 Ernest Edwin Evans (Cherokee-Creek)
A Cherokee/Creek from Oklahoma, during the Battle for Leyte Gulf, 24-26 October 1944, Commander of the USS Johnston, he formed a part of the screen for escort aircraft carriers of the SEVENTH Fleet which on 25 October encountered off Samar the Center Force of the Japanese Fleet after it had transited San Bernardino Strait during the night of 24-25 October. The USS Johnston waged a gallant fight against heavy Japanese fleet units but was sunk by the enemy ships. Lieutenant Commander Evans was awarded the Navy Cross, later recalled and replaced by the Medal of Honor, awarded posthumously by Umited States Congress.
In addition to the Medal of Honor, the Bronze Star Medal, Purple Heart Medal and Presidential Unit Citation Ribbon, Commander Evans had the China Service Medal, American Defense Medal, Fleet Clasp, and was entitled to the Asiatic-Pacific Campaign Medal with six engagement stars, the World War II Victory Medal, and the Philippine Defense and Liberation Ribbons with one star (study resource). Wikipedia.
Medal of Honor recipient Ernest E. Evans (1908-1944).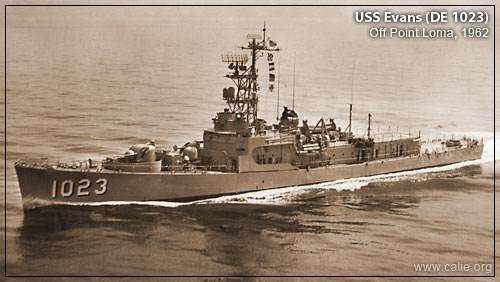 A U.S. Navy destroyer war ship, the USS Evans (DE-1023), was named in honor of Commander Evans.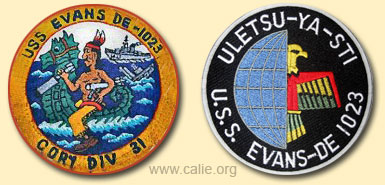 USS Evans DE-1023 crew ship patches.