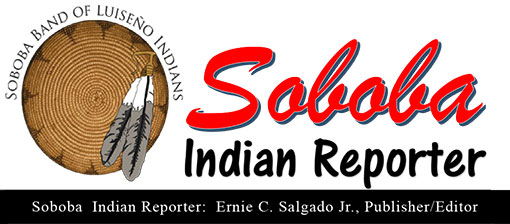 DENNIS BANKS, Dead at 80
1937-2017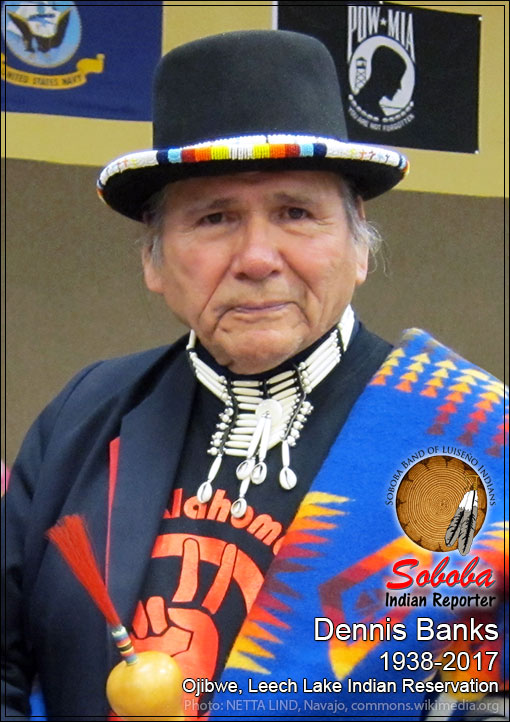 Dennis J. Banks (Ojibwa) pictured at Native American Indian honoring ceremony in 2013, photo by Netta Lind, Navajo, courtesy wikimedia.org
Famous American Indian Icon, Activist, Teacher, Author...
by Ernie C. Salgado, Jr., Editor, Soboba Tribal Elder
Mr. Dennis Banks, Co-Founder of (AIM) the American Indian Movement passed away on October 29, 2017. However, his legacy will live forever as a true American Indian "Warrior" of the people.
In our short lives we seldom have the opportunity to meet or know of very few "Distinguished People" that truly grace us with their presence. I am proud to say Dennis Banks was my friend and one of the "Great Men" of our time.
Anyone that ever had the honor of meeting him knew him as an honest, humble and caring person. When he spoke to anyone it was with respect regardless of status, they be a United States Senator or a Reservation Indian, it didn't matter.
DENNIS BANKS QUOTES
When you have a spiritual foundation, you look at poverty different then.
And Americans realized that native people are still here, that they have a moral standing, a legal standing.
I have a Father's Day every day.
(Mr. Banks fathered 19 children, according to his New York Times obituary.)
I'm on this road for the rest of my life.


Read more TRADITIONAL Native American Indian quotations on CALIE.ORG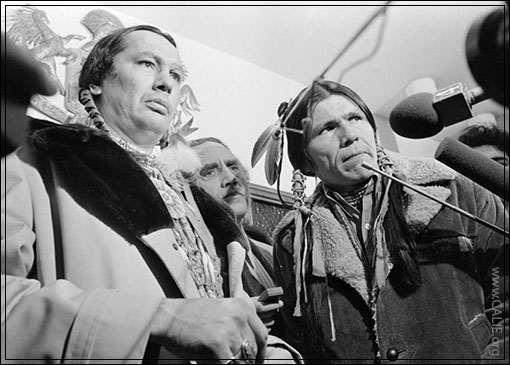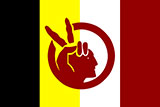 Dennis Banks co-founded the American Indian Movement (AIM) in 1968, and Russell Means (left) joined the organization shortly thereafter. The two iconic Native American Indian cultural leaders were key activists and spokespersons for the historic Wounded Knee incident (1973), and the Native American Occupation of Alcatraz Island (1969) until the U.S. government dismissed the American tribes' indigenous land claim dispute by armed force in 1971. In 1972, in a protest dubbed The Trail of Broken Treaties, Banks helped organize and lead his caravan of Native American protesters in a week-long takeover of the Bureau of Indian Affairs (BIA) headquarters building in Washington, D.C. Above photo: Bancroft Library Fang Family San Francisco Examiner photograph archive.

Dennis Banks put his life on the line many times to fight racial discrimination, the federal Government and Tribal corruption and the injustices against our people.
He never expressed any regret for the personal sacrifices he endured that included long separations from his family, Government persecution and his incarceration.
Dennis Banks knew the cruelty of the U.S. Government against the American Indian people first hand as he was taken from his family at the age of 7 and placed in an "Indian Boarding School."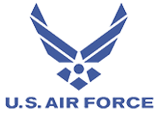 At the age of 17, Dennis escaped the boarding school a final time and enlisted in the U.S. Air Force. He served our country in the United States Armed Forces for four years and received an honorable discharge. Most of the young airman's active duty was served in Japan.
Although Dennis didn't have a formal college education his intelligence was not diminished as he changed the course of history of the American Indian peoples.
Again, Dennis Banks was a "Great Man" having dedicated his life to the protection and advancement of our people. He will be missed, but he left us the road map to freedom.
May God bless Dennis Banks and give him eternal life.
+++++++
THE LONGEST WALK, a Dennis Banks' movement for the Seventh Generation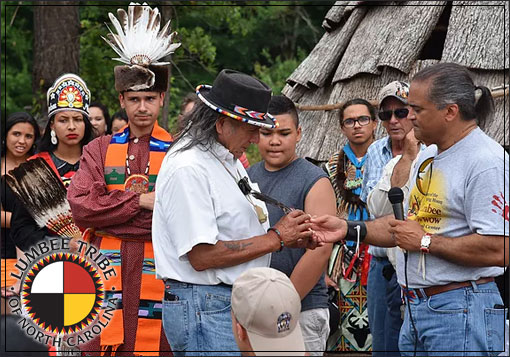 Lumbee tribal members honor Dennis Bank and Longest Walk 5 participants. After 3,300 miles on the road, Dennis Banks said he has never seen anything quite like the reception the Lumbee Tribe gave him on Saturday... SOURCE.
DENNIS BANKS STUDY RESEARCH GUIDE PORTAL on American Indian History in the United States:
DENNIS BANKS MOVIES, DOCUMENTARIES & INTERVIEWS:
Above: Community says goodbye to native activist Dennis Banks, LPTV Lakeland Public television.
Above: A GOOD DAY TO DIE A Film About Dennis banks.
Above: Dennis Banks on the American Indian Movement, David Hoffman
Above: Dennis Banks -- On the Spirit of the Uprising (In the '60s and now in 2011).
Above: Dennis Banks honors a dead hawk he found roadside.
MORE YOUTUBE VIDEOS ABOUT DENNIS BANKS
++++++
WHO PRODUCED THIS BLOG?


Ernie C. Salgado Jr.
Tribal: Luiseño
Reservation: Soboba Indian Reservation
EDITOR: The Indian Reporter www.theindianreporter.com
Founder: www.californiaindianeducation.org
Web Site: www.apapas.com
CONTACT
RESUME/BIOGRAPHY
PUBLISHED ARTICLES