Publishing Corner:
ROY COOK NEWS BLOG
THE INDIAN REPORTER
TRIBAL BLOGGERS
Indian Community:
TRIBAL COMMUNITY
PROFILES
SOARING EAGLES
OBITUARIES
Science & Wonder
ASTRONOMY PORTAL
KID'S CLUBHOUSE
Indian Heros:
VETERAN COMMUNITY
MEDALS OF HONOR
CODE TALKERS
FAMOUS CHIEFS
HISTORIC BATTLES
POEMS ESSAYS
SPORTS-ATHLETES
MISSION FEDERATION
FAMOUS INDIANS
California Indian Art:
MISSION BASKETS
RED CLAY POTTERY
ETHNOGRAPHIC ART
CAVE ART
MUSIC
CALIE Library:
FEDERAL Resources
HEALTH & MEDICAL
INDIAN BOOK LIST
HISTORICAL Documents
STD Information
Academic Financial Aid:
SCHOLARSHIPS
GRANTS & FUNDING
Tribal Governments:
TRIBAL COURTS
SOVEREIGNTY
SOCIAL SERVICES
TRIBAL DIRECTORY
Indian Gaming:
INDIAN CASINO FORUM
SCAIR Strong Medicine


by Roy Cook, Opata-Oodham, Mazopiye Wishasha: Writer, Singer, Speaker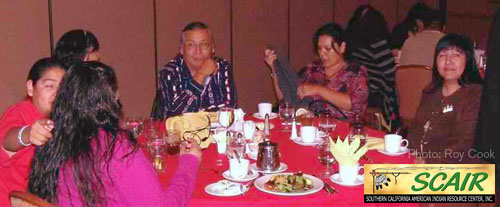 Pen Center USA in the classroom nurtured a summer of writing from a lifetime of living. Creative force is gifted to the women. They bring forth life to the world. Tonight, December 9, 2011 these writers shared their words and emotions with a selected forum. SCAIR Senior Advisor Randy Edmonds spoke to the oral tradition of the Plains Tribal people and provided the blessing for the writers forum feast. Frank Pancucci SCAIR Project Coordinator was sitting next to Pen USA Michelle Myron. Frank was the Emcee for the evening and he wrote the foreword to Strong Medicine.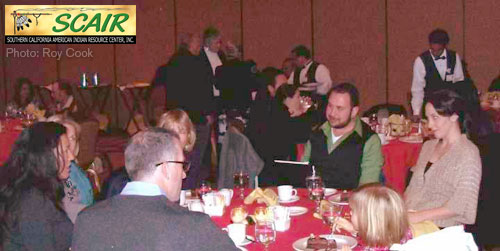 Southern California American Indian Resource Center director Wanda Michaelis, SCAIR board president Bill Johnson and TANF manager Lynne Ray Smith along with family and friends listened to their stories. Seven writers read their short stories. These stories are assembled into an anthology of categories: people and places, unforgettable and healing. Twenty-six stories along with a writer's biography are in the Strong Medicine volume. The volume was organized by Jim Rutland and the cover is by his wife Nuvia Cristol Guerra.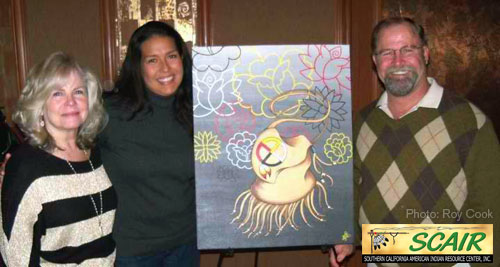 The SCAIR Strong Medicine Writers forum and feast is held in the Barona golf meeting center. We broke bread with the writers, staff and families in a formal dinner setting. Chicken cordon bleu, salad and a chocolate muse cake with berries was on the menu this evening. The lasting seasonings of the evening repast are the shared emotions of the writers.