Publishing Corner:
ROY COOK NEWS BLOG
THE INDIAN REPORTER
TRIBAL BLOGGERS
Indian Community:
TRIBAL COMMUNITY
PROFILES
SOARING EAGLES
OBITUARIES
Science & Wonder
ASTRONOMY PORTAL
KID'S CLUBHOUSE
Indian Heros:
VETERAN COMMUNITY
MEDALS OF HONOR
CODE TALKERS
FAMOUS CHIEFS
HISTORIC BATTLES
POEMS ESSAYS
SPORTS-ATHLETES
MISSION FEDERATION
FAMOUS INDIANS
California Indian Art:
MISSION BASKETS
RED CLAY POTTERY
ETHNOGRAPHIC ART
CAVE ART
MUSIC
CALIE Library:
FEDERAL Resources
HEALTH & MEDICAL
INDIAN BOOK LIST
HISTORICAL Documents
SDT Information
Academic Financial Aid:
SCHOLARSHIPS
GRANTS & FUNDING
Tribal Governments:
TRIBAL COURTS
SOVEREIGNTY
SOCIAL SERVICES
TRIBAL DIRECTORY
Indian Gaming:
INDIAN CASINO FORUM
LINKS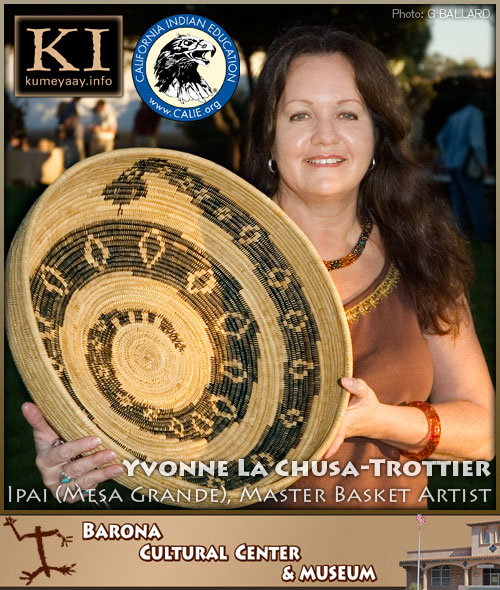 BASKET WEAVING CLASSES
Yvonne La Chusa-Trottier (Ipai, Mesa Grande Reservation) returns to the Barona Cultural Center & Museum to teach another popular basket-weaving class.
Ancient Spirits Speak
Leaching Basket Class
Saturday, October 23, 2010
10am-2pm
In this one-day Barona basketing weaving class, participants will learn how to make a traditional California Indian leaching basket.
Leaching baskets are an instrumental tool used for hundreds of years in preparing the acorn to be made into shawii (acorn pudding).
At Barona you will make a smaller version using the same material that the Kumeyaay ancestors used for thousands of years.
Class is $20 and limited to 10 persons only. Ages 12 and up.
Please RSVP at 619-443-7003 ext. 2 by October 9th.
SPONSORED BY BARONA CULTURAL CENTER & MUSEUM on the Barona Indian Reservation.