SCAIR "Gathering of Native Americans" GONA


Special to the SOBOBA INDIAN REPORTER WEBSITE.
The Southern California American Indian Resource Center, Inc. (SCAIR) held its annual Gathering Of Native Americans (GONA) on June 28, 2017 at Santee Lakes Recreation Preserve. The activity was sponsored in part by the California Department of Education and U.S. Department of Labor.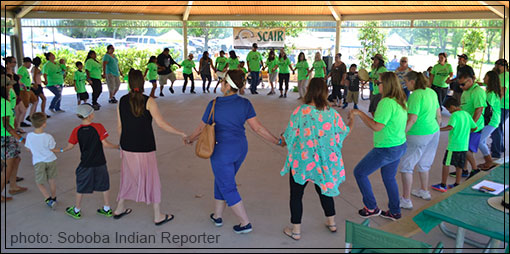 GONA participants celebrated with the traditional Round Dance. Funding for the Classy Green Sportswear was contributed by PAF Associates of Santee, CA.
The primary goal of the Family GONA is to stem the cycle of poverty within the San Diego County Native American Indian community. In an effort to achieve this goal as a component of its employment training curriculum SCAIR implements two Family GONA's annually.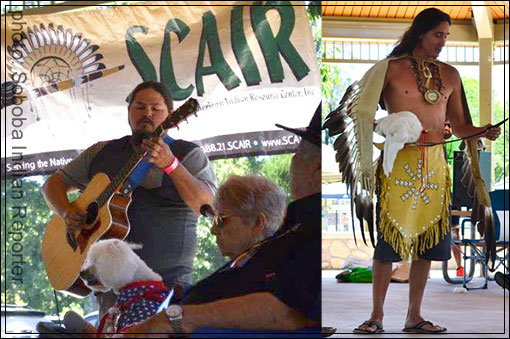 San Diego SCTCA Tribal TANF site manager, Paul Miranda (Pala Band of Mission Indians) played the guitar and sang. Steve Garcia (Gabrielino-Tongva) danced the Eagle Dance.
The SCAIR Family GONAs include the extended community family of tribal elders, adults, parents and youth. The GONA curriculum is designed to develop positive self-esteem, goal setting, traditional tribal values and tribal cultural awareness for the Native American Tribal community in east San Diego County.
The program's objectives are:
To promote American Indian Education.
To increase awareness of the employment training Program.
To increase awareness of the importance of tribal leadership.
To promote unity within the Native American Tribal Community.
To promote the understanding and importance of traditional tribal customs & values.
To increase the self-sufficiency and employability of the individual.
Cultural resilience is a relatively new term, but it is a concept that predates the so-called "discovery" of Native American people. The elders teach that children are gifts from the Creator and it is the family, community, school, and tribe's responsibility to nurture, protect, and guide them. Thus, resilience is not new to the Native people; it is a concept that has been taught for centuries. The word is new; the meaning is old.
In spite of tribal differences, there are shared core values, beliefs and behaviors.
Ten are highlighted here to guide our thinking about innate natural, cultural resilience: spirituality, child-rearing extended family, veneration of age/wisdom/tradition, respect for nature, generosity and sharing, cooperation/group harmony, autonomy/respect for others, composure/patience, relativity of time, and non-verbal communication. (Heavy Runner et al. 1997).
+++++++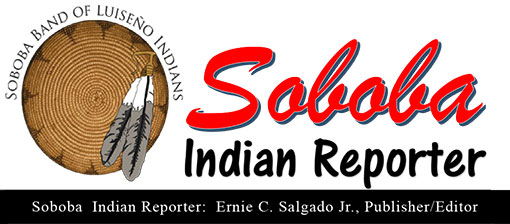 AUGUST 2017 EDITION:
DOWNLOAD NOW PDF
+++++++
WE WELCOME YOUR NEWS & STORY IDEAS FOR PUBLICATION:
MAILING & CONTACT INFORMATION:
ERNIE SALGADO, EDITOR
P.O. BOX 366, SAN JACINTO, CA 92581
CONTACT ERNIE SALGADO directly by email
Recent featured Soboba Reporter articles:


SILENT RAIN ESPINOZA (Viejas), Christian High School Girls Softball team posted an outstanding .560 batting average with 62 hits and scored 64 runs, named All American First Team...


AVELLAKA ARIVSO (Soboba), Hemet High School Girls Softball team, wins Bulldogs 2017 Most Valuable Player (MVP) award...


KEYERA "FLORES" CAMERON placed 2nd in the NFL 8-9 Year Old Pass, Punt and Kick Division Championships...


JOE BURTON (Soboba), a 2009 West Valley High School and Oregon State University Beavers basketball player, Joseph was voted 2016 MVP in his professional rookie year with the French ALM Évreux Basketball league team, continues successful pro sports career...