ABOUT CALIE
MISSION STATEMENT
Publishing Corner:
ROY COOK NEWS BLOG
INDIAN VOICES TODAY
TRIBAL BLOGGERS
Indian Community:
TRIBAL COMMUNITY
Science & Wonder
ASTRONOMY PORTAL
KID'S CLUBHOUSE
Indian Heros:
VETERAN COMMUNITY
MEDALS OF HONOR
CODE TALKERS
FAMOUS CHIEFS
HISTORIC BATTLES
POEMS ESSAYS
SPORTS-ATHLETES
MISSION FEDERATION
California Indian Art:
MISSION BASKETS
RED CLAY POTTERY
CAVE ART
MUSIC
CALIE Library:
FEDERAL Resources
HEALTH & MEDICAL
INDIAN BOOK LIST
Academic Financial Aid:
SCHOLARSHIPS
GRANTS & FUNDING
Tribal Governments:
TRIBAL COURTS
SOVEREIGNTY
SOCIAL SERVICES
TRIBAL DIRECTORY
Indian Gaming:
INDIAN CASINO FORUM
SITE MENU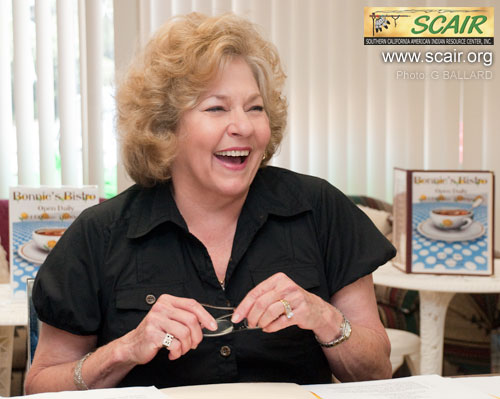 SCAIR creative education planners set up Bonnie Krempp with "Bonnie's Bistro" and invited her into the SCAIR Learning Center in Alpine to hold specialized classes in food service career training.
It is probably a good bet that nearly everyone in Alpine east county San Diego knows this great smile of Bonnie Krempp. As a working expert, Bonnie Krempp has been the head day server for the Alpine Inn for the past 14 years and knows what she is talking about.
CAREER JOB TRAINING — FOOD SERVICE
SCAIR urban tribal TANF students wrapped up a successful continuing education "Two Day Career Training" event by taking written tests.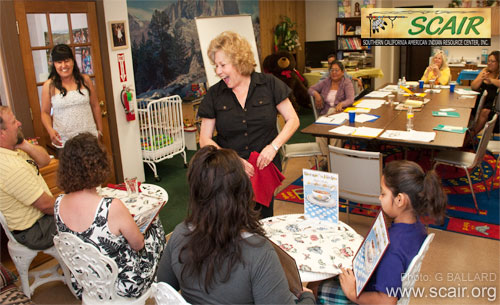 Professional server Bonnie Krempp shows off the winning attitude and professional style that ensures her success in the business — here Bonnie is pictured passing along her knowledge to SCAIR students.
Southern California American Indian Resource Center, Inc., SCAIR. These pictures were taking at the SCAIR Learning Center in Alpine, California, on July 9-10, 2009 — please contact SCAIR (above link) for current class schedules and eligibility.The job preparation classes were held at the SCAIR Family Learning Center, 2218 Alpine Blvd.
Refreshments were prepared by Wanda Michaelis.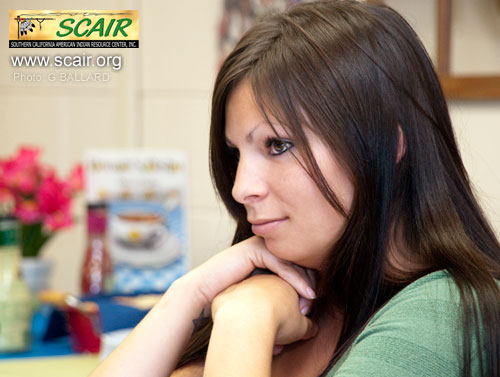 California students come to SCAIR with a variety of ages and backgrounds to continue their education and better their life experiences in a supervised family community environment.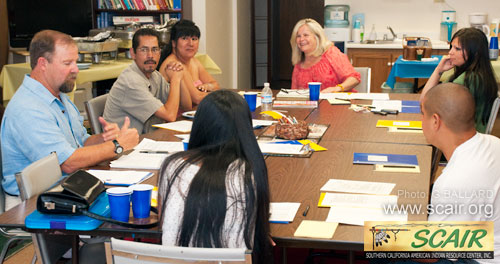 SCAIR Board President William H. Johnson (blue shirt) and SCAIR Executive Director Wanda Michaelis (red blouse) taught much of the class and shared their vast professional experiences with the students.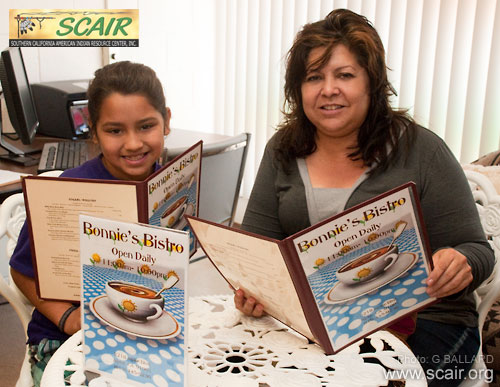 Lita was visiting SCAIR with her daughter and granddaughter. Here the girls volunteered to be "difficult" customers and helped the students practice their table-waiting skills during the class.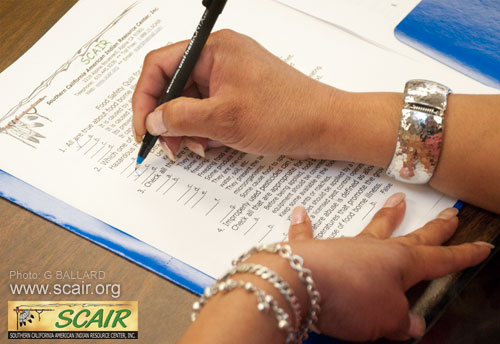 Testing is an important part of the SCAIR career curriculum and helps ensure the students' ability to retain and apply what they were taught.
RETURN to CALIE CONTINUING EDUCATION.