ABOUT CALIE
MISSION STATEMENT
Publishing Corner:
ROY COOK NEWS BLOG
INDIAN VOICES TODAY
TRIBAL BLOGGERS
Indian Community:
TRIBAL COMMUNITY
Science & Wonder
ASTRONOMY PORTAL
KID'S CLUBHOUSE
Indian Heros:
VETERAN COMMUNITY
MEDALS OF HONOR
CODE TALKERS
FAMOUS CHIEFS
HISTORIC BATTLES
POEMS ESSAYS
SPORTS-ATHLETES
MISSION FEDERATION
California Indian Art:
MISSION BASKETS
RED CLAY POTTERY
CAVE ART
MUSIC
CALIE Library:
FEDERAL Resources
HEALTH & MEDICAL
INDIAN BOOK LIST
Academic Financial Aid:
SCHOLARSHIPS
GRANTS & FUNDING
Tribal Governments:
TRIBAL COURTS
SOVEREIGNTY
SOCIAL SERVICES
TRIBAL DIRECTORY
Indian Gaming:
INDIAN CASINO FORUM
SITE MENU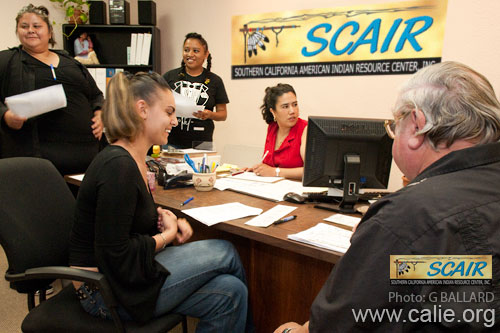 Thirteen SCAIR urban tribal TANF students wrapped up a successful continuing education class by taking written tests and receiving their official San Diego County Foodhandler's Card.
Southern California American Indian Resource Center, Inc., SCAIR, Family Education Specialist Cristina Rosado (in red blouse) hosted the event. Len Krall of A-1 Food Services taught the SCAIR Urban TANF classes on May 12th and 13th, 2009.
SAN DIEGO COUNTY FOODHANDLERS TRAINING
The job preparation classes were held at the SCAIR Family Learning Center, 2218 Alpine Blvd., Alpine, California, and the SCAIR Family Learning Center, 4265 Fairmont Ave., San Diego.
Refreshments and training were provided www.CALIE.org.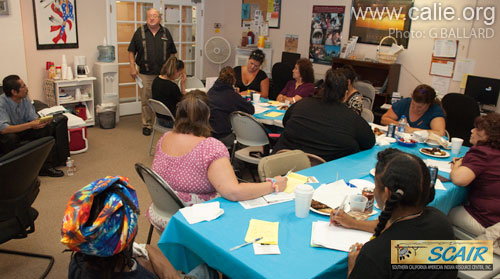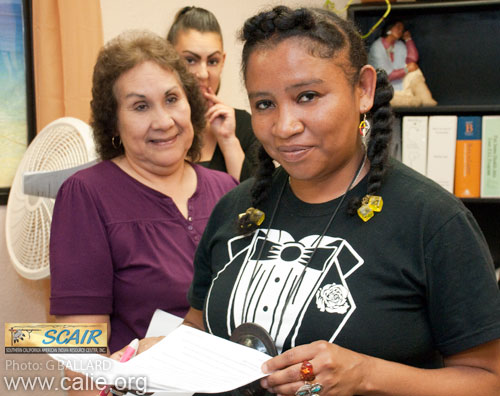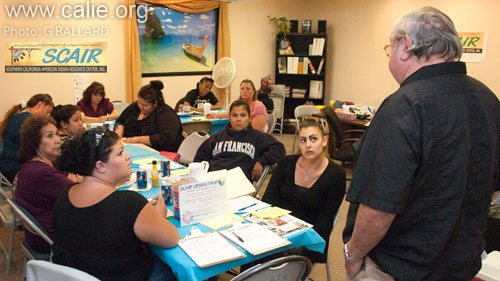 RETURN to CALIE CONTINUING EDUCATION.