Publishing Corner:
ROY COOK NEWS BLOG
THE INDIAN REPORTER
TRIBAL BLOGGERS
Indian Community:
TRIBAL COMMUNITY
PROFILES
SOARING EAGLES
Science & Wonder
ASTRONOMY PORTAL
KID'S CLUBHOUSE
Indian Heros:
VETERAN COMMUNITY
MEDALS OF HONOR
CODE TALKERS
FAMOUS CHIEFS
HISTORIC BATTLES
POEMS ESSAYS
SPORTS-ATHLETES
MISSION FEDERATION
FAMOUS INDIANS
California Indian Art:
MISSION BASKETS
RED CLAY POTTERY
ETHNOGRAPHIC ART
CAVE ART
MUSIC
CALIE Library:
FEDERAL Resources
HEALTH & MEDICAL
INDIAN BOOK LIST
HISTORICAL Documents
Academic Financial Aid:
SCHOLARSHIPS
GRANTS & FUNDING
Tribal Governments:
TRIBAL COURTS
SOVEREIGNTY
SOCIAL SERVICES
TRIBAL DIRECTORY
Indian Gaming:
INDIAN CASINO FORUM
SCAIR Soaring Eagles Spring Time 2009

by Roy Cook, Opata-Oodham, Mazopiye Wishasha: Writer, Singer, Speaker


CLICK TO DOWNLOAD 10-inch high-resolution Roy Cook photo.
Wednesday 6:30 pm at the Normal Heights Community room is the place to see hopes and dreams become real. A positive environment, non-political, with a total focus to see our Indian Children realize their pride of tribal identity, peer interaction and mentoring examples on a variety of levels and interests. Each evening there is educational activities, play opportunities (after all these are children) experienced instruction and traditional music to lift all attending hearts and the dancers feet in the participation of American Indian Dance.
There is a SCAIR, Southern California American Indian Resource Inc.  hosted and voluntary potluck meal at the beginning of the evening with a blessing by an elder or designated spiritual person. Announcements or guest speakers also have an opportunity to bring to the parents and many volunteers participating to make this Soaring Eagles dance program fly.
Back to Roy Cook's Articles page.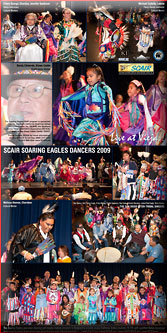 DOWNLOAD HIGH RESOLUTION EAGLE DANCERS POSTER.
+++++++
SOARING EAGLES Proudly Sponsored by:
Southern California Indian Resource Center, Inc. SCAIR
San Diego Indian Center
Coordinated by:
San Diego City Schools Indian Education Program
Indian Human Resource Center
Project Coordinator: Vickie Gambala
VOLUNTEERS NEEDED: If you would like to volunteer or help support the Golden Eagles Indian students, please contact Vickie Gambala off the SOARING EAGLES WEB SITE for current information, including current class and event schedules, contact information, FAQ, registration and eagles art posters DOWNLOAD.
+++++++
POW-WOW REGALIA
See Roy Cook's CALIE Pow-wow History and Information article for more info and professional photographs portfolios and movies about Native American powwows in Southern California, San Diego County.