Publishing Corner:
ROY COOK NEWS BLOG
THE INDIAN REPORTER
TRIBAL BLOGGERS
Indian Community:
TRIBAL COMMUNITY
PROFILES
SOARING EAGLES
Science & Wonder
ASTRONOMY PORTAL
KID'S CLUBHOUSE
Indian Heros:
VETERAN COMMUNITY
MEDALS OF HONOR
CODE TALKERS
FAMOUS CHIEFS
HISTORIC BATTLES
POEMS ESSAYS
SPORTS-ATHLETES
MISSION FEDERATION
FAMOUS INDIANS
California Indian Art:
MISSION BASKETS
RED CLAY POTTERY
ETHNOGRAPHIC ART
CAVE ART
MUSIC
CALIE Library:
FEDERAL Resources
HEALTH & MEDICAL
INDIAN BOOK LIST
HISTORICAL Documents
Academic Financial Aid:
SCHOLARSHIPS
GRANTS & FUNDING
Tribal Governments:
TRIBAL COURTS
SOVEREIGNTY
SOCIAL SERVICES
TRIBAL DIRECTORY
Indian Gaming:
INDIAN CASINO FORUM
INTERNATIONAL SPACE STATION PICTURED DURING THE SOLAR ECLIPSE OF JANUARY 4 2011 FROM OMAN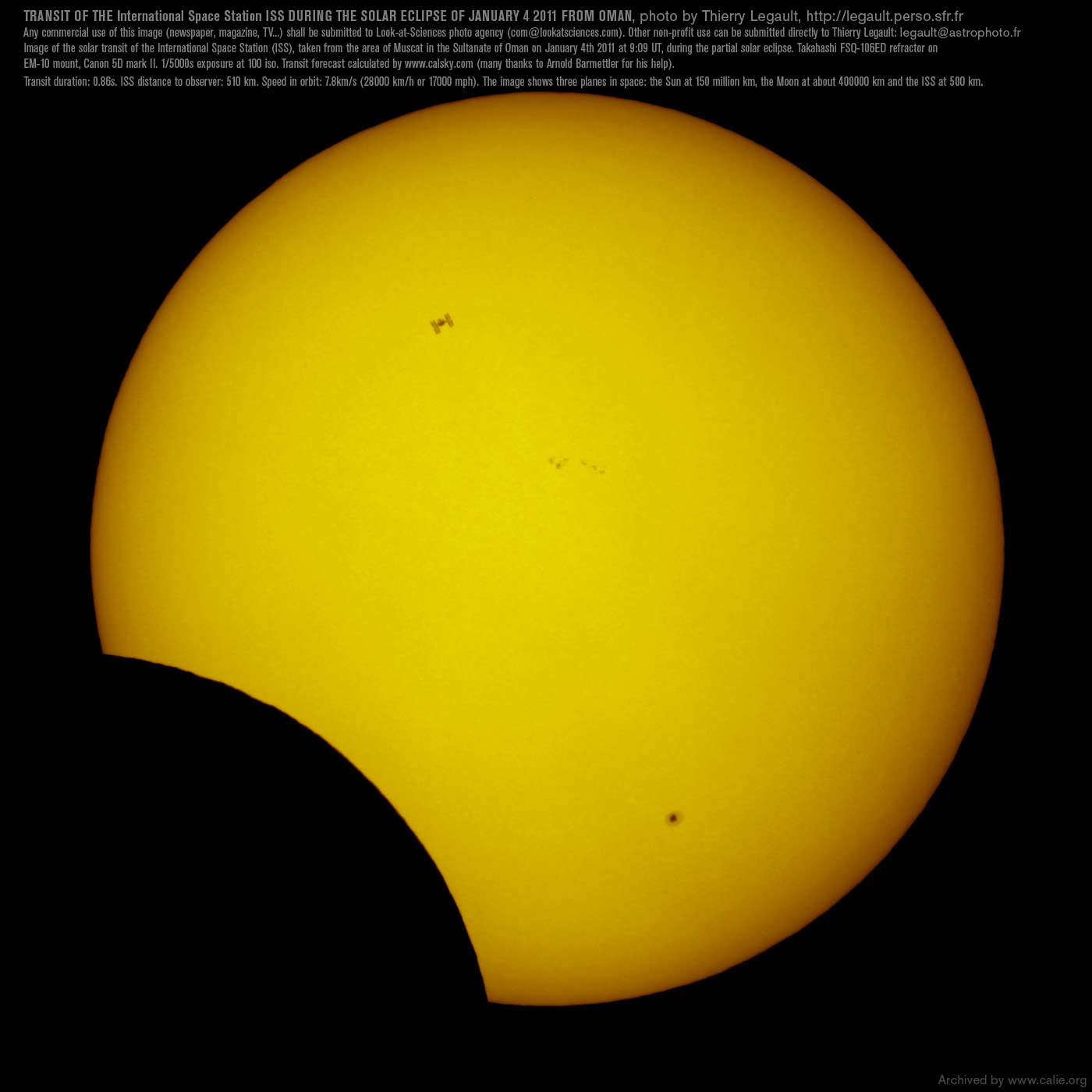 TRANSIT OF THE INTERNATIONAL SPACE STATION ISS DURING
THE SOLAR ECLIPSE OF JANUARY 4 2011 FROM OMAN
Famous astrophotographer Thierry Legault photographed this amazing once-in-a-lifetime photograph
of the International Space Station ISS in perfect alignment with the Earth, Moon and Sun during the
Solar Eclipse of January 4, 2011, at 9:09 UT, during the partial solar eclipse.
The image was taken from the area of Muscat in the Sultanate of OMAN using a professional
Canon 5D mark II, SLR camera with Takahashi FSQ-106ED refractor on EM-10 mount.
EXPOSURE 1/5000s exposure at 100 iso (that means the camera shutter was open for 1/5000th of a second).
Transit duration: 0.86s (that means the photo opportunity lasted less than one second to capture
the ISS in this photograph).
Speed in orbit: 7.8km/s (28000 km/h or 17000 mph).
This is how fast the ISS was traveling in Earth orbit.
Transit forecast calculated by www.calsky.com (many thanks to Arnold Barmettler for his help).
The image shows three planes in space:
The Sun at 150 million km about 93,000,000 miles from Earth).
The Moon at about 400000 km (about 250,000 miles from Earth).
The ISS at 500 km (about 316 miles from Earth).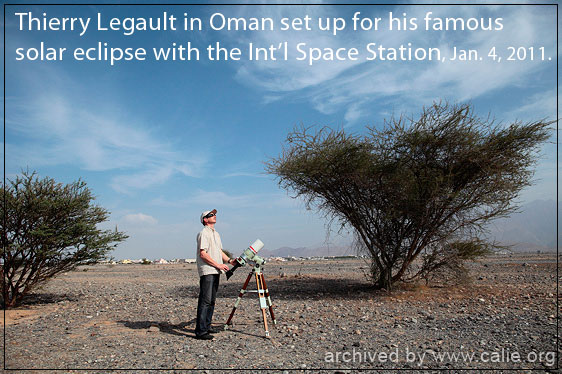 OMAN, January 4, 2011 — Astrophotographer ThierryLegault pictured setup to take his famous
transit of the ISS during the solar eclipse of 1/4/2011, using a professional Canon 5D mark II SLR camera
with Takahashi FSQ-106ED refractor on EM-10 mount.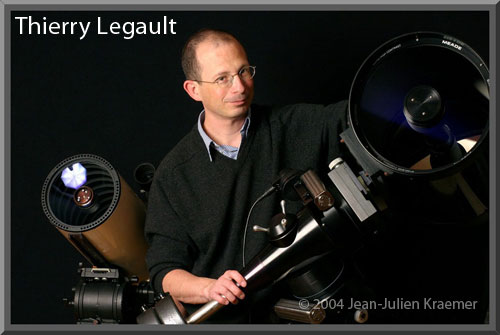 Thierry Legault, photo COPYRIGHT 2004 Jean-Julien Kraemer.
Any commercial use of these images (newspaper, magazine, TV...) shall be submitted to
Look-at-Sciences photo agency [email: com (at) lookatsciences (dot) com].
Other non-profit use can be submitted directly to Thierry Legault [email: legault (at) astrophoto (dot) fr].
Webmaster's Note:
A professional photographer for over 20 years, I am absolutely blown away by all the preparation and effort
it must have taken to be set up in the right place at the right time and ready for the half-second window
when the spacecraft flew by...this is one of those very special images you will never forget.


FACEBOOK: "Outer Space Portal"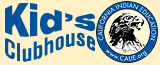 Return to CALIE Science & Wonder SPACE PORTAL.