Soaring Eagles is sponsored by the Southern California American Indian Resource, Inc.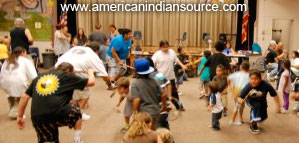 Soaring Eagles Kids Come to Dance!


by Roy Cook, Opata-Oodham, Mazopiye Wishasha
Professional Journalist, www.americanindiansource.com
SAN DIEGO, CA (September 2010) — There is a moist quality to the early evening. Dusk was glorious with enormous flocks of puffy sheep clouds on a field of deep blue skies.
Inside the Ballard Center, we continue to see many new faces and familiar friends gathered for the Soaring Eagle Dance and regalia workshop.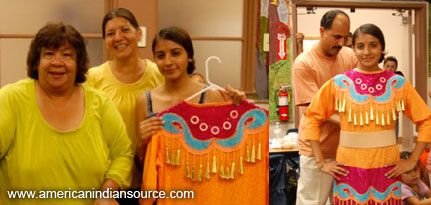 American Indian generosity and peer recognition of dedication by spontaneous gifts are a very long-standing tradition in American Indian Tribal culture.
Championship Jingle dress dancer Tina Morales passed on her jingle dress to Natalie, a new Soaring Eagle dancer. Her dad was there and stood proudly by as Natalie tried on the dress for size.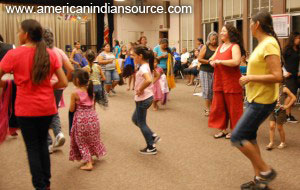 Soaring Eagle singer Ben Nance was able to produce a leather belt to fit her that night. A very character building and self esteem quality experience for all to learn from.
San Diego American Indian trails lead to the Old Town Ballard center from 6-8:30 p.m. with smiles and stories to tell each Tuesday evening.
Tonight SCAIR senior advisor Randy Edmonds summarizes community news and provides the blessing for the evening SCAIR sponsored meal.
Soaring Eagle family and friends continue to bring potluck side dishes to add to the variety of the dinner. Debbie and the Razo crew served up spaghetti and meat sauce, fried chicken, pasta, green salad and chopped fruit salad with tortillas and buttered bread.
All very yummy.
Later, this same evening, we celebrated two birthdays with cake, cookies and ice cream. It was all very yummy.
POWWOW
Friday, October 8, 2010
Town and Country Resort Hotel
5000 Hotel Circle
San Diego, CA
FREE AND OPEN TO THE PUBLIC
6:00 – 7:00 PM Gourd Dancing
7:00 – 11:00 PM Inter-Tribal
Co-Chairs:
Vickie Gambala, SDUSD Indian Education Program
Richard Orvedal, Soaring Eagles Committee
Phil Hale, Southern Indian Center
Ruben Little Head, Cupa Cultural Center
Skye McMichael, La Jolla Indian Reservation
Contact Information: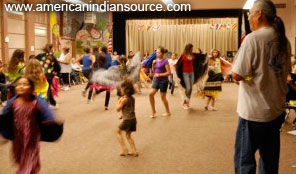 Tonight we had only the host drum. The singers were eager to sing when called upon for the dance categories selected by SCAIR American Indian dance instructor, Chuck Cadotte and community members Dina Hernandez and Abel Jacome.
Tiny tots, girls, boys, junior categories, jingle dress, shawl, grass dance, crow hop and the all-popular round dance brought out happy feet and spontaneous smiles.

We continue to emphasize the primary goal of the Soaring Eagles: The continuity of American Indian culture.
Our observation over the past two years has shown that we can make an impact on our urban and rural American Indian children.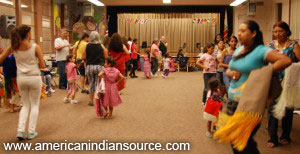 Our traditions are a living experience and these workshops are made a part of lifelong memories that are added to the tribal memory of the American Indian children in the ways of our American Indian Elders and ancestors.
These children will tell their children how things were when they were young and the Tribal tradition of the continuity of culture will restore the hoop of the world, for all the people.
We always need to remember, it is not about us, and it is for the children!
The National Indian Education Association, NIEA, is still seeking volunteers to assist at the Town and Country conference on October 7-10, 2010.
We will look forward to seeing you and your family at the next American Indian event and Soaring Eagle dance workshop, Old Town Ballard Parent center.
For more information: Vickie Gambala
San Diego Unified School District
Title VII Indian Education Program
CELL
Everyone is welcome!
San Diego American Indian calendar events can be seen 7/24 on the web: americanindiansource.com
OCT 1-3:
2nd Annual Big Time Gathering and Inter-Tribal PowWow
Pioneer Park - Lucerne Valley, CA. 33187
Old Woman Springs Road next to the Lucerne Valley Fire Department.
Contact: Ophelia Sowa-lly Porter 760/ 885-5924
OCT 9
Baskets & Botany
5180 Tecolote Road
San Diego, CA 92110
9:30 am
Contact: 858-581-9959