News Release: San Diego Monster.Com Job Fair


by Roy Cook, Opata-Oodham, Mazopiye Wishasha: Writer, Singer, Speaker
Throngs of eager job seekers joined the SCAIR/TANF participants at this Monster.com Job Fair. Over 800 interested applicants registered in attendance between 11am opening and the 2pm closing of the job fair. SCAIR collaborated with Monster.com as a co-sponsor for this event.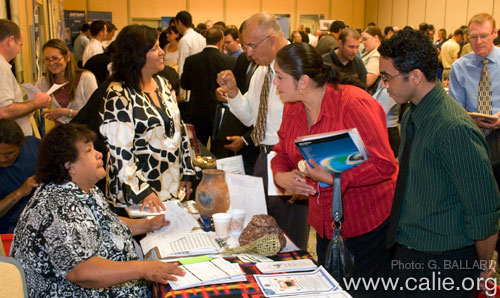 Vickie Gambala (seated in black & white blouse), the Native American Indian education district liaison for the San Diego Unified School District, was kept busy during the job fair and answered many questions about San Diego tribal educational programs.
Inasmuch as SCAIR is one of the cosponsors of the Monster.com Job Fair early planning encouraged extended participation of the programs under the SCAIR umbrella: CALIE, TANF, SDIC and affiliated human resource organizations such as IHRC.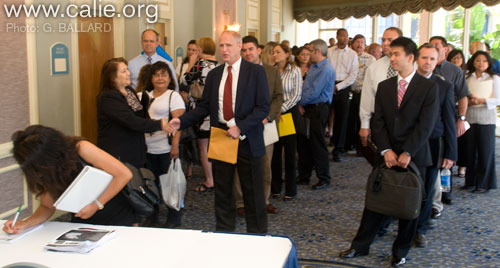 More than 800 San Diego job seekers signed in and participated in the three-hour Monster.com job fair event.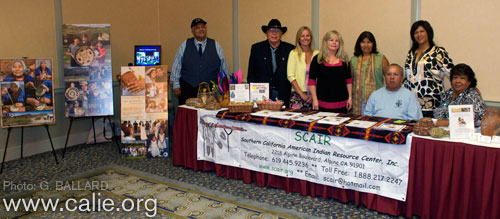 Some of the SCAIR and TANF staff members and consultants posed for pictures at the Southern California American Indian Resource Center, Inc. SCAIR booth. SCAIR and TANF tribal collaborators shared the booth space. The SCAIR-TANF booth included 48-inch poster graphics, a professional Microsoft PowerPoint presentation by Roy Cook, authentic ethnographic clay pottery, native willow and coiled juncus baskets.
Antoinette Adleman and Tracy Stevens of the Alpine and San Diego offices of SCAIR organized and produced the display decoration for the two tables of the SCAIR booth.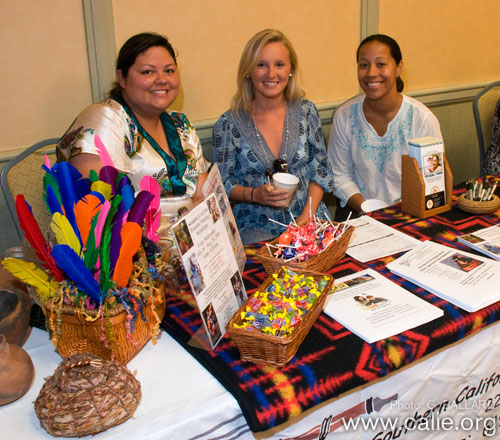 San Diego tribal TANF staff members who are supported by the Southern California Tribal Chairmen's Association (SCTCA) were on hand assisting and counseling tribal TANF job seekers during the tribally-sponsored event.
People and organizations at the booth are Vickie Gambala from the San Diego Unified School District Indian Education program. Also representing the San Diego and Pala offices of TANF are Jamie Surratt, Sophia Taula and Perse Hooper.
In attendance and support is Paul Razo San Diego community member and Roy Cook, SCAIR/CALIE writer. Roy designed, produced and presented a Microsoft PowerPoint with narration project that ran on a loop the entire four-hour job fair.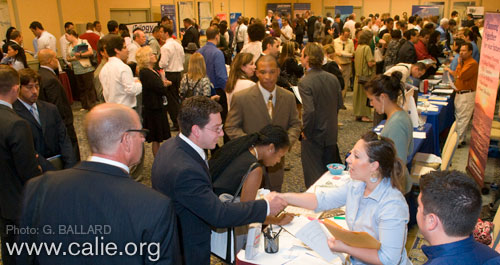 The Holiday Inn San Diego — On the Bay large conference room was packed with job seekers and company employer booths during the three-hour Monster job fair. San Diego tribal TANF clients received assistance and opportunities to meet with some of San Diego's top employers, job recruiters, head hunters, and human resources professionals.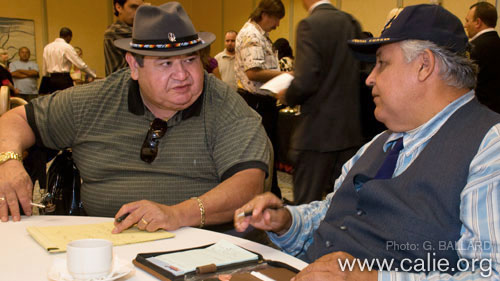 Ernie Salgado Jr., Chief Executive Officer of Apapas Development Company, talks with CALIE journalist Roy Cook during the job fair event.
Also attending the job fair are Ernie Salgado, APAPAS Development Corp. and SCAIR senior advisor Randy Edmonds and his wife Bonnie. Documenting the fair is SCAIR/CALIE Webmaster and photographer Gary Ballard.
This is an outstanding opportunity for the TANF and IHRC job participants to reach dozens of companies looking for people to hire. Also this exposure is excellent to see the intensity of the job seeker competition and interview level of attire.
Many took the opportunity to fill out applications, pick up business cards and information from the various companies. Additionally there are various gift items and gift bag items to acquire.
Many attendees voiced positive comments and welcomed the American Indian viewpoint and presentations. We were all glad to be there and we hope you had a positive experience too.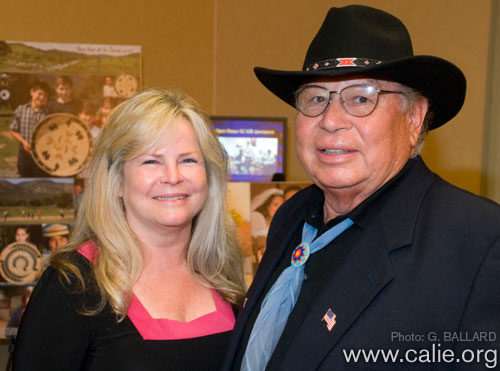 SCAIR Executive Director Wanda Michaelis took a photo with SCAIR consultant Randy Edmonds.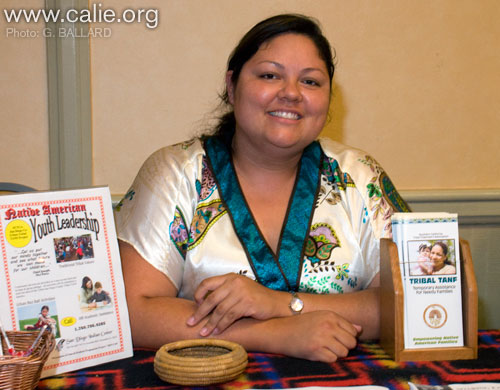 San Diego tribal TANF executive Perse Hooper took a picture at the shared TANF-SCAIR jobs booth.
Back to Roy Cook's Articles page
BULLETIN BOARD EMPLOYMENT RESEARCH ARCHIVES