Publishing Corner:
ROY COOK NEWS BLOG
THE INDIAN REPORTER
TRIBAL BLOGGERS
Indian Community:
TRIBAL COMMUNITY
PROFILES
SOARING EAGLES
Science & Wonder
ASTRONOMY PORTAL
KID'S CLUBHOUSE
Indian Heros:
VETERAN COMMUNITY
MEDALS OF HONOR
CODE TALKERS
FAMOUS CHIEFS
HISTORIC BATTLES
POEMS ESSAYS
SPORTS-ATHLETES
MISSION FEDERATION
FAMOUS INDIANS
California Indian Art:
MISSION BASKETS
RED CLAY POTTERY
ETHNOGRAPHIC ART
CAVE ART
MUSIC
CALIE Library:
FEDERAL Resources
HEALTH & MEDICAL
INDIAN BOOK LIST
HISTORICAL Documents
Academic Financial Aid:
SCHOLARSHIPS
GRANTS & FUNDING
Tribal Governments:
TRIBAL COURTS
SOVEREIGNTY
SOCIAL SERVICES
TRIBAL DIRECTORY
Indian Gaming:
INDIAN CASINO FORUM
CALIFORNIA INDIAN JOBS EMPLOYMENT CAREERS Bulletin Board

NOTICE: CALIE JOB BOARD is published as public service to the Native American job seeking community. The California Indian Education web site and its staff may not have written the postings and as such they may not be held responsible for errors, omissions, inaccuracies. Please read the CALIE User Agreement for more detailed information regarding your use of this web site.

Serving the Southern California Inter-Tribal Community with employment information, job fairs, job listings, vocational training, education, courses and leads to gainful full and part time jobs in Southern California.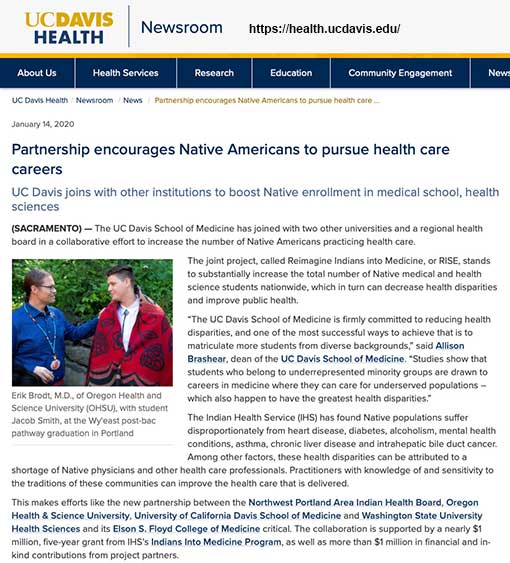 Partnership encourages Native Americans to pursue health care careers - UC Davis joins with other institutions to boost Native enrollment in medical school, health sciences
(SACRAMENTO) - The UC Davis School of Medicine has joined with two other universities and a regional health board in a collaborative effort to increase the number of Native Americans practicing health care.
Employment & Job Training for Veterans in County of San Diego
Goodwill Industries of San Diego County has launched several programs (including Operation:GoodJobs) serving military veterans and their families. These programs focus on eliminating barriers to employment to facilitate your transition to the civilian workplace, prepare for your career, and assist you on the road to economic independence....
To post your job notices here, please CONTACT WEBMASTER...
Please contact ERNIE SALGADO for information about sponsoring our jobs section.
In the meantime you might try nativehire.org.
BULLETIN BOARD EMPLOYMENT RESEARCH ARCHIVES