Publishing Corner:
ROY COOK NEWS BLOG
THE INDIAN REPORTER
TRIBAL BLOGGERS
Indian Community:
TRIBAL COMMUNITY
PROFILES
SOARING EAGLES
Science & Wonder
ASTRONOMY PORTAL
KID'S CLUBHOUSE
Indian Heros:
VETERAN COMMUNITY
MEDALS OF HONOR
CODE TALKERS
FAMOUS CHIEFS
HISTORIC BATTLES
POEMS ESSAYS
SPORTS-ATHLETES
MISSION FEDERATION
FAMOUS INDIANS
California Indian Art:
MISSION BASKETS
RED CLAY POTTERY
ETHNOGRAPHIC ART
CAVE ART
MUSIC
CALIE Library:
FEDERAL Resources
HEALTH & MEDICAL
INDIAN BOOK LIST
HISTORICAL Documents
Academic Financial Aid:
SCHOLARSHIPS
GRANTS & FUNDING
Tribal Governments:
TRIBAL COURTS
SOVEREIGNTY
SOCIAL SERVICES
TRIBAL DIRECTORY
Indian Gaming:
INDIAN CASINO FORUM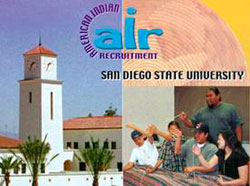 SDUSD Indian Education and AIR 2008


by Roy Cook, Opata-Oodham, Mazopiye Wishasha: Writer, Singer, Speaker
A 2008 cooperative partnership by the San Diego Unified School District SDUSD Title VII Indian Education Program and the American Indian Recruitment AIR Program offers an outreach to the SDUSD Title VII Indian Education Program's Native American Indian students.
The tutoring resource is vital to the SDUSD Indian Education program in this 2008 school year. This is a new dimension for the AIR program and one of the major cooperative reasons for this partnership.
Vickie Gambala and Dwight Lomayesya are addressing the Middle and High School Indian student needs while offering a learning opportunity for our young people to give back to the community.
The AIR Program is established with the ideals of promoting higher education in the American Indian community. AIR is primarily an on-campus mentoring program for American Indian high school students who are interested in earning a college degree.
The AIR Program offers weekly sessions, including mentor-student discussions, workshops, and tutoring for those in the mentoring program.
A major goal of the AIR Program is to give the student expectations of what higher education will ask of them.
Every institution requires research papers.
To assist AIR students in learning how to research and become familiar with the research facility library, and how to approach research methodology, we center our sessions on a research topic as a tool to give the student participant such knowledge.
This semester our overall topic will be Cancer: The Rates and Risk, Prevention, Screening, Treatment. Along with this topic we will film our presentation and ask the students and mentors to run the editing process.
For more information please contact Vicki Gambala at 858-627-7362 or Dwight Lomayesva at: 619-920-3152.