MEMORIAL DAY CEREMONIES IN SAN DIEGO COUNTY


by Roy Cook, Opata-Oodham, Mazopiye Wishasha: Writer, Singer, Speaker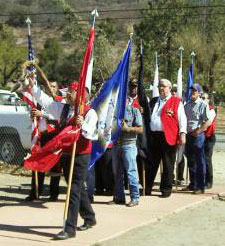 Greetings to all:
We would be honored if AIWA would post the colors.
We will be having our Memorial Day Ceremony on Monday, May 26, 2008, 11:00 am at the Santa Ysabel Mission tribal cemetery.
This year's honoree will be Fred Ortega. The official information that we have shows him to be the first American Indian killed in WW ll.
Also, this year we will be serving lunch at the Santa Ysabel Casino.
Thanks again,
Bonnie Salgado

"The nation that makes a great distinction between its warriors and its scholars will have its thinking done by cowards and its fighting done by fools" -Thucydides

Saturday, May 24, 2008:
USS Midway Museum to Host Veterans
Remembrance Ceremony - 9 a.m.
The USS Midway will host a free Veterans Remembrance Ceremony on the flight deck on Saturday, May 24, at 9 a.m. All veterans, their families and general public are invited. Spread the word! In fact, we hope to have some youth groups in attendance this year.
Veterans from 5 conflicts and wars will be accompanied by active-duty personnel in presenting wreaths of remembrance. RADM Mac McLaughlin, USN (Ret.) will host the ceremony to kick off Memorial Day Weekend.
Immediately following the ceremony, the United Veterans Council will hold its monthly meeting aboard the USS Midway as well.
We hope to see you aboard the USS Midway Museum on May 24. For more information, call (619) 398-8250.

Veterans Museum and Memorial Center
Hosted by the Veterans Museum and Memorial Center, Vietnam Veterans of America - Chapter 472 and Veterans Village of San Diego.
8:00 am to 7:30 pm: Posting of the colors followed by continuous "Reading of the Names" in honor and remembrance of the San Diego County Vietnam War Casualties and those that remain missing in action by Vietnam Veterans of America and friends (volunteer readers are welcome).
7:30 pm: Candlelight Vigil at the San Diego Vietnam Peace Memorial (East side of the museum).
25 May 2008 – Sunday, 7:00 am to 8:00 pm: Continuous "Reading of the Names" in honor and remembrance of the San Diego County Vietnam War Casualties and those that remain missing in action by Veterans Village of San Diego volunteers.
28 May 2008 – Monday, 7:30 am to 8:30 am: Memorial Day Ceremony with guest speaker: Congresswoman Susan Davis, 53rd Congressional District. A Purple Heart Commendation will be presented to the family of William Peterson, Jr.
The Veterans Museum and Memorial Center will host an open house from 7:00 am through 4:00 pm each day.
Veterans Museum and Memorial Center
2115 Park Boulevard, San Diego, California 92101
(619) 239-2300 fax (619) 239-7445 www.veteranmuseum.org

Monday, May 26
The Veterans Memorial Day Committee
Requests the pleasure of your company
at the 108th Annual Ceremony
On Monday, the Twenty-sixth of May
Two Thousand and Eight
Ten o'clock at
Fort Rosecrans National Cemetery
Cabrillo Memorial Drive
San Diego, CA 92106
RSVP: Kirk K. Leopard at (619)553-2084
Reserved Parking

Combined Veterans and Fraternal Organizations of North County
10:00 AM
Elks Lodge,
444 Country Club Lane
Oceanside, CA
The guest speaker will be Mayor James Wood, Mayor of Oceanside. Music will be furnished by Cathie and Dewey on their electronic keyboard. There will be a light lunch served after the Ceremony. All Veterans are encouraged to wear their Organizational Headgear and Medals. All public is invited. Adequate parking and seating will be available. For additional information or directions, contact Harvey Ferman at 760.433.0116.
Rancho Bernardo Veterans Memorial - 10:40 a.m. to 11:45 a.m. -
The Rancho Bernardo Veterans Memorial Association invites all veterans and their families and guests
to attend its annual Memorial Day ceremony at the lake in Webb Park – Avena Place off Bernardo Center Drive.
Download the PDF flyer and program.

Mt. Soledad Veterans Memorial in La Jolla
2:00 p.m. – 3:15 p.m.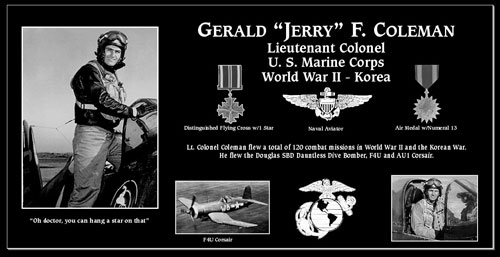 Special Plaque Presentation Honoring Jerry Coleman (larger photo) Former Lieutenant Colonel, USMC, Highly Decorated WWII and Korean War Pilot and Voice of the San Diego Padres
Keynote Speaker, Brigadier General Michael Aguilar, USMC (Ret.) Federal Security Director of the Year, Western Region
Military Support Presentations, Navy Band Southwest, Marine Corps Recruit Depot Color Guard and Rifle Team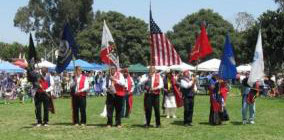 San Diego American Indian Warriors standing tall and looking proud. A most honorable Honor Guard.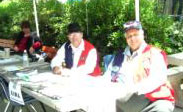 Ivan Sam and Joaquin Sandoval thank everyone for AIWA participation at the Health fair at Mesa College on May 8th beginning at 11am to 2pm. Ivan Sam, SDAIW president said, " SDAIW members will provide military veteran's information." The 1st Ave Native American clinic will also provide health information for the college community.

AIWA Color Guard event participation contact: AIWA Event coordinator.
Ronnie Murphy: 619-312-0789.



Roy Cook: SDAIW Historian