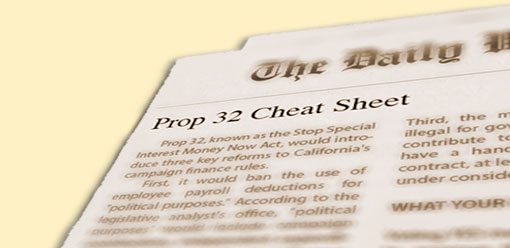 Indian Gaming and Prop. 32 in 2012


Edited by Roy Cook, Opata-Oodham, Mazopiye Wishasha: Writer, Singer, Speaker
There is a possibility of a new threat against special interest groups such as Native American gaming programs. What about this November Proposition 32 campaign's claim that the measure is all about, and only about, reducing the power of "special interests"? In the interest of being fair and objective, we should be very careful about the word we select to describe this assertion. So let's keep things simple: It's a lie.
Of the $1 billion spent by the 15 biggest political financial players in California between 2000 and 2010, the two top political contributors were the California Teachers Association, at $211.9 million, and the California State Council of Service Employees, at $107.5 million, according to the Fair Political Practices Commission. The remainder included business groups, corporations and casino-owning Indian tribes.... Read more HERE.
In November 1998 California voters passed Proposition 5, the "Tribal Government Gaming and Economic Self-Sufficiency Act of 1998," a statutory initiative, which required the governor to approve any tribal casino proposal. It placed no limits on the number of casinos statewide or the number of gambling machines and tables each casino could operate. It lowered the gambling age to 18, and allowed the tribes to continue using the video slot machines that the state and federal governments had deemed illegal. Under terms of the initiative, tribal casinos would be self-regulated, governed by a tribal-appointed gaming board. There would be no direct state or local involvement in casino operations. The initiative set up a fund designed to reimburse local governments for their costs associated with casino operations. It also allocated two percent of casino net profits to non-gaming tribes. The campaign to qualify and pass Proposition 5 was the most expensive in history at the time--$90 million in total spending. In addition to money spent to qualify and pass the initiative, California Indians spent another $5 million backing political candidates that endorsed the measure. Despite the fiscal investment the California Supreme Court struck down Proposition 5 on August 24, 1999. The Court said that the proposition violated the state Constitution.
In response to the nullification of Proposition 5, Governor Gray Davis negotiated new tribal-state compacts with nearly 60 tribes allowing them to expand current gambling operations, allowing Nevada-style gambling in California, legalizing video slot machines, allowing casino employees to unionize and providing up to $1.1 million annually for non-gaming tribes. Indians would also make quarterly payments based on the number of slot machines they owned to reimburse the state for gambling addiction programs and the impact of casinos on local jurisdictions. The compacts were contingent on the passage of Proposition 1A, an initiative constitutional amendment which appeared on the March 7, 2000 ballot. California voters approved the measure by a 65% margin. The tribes spent approximately $30 million on the campaign.
The infusion of big money into politics has become a more important issue since the Supreme Court's infamous 2010 CITIZENS UNITED, APPELLANT v. FEDERAL ELECTION COMMISSION awarding free speech rights to corporations, as though they are people. The decision liberated corporations to contribute to electoral campaigns virtually without limitation. That has turbocharged fundraising by so-called super PACs such as Karl Rove's conservative American Crossroads, the Mitt Romney - supporting Restore Our Future, and the President Obama - supporting Priorities USA.
The Proposition 32 campaign says the measure is carefully crafted to comply with Citizens United, but if that's so, it's just another sign of how flawed and deplorable the Supreme Court ruling was. At the moment, according to the nonprofit Center for Responsive Politics, business outspends organized labor 15 to 1.
Today big business can shovel out by the trainload any money it has collected via the sale of goods and services. Some corporations do take PAC contributions from employees by payroll deductions. But it's typically a tiny proportion, mostly concentrated among careerist midlevel executives and above.
"When corporations can just write a check from their general treasury, the idea that this is a meaningful restriction is ridiculous," says Richard L. Hasen, an election and campaign law expert at UC Irvine. The share of corporate political spending coming from employee payroll deductions "has got to be a drop in the bucket, and putting it in there is just a fig leaf."
Despite of Proposition 32 campaign's claim that the measure is only about, reducing the power of "special interests" basically it is not true.  How can we know? We can start by examining the drafters, who include conservative attorneys Thomas Hiltachk and Michael Capaldi, know full well that payroll deductions are how unions get almost all of their funds, and businesses get almost none of theirs.
Also examine the campaign's contributors. As it turns out, the claim that you need a big-money ballot campaign to wipe out the influence of special interests carries its own contradiction, in the same way a skunk packs its own stench.
Among the very top contributors to the campaign, according to public filings, are A. Jerrold Perenchio ($250,000), Thomas Siebel ($500,000), B. Wayne Hughes ($200,000) and Charles Munger Jr. ($992,000).
In USA and most of the Americas, the Tribal Indians are made to pay. Aboriginal Indian property – mostly stolen under the guise of ''fair and square Federal treaty negotiated'' has been the fuel of American economy for more than 200 years.
Today more than ever, that bite is on everywhere. Political cowardice and opportunism, combined with the power of the rich and powerful, are bankrupting the public treasure of America. As Washington lets the highest-income corporations and individual Americans off the taxation hook, states and counties of the Union are feeling the pinch directly. The many services American citizens have come to expect - education, public safety, emergency and others - are deeply in jeopardy, as budgets are sliced uniformly throughout the country. Meanwhile, the accumulation of real wealth at the top classes of society is at an all time high; the top 1 percent of rich Americans now hoards as much wealth as the bottom 40 percent.
The solution in the minds of politicians and other special interest groups in the various states that contain Native nations is to go after whatever assets and revenues Indian tribal governments and member associations presently hold, and work to impose fees, taxes and any and all manner of tentacles upon such sovereign properties.
The intent of and hostility from many state and local governments are palpable. The instinct as the conflicts deepen and widen is to go for the throat. State governors throughout Indian country are intent on making tribal America fill the gap left behind for the big tax cut cave-in to special interests at the federal level. Everywhere the bite of states - illegal and unwarranted - upon the economic treasure of Indian country grows more ferocious. We need to be watchdogs for all the people.
Sources and readings:
Wilson, Richard; Indian Gaming in California <http://w3.uchastings.edu/plri/spr96tex/indgam.html> . San Francisco, CA : Public Law Research Institute.
Valley, David Jr.; Jackpot Trail: Indian Gaming in Southern California. San Diego, CA : Sunbelt Publications, 2003.
Meyer, John M., ed.; American Indians and U.S. Politics. Westport, CT. Praeger Publishers, 2002.
Mason, W. Dale;  Indian Gaming: Tribal Sovereignty and American Politics. Norman, OK : University of Oklahoma Press, 2000.
De La Torre, Joely. Interpreting Power: the Power and Politics of Tribal Gaming in Southern California. Dissertation, Northern Arizona University, 2000.
Indian Gaming: Who Wins?. Los Angeles : UCLA American Indian Studies Center, 2000.
Dunstan, Roger; Indian Casinos in California. Sacramento : California State Library, California Research Bureau, Sept. 1998.
Indian Tribes as Sovereign Governments: A Sourcebook on Federal-Tribal History, Law, and Policy. Oakland: American Indian Lawyer Training Program, Inc., 1998.