ABOUT CALIE
MISSION STATEMENT
Publishing Corner:
ROY COOK NEWS BLOG
INDIAN VOICES TODAY
TRIBAL BLOGGERS
Indian Community:
TRIBAL COMMUNITY
Science & Wonder
ASTRONOMY PORTAL
KID'S CLUBHOUSE
Indian Heros:
VETERAN COMMUNITY
MEDALS OF HONOR
CODE TALKERS
FAMOUS CHIEFS
HISTORIC BATTLES
POEMS ESSAYS
SPORTS-ATHLETES
MISSION FEDERATION
California Indian Art:
MISSION BASKETS
RED CLAY POTTERY
CAVE ART
MUSIC
CALIE Library:
FEDERAL Resources
HEALTH & MEDICAL
INDIAN BOOK LIST
Academic Financial Aid:
SCHOLARSHIPS
GRANTS & FUNDING
Tribal Governments:
TRIBAL COURTS
SOVEREIGNTY
SOCIAL SERVICES
TRIBAL DIRECTORY
Indian Gaming:
INDIAN CASINO FORUM
SITE MENU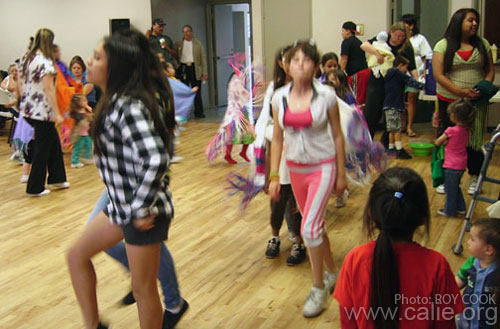 SCAIR Soaring Eagles Summer time June 2009
by Roy Cook, Opata-Oodham, Mazopiye Wishasha: Writer, Singer, Speaker
There is increased attendance with the Soaring Eagle dance program. There are over 100 Indian people attending from all over San Diego County and the local Reservations. We now have two levels of new and continuing dancers. Wednesday 6:30 pm at the Normal Heights Community room is the place to take the steps to be a part of the Inter-tribal Pow wow circle. There is a SCAIR, Southern California American Indian Resource Inc.  hosted and voluntary potluck meal at the beginning of the evening with a blessing by an elder or designated spiritual person. Our SCAIR Senior advisor, Randy Edmonds, is very faithful and supportive of the program. He also announced approval for the Kiowa Gourd Dance instruction and regalia to be taught at the Soaring Eagle program.
Before the dancing many of the children, run happily playing tag or a game they have made up. We want this to be a happy, fun experience for all to enjoy. Too much discipline will make it seem like work or something to be avoided. Crayons and coloring teach how colors interact and look in combination. Immediate application is the dancers regalia decoration. However, there is experienced instruction to improve motor skills and build physical endurance. Traditional American Indian music inspires and lifts all attending hearts and the dancers feet in the participation of American Indian Pow wow Dance.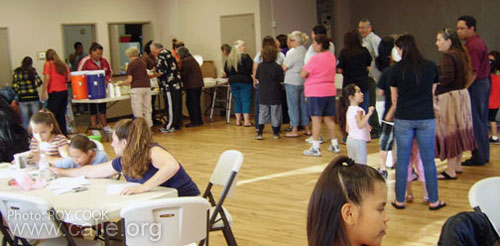 Edward 'Chuck' Cadotte continues to refine and encourage each category of dance style: Women and men traditional, grass dance, jingle dress, shawl dance, Southern women, round dance and mentor each dancer to do their best. There are announcements, birthdays, graduations or guest speakers. All these activities have an opportunity to bring the traditional function of the camp circle, public forum, to the parents. This is a positive environment, non-political, with a combined focus to see our Indian Children realize their pride of tribal identity, peer interaction and mentoring examples on a variety of levels and interests. We thank the many volunteers participating that make this Soaring Eagles dance program fly.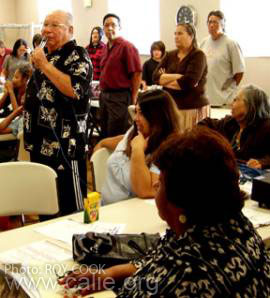 The Soaring Eagle program has had as many as 14 singers each week. Singers willing to travel from Long Beach, Barona and East San Diego County to volunteer and be a part of this commitment to our Indian children. Most of these months, we have been fortunate to enjoy the quality of two drums: Northern and Southern. Young singers and parents interested in their children learning the songs have also approached us. All are welcome around the drum. However, to have a seat at the drum will require one to sing or at least hit the vowels and try to 'catch' the song.
Everyone is welcome to enjoy and participate in these SCAIR hosted free Soaring Eagle American Indian Dance classes. Maybe we will see each other at one of the Wednesday night gatherings. Or at these regional events:
July 3, 4 & 5, 2009
Pechanga Powwow
Temecula, Ca
www.pechanga-nsn.gov
July 31, Aug. 1 & 2, 2009
41st Annual SCIC Pow Wow
Located at the Autry National Center-Griffith Park 4700 Western Heritage Way, Los Angeles, CA 90027
Please check out our websites for more information:
www.indiancenter.org
www.myspace.com/scicpw
(714) 962-6673
August 15 and 16. 2009
2nd Annual Pala Pow-wow
760-742-1590
September 4, 5 & 6, 2009
Barona Powwow
Barona Indian Reservation
Lakeside, Ca
Info:  619/443-6612
September 11, 12 & 13, 2009
Sycuan Powwow
Sycuan Indian Reservation
5459 Sycuan Rd
El Cajon, Ca
Info:  619/445-7776
MC:  Michael Burgess
Host Southern Drum:  Roan-Horse Singers
Host Northern Drum:  King Bird Singers
HSM:  Steve Campos
HSW:  Shelah Panjawani
HNM:  Adam Nordwall
HNW:  Carol Melting Tallow
AD:  Renee Navarro, David Plunkett
September 18, 19 & 20, 2009
Soboba Powwow
Soboba Casino
San Jacinto, Ca
Info:  951/654-2765
September 26 & 27, 2009
16th Annual American Indian Powwow & Craft Fair
William S Hart County Park
24151 Newhall St.
Newhall, Ca
Info:  661/298-3014 or 661/255-9295
September 25-27, 2009
Morongo Thunder & Lightning Powwow
19th Annual Morongo Thunder & Lightning Powwow - September 25-27, 2009 Cabazon, California For additional information please call (951) 755-5340, Ext. 23800.
Hours:
Friday, Sept. 25th - Gates open at 4:00 p.m. Grand Entry at 8:00 p.m.
Saturday, Sept. 26th - Gates open at 10:00 a.m. Grand Entry at 1:00 p.m. and 8:00 p.m.
Sunday, Sept. 27th - Gates open at 10:00 a.m. Grand Entry at 1:00 p.m.
Open to the Public. Admission and parking is free.
www.morongocasinoresort.com
Back to Roy Cook's Articles page.