It looks like a hundred or so Indian students participated in the SCAIR Jump Start back-to-school event and received countless school supplies and backpacks, including achievement awards, cash for miscellaneous expenses, and pep talks from community Indian leaders, to help prepare them for the exciting new school season in the San Diego City school system.
Soaring Eagles Jump Start Program, "over the top" success!
by Roy Cook, Opata-Oodham, Mazopiye Wishasha: Writer, Singer, Speaker

he Soaring Eagles Jump Start event held on Wednesday evening, September 3, 2008, at the Normal Heights Community Center was "over the top," Vickie Gambala said to the SCAIR Board of Directors during their Friday meeting.
Vickie Gambala, Chuck Cadotte and Jennifer Alvarado explained the tutorials and cultural programs to the elders, students and parents who attended the school Jump Start event.
A San Diego Unified School District pamphlet, "The Facts for Parents," was distributed to all the attending parents.
One of the realities of getting ready to go to back to school for all the American Indian students attending the San Diego Unified School District is having the right supplies and having the support of their families and the community. 
The students were eager to get back to school however some are still having some difficulties with their studies.
Southern California American Indian Resource Center Inc. SCAIR and the San Diego Indian Center in coordination with Vickie Gambala, Native American Education Coordinator for the San Diego Unified School District, SDUSD, Indian Education program, will be providing ongoing after school tutorial programs for the students.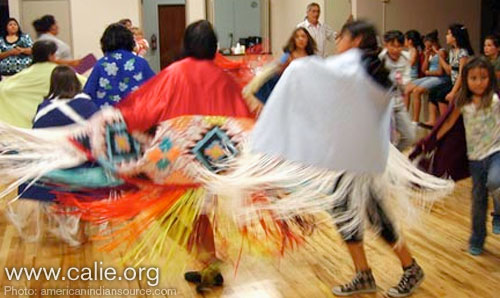 Some of the young traditional dance students are pictured dancing with fancy shawls during the SOARING EAGLES Summer and Fall pow-wow dance and regalia program.
In addition to the after school tutorial program the Soaring Eagles Powwow Dance Workshop will continue to be held on a weekly basis.
Mia James, a new student for Bell Junior High, and Lysite Flores won awards for reading the most books and submitting book reports. They were also presented with Cash Awards to purchase their school ID's and pictures.
Address the group, Vickie Gambala said, "Learning to read takes practice and loving to read takes enthusiasm!" Vickie encouraged parents to read with their children often and to create a sense of enjoyment, wonder, and even a passion for reading. She also suggested for struggling readers, the parents could start with short sessions and with books the students choose.
Jennifer Alvarado told the parents that part of the process of getting children to read is look at them as readers and creating an atmosphere that supports reading. She said "Children's desires to read independently grows out of having been read to by someone else; a parent, sibling, baby-sitter or grandparent.
Reading to children, even up to their teen years, encourages and fosters creative thinking skills, promotes reading as an enjoyable activity, provides opportunities for them to grow and develop mentally, gives them an appreciation and respect for books, enhances language and vocabulary development, and produces quality family time."
And as always Debbie Razo and her family did a great job with a good old-fashioned potluck dinner. Everyone really enjoyed the "Home cookin'" as they share the food and personal stories of what they did over the summer and it gave everyone a chance to get to know one another. Beyond trading life stories it is always good to share a great meal.
Randy Edmonds, SCAIR Senior Advisor said, "SCAIR and the San Diego Indian Center will continue to provide the leadership and the funding in support of the San Diego Urban Indian Community."
Randy continued, "The greatest part of the Jump Start Project was not only the backpacks and school supplies giveaway, it is the Indian community came together to encourage and support their children to stay in school and get an education."
The Jump Start school supplies and backpack night is a great success. Each year this is a great challenge to make happen. Each year the American Indian community looks forward to the distribution of the 100 backpacks and needed school supplies. Everyone looked forward to the sociability of the evening with anticipation.
What a great turn out is this September 3, 2008 event. Funded in large part by the Southern California American Indian Resource Center, Inc. (SCAIR) and the San Diego Indian Center.
DOWNLOAD SCAIR INFORMATION POSTER .pdf for more information about the Soaring Eagles Jump Start educational programs for Native American Indians in San Diego County.

SEE ALL Roy's photos from the event on WWW.AMERICANINDIANSOURCE.COM.