Publishing Corner:
ROY COOK NEWS BLOG
THE INDIAN REPORTER
TRIBAL BLOGGERS
Indian Community:
TRIBAL COMMUNITY
PROFILES
SOARING EAGLES
Science & Wonder
ASTRONOMY PORTAL
KID'S CLUBHOUSE
Indian Heros:
VETERAN COMMUNITY
MEDALS OF HONOR
CODE TALKERS
FAMOUS CHIEFS
HISTORIC BATTLES
POEMS ESSAYS
SPORTS-ATHLETES
MISSION FEDERATION
FAMOUS INDIANS
California Indian Art:
MISSION BASKETS
RED CLAY POTTERY
ETHNOGRAPHIC ART
CAVE ART
MUSIC
CALIE Library:
FEDERAL Resources
HEALTH & MEDICAL
INDIAN BOOK LIST
HISTORICAL Documents
Academic Financial Aid:
SCHOLARSHIPS
GRANTS & FUNDING
Tribal Governments:
TRIBAL COURTS
SOVEREIGNTY
SOCIAL SERVICES
TRIBAL DIRECTORY
Indian Gaming:
INDIAN CASINO FORUM
INTER-GENERATIONAL TRAUMA
Impact of Inter-Generational Trauma: Reflections on Healing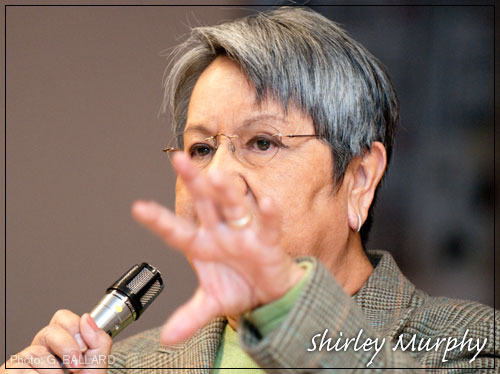 Shirley Murphy, a Lakota cultural psychologist, connects with her audience during her presentation about generational trauma and tribal peoples.
"Healing begins once we embrace our intergenerational trauma as Native Americans.

"We can then ask ourselves, 'What do we want?'  One answer we all want and deserve is to be able to live a quality life."

-Shirley Murphy www.taspan.org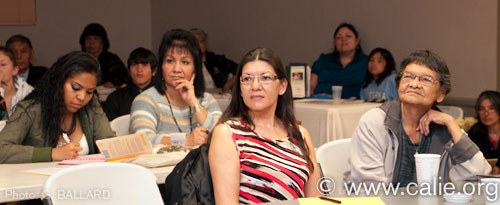 Program supported by: San Diego Unified School District Title VII Education, Indian Human Resource Center, Southern California American Indian Resource Center, Inc. SCAIR.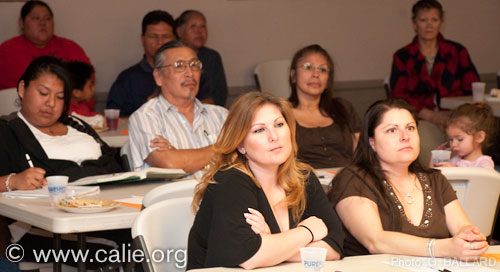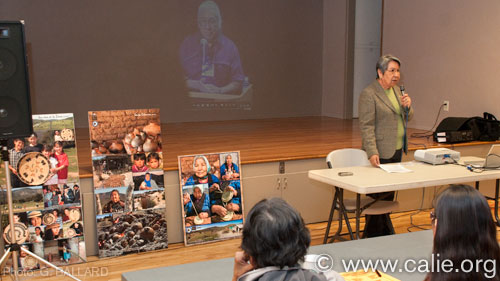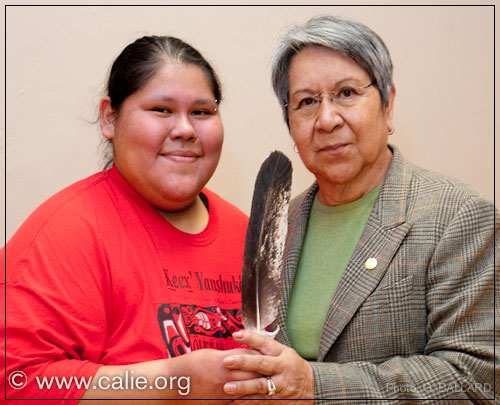 Shirley Murphy was presented with an eagle feather during the event.
The presentation "Impact of Inter-Generational Trauma: Reflections on Healing" took place at the Normal Heights Community Center in San Diego, February 26, 2009, as part of the San Diego American Indian Health Center Community Night series.
Participants put together a pot luck dinner and provided children's activities.
SAN DIEGO TRAUMA CONFERENCE
2003 SYCUAN TRAUMA CONFERENCE PICTURES — Models of Healing for Indigenous Survivors of Inter-generational Trauma, conference pictures. Sycuan Kumeyaay Nation hosted by DQ University at Sycuan, now Kumeyaay Community College, San Diego, USA, Native American — WATCH MOVIE SHORT.
BACK TO CALIE NEWS BLOG