Publishing Corner:
ROY COOK NEWS BLOG
THE INDIAN REPORTER
TRIBAL BLOGGERS
Indian Community:
TRIBAL COMMUNITY
PROFILES
OBITUARIES
Science & Wonder
ASTRONOMY PORTAL
KID'S CLUBHOUSE
Indian Heros:
VETERAN COMMUNITY
MEDALS OF HONOR
CODE TALKERS
FAMOUS CHIEFS
HISTORIC BATTLES
POEMS ESSAYS
SPORTS-ATHLETES
MISSION FEDERATION
FAMOUS INDIANS
California Indian Art:
MISSION BASKETS
RED CLAY POTTERY
ETHNOGRAPHIC ART
CAVE ART
MUSIC
CALIE Library:
FEDERAL Resources
HEALTH & MEDICAL
INDIAN BOOK LIST
HISTORICAL Documents
Academic Financial Aid:
SCHOLARSHIPS
GRANTS & FUNDING
Tribal Governments:
TRIBAL COURTS
SOVEREIGNTY
SOCIAL SERVICES
TRIBAL DIRECTORY
Indian Gaming:
INDIAN CASINO FORUM
Philip Welmas (1891-1968)
Agua Caliente Band (Cahuilla)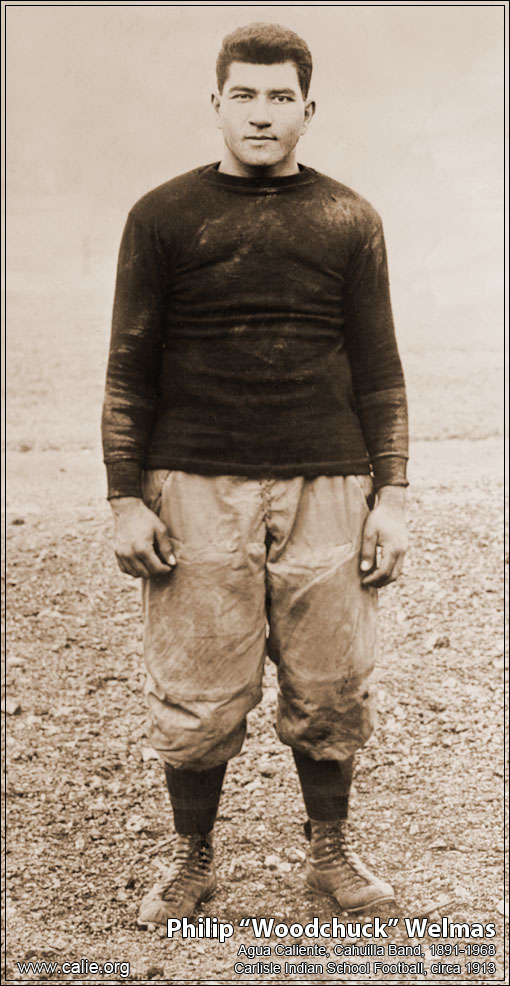 Philip "Woodchuck" Welmas
Pedro "Pete" Calac (1891-1968), Agua Caliente Band of Cahuilla Indians, played for college football for the Carlisle Indian school, Carlisle, Pennsylvania, pictued above in 1913.


Carlisle School for Native Americans
CALIE is compiling a historical Web portal for research into the Carlisle Industrial School, 1850-1930...
PROFESSIONAL FOOTBALL
After Carslile, Mr. Welmas played professional football for the Oorang Indians until 1923.
RESEARCH Pete Calac: WIKIPEDIA.ORG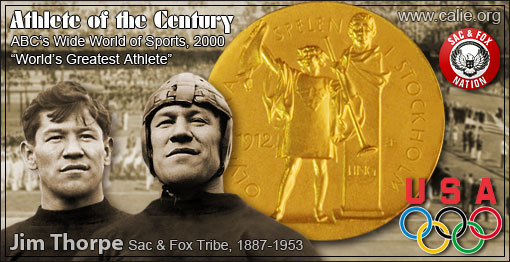 JIM THORPE (Sac & Fox Tribe) 1987-1953,
"Athlete of the Century" | "Greatest Athlete in the World"....